Reading time ( words)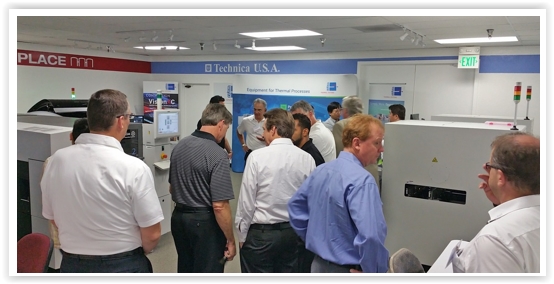 Koh Young America recently participated in a two-day technology seminar with other industry-leading equipment suppliers. The event was hosted by Technica USA of San Jose, California. The seminar featured technology presentations from Koh Young Technology, ASM-DEK, ASM-Siplace, and Rehm Thermal Systems, focusing on high-yield SMT production and how to utilize the latest technologies to minimize defects and improve yields. Classroom presentations were followed by live hands-on equipment demos that showed the power of true 3D inspection with Koh Young's SPI and AOI inspection systems. Koh Young's team of technical experts was able to demonstrate both their 3D SPI and 3D AOI solutions at Technica's Demonstration and Training Center. Koh Young demonstrated industry-leading defect detection through 100% 3D measurement and full color inspection. Innovative features included full board foreign material inspection and results traceability from SPI to AOI through KSmart Link software.
Following the seminar, Frank Medina, President of Technica USA, stated, "We were very pleased with the turnout for our annual event. As I have mentioned in the past, Technica believes in adding value to our relationships with our customers. Sponsoring our event every year is one of the many ways in which we demonstrate this commitment." He added, "Our Technology Forum provides us with an opportunity to expose our customers to the latest technologies available in the market. Our ability to deliver knowledge that is interesting and valuable to our customers is possible thanks to the partnerships we have established with industry-leading companies including Koh Young."
Koh Young's KY8030-3 true 3D SPI measurement system provides full patented 3D measurement for the complete range of solder paste measurement and inspection across a wide range while ensuring accuracy without sacrificing resolution.
With its authentic 3D measurement capability, Koh Young's Zenith AOI system can detect all types of defects with real measurement values, allowing much easier defect evaluation and process control.

About Koh Young Technology
Koh Young Technology specializes in the design and manufacturing of 3D measurement and inspection equipment for the global circuit board assembly and semiconductor markets. Direct sales and support centers are located in the United States, Europe, Japan, Singapore, China (Shenzhen) and Korea.
About Technica USA
Since 1985, Technica USA has been providing the fast paced, ever-changing electronics marketplace with the highest quality solutions available. Whether it is equipment for electronic assembly, selective solder and welding or cleaning, Technica enables its customers to maintain a competitive edge by providing state-of-the-art tools while also offering, improved quality and cost-efficient solutions.
Share
Print
Suggested Items
10/27/2019 | Andy Shaughnessy, I-Connect007
At a recent open house, Managing Director Juan Arango talks about his role in the company's transition from their Arizona facility to a new headquarters located outside of Atlanta, Georgia. Juan details many of the benefits customers can expect, including brand new spaces dedicated to customer demos as well as training.
10/14/2019 | Real Time with...SMTAI
Chris Bastecki, director of global PCB assembly at Indium Corporation, discussed challenges of low-temperature solder and the company's new product, Durafuse LT, which provides novel properties and reliability.
10/09/2019 | Real Time with...SMTAI
The SMTA International Conference and Exhibition 2019, which took place September 22–26, 2019, at the Donald E. Stephens Convention Center in Rosemont, Illinois, concluded successfully. For those of you who were not able to make it to the show, catch our video interviews with the movers and shakers of the electronics industry. We've updated our video presentation for a better experience for our users, so check it out!