Poland Receives Delivery of First HIMARS
May 16, 2023 | Lockheed Martin
Estimated reading time: 1 minute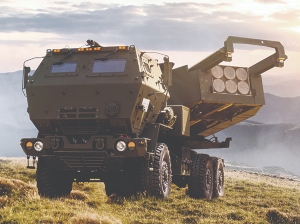 Lockheed Martin, through the U.S. Army, has successfully delivered an initial shipment of HIMARS launchers to Poland.
HIMARS provides immediate capability to deliver long range precision fires at distances up to 300 km and is interoperable with procured defense systems. Subsequent shipments of HIMARS will be delivered this year resulting in additional capabilities for Poland.  
"The combat-proven HIMARS will provide credible deterrence against aggression and significantly increase capability of the Polish Armed Forces and their NATO allies," said Jay Price, vice president of Precision Fires for Lockheed Martin Missiles and Fires Control. 
The Armaments Agency of the Ministry of National Defense is expected to invite Lockheed Martin to negotiate a Framework Agreement for the Homar-A program. Under Homar-A, Lockheed Martin with Polish Industry will integrate key components of the HIMARS rocket launcher on a Jelcz 6x6 truck. The negotiations will also include discussion around Polish production of munitions.
"The development of industrial partnership under Homar-A initiative marks another major step in our engagement to strengthening Poland's economic growth and security through partnerships with local industry base. We're looking forward to jointly create a safer tomorrow for Poland and the entire region," said Robert Orzy?owski, Lockheed Martin director Poland, Central and East Europe.
A trusted partner for Poland's national defense, industry, and economy, Lockheed Martin has invested $1.8 billion (USD) in Poland over the last 10 years. Today, its in-country operations sustain 6,700 high-value Polish jobs, of which 1,500 are with aircraft manufacturer PZL Mielec, a Lockheed Martin company and one of Poland's leading defense exporters.  
Lockheed Martin opened its office in central Warsaw in 1996 and partners with the Polish Ministry of Defense on a variety of defense and security programs. The company's contribution to the missile programs is a core element of Poland's national defense and provides vital capabilities to Polish Armed Forces.
---
Suggested Items
11/28/2023 | IPC
Neil Shah, senior technical director at alliantgroup, a tax and business consultancy, will present a technical education workshop,
11/27/2023 | Dan Beaulieu -- Column: It's Only Common Sense
Being the best is never easy. When you study the life of elite athletes, for example, you will find a list of characteristics that typically puts plain old hard work at the top. These athletes work harder than anyone else. They're the first ones there in the morning and the last to leave at the end of the day. They literally live and breathe what they are doing. They don't allow themselves any breaks, excuses, or cop outs. They are, as we say, all in.
11/27/2023 | GOEPEL Electronics
The US branch of GÖPEL electronic is proud to announce the addition of David Kalaidjian as the new National Sales Development Manager.
11/27/2023 | Linköping University
Linköping university has been granted six million SEK from the Swedish Innovation Agency (Vinnova) for the research project Catena-D (Circular and resource-efficient value chain systemically enabled with AI and digital thread).
11/24/2023 | Messe München
Messe München's electronics network with the world's leading trade fairs electronica and productronica is expanding its partnership with SEMI, the global semiconductor industry association, in India.