Cetec ERP Simplifies ISO Compliance with Streamlined NCRs
May 23, 2023 | Cetec ERP
Estimated reading time: 1 minute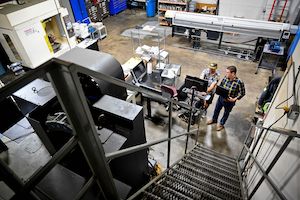 Cetec ERP offers an innovative approach to streamline ISO compliance with its fully native Quality Management System (QMS) and Non-Conformance Reports (NCR) functionality. Designed for heavily regulated industries such as medical devices, aerospace, and defense manufacturing, Cetec ERP's integrated QMS system simplifies the quality management process, ensuring compliance and improving operational efficiency.
In manufacturing, maintaining compliance is crucial, and documenting non-conformances is an essential part of the quality management process. Tracking NCRs externally, whether in spreadsheets or separate software, can be time-consuming and prone to errors. Cetec ERP eliminates these challenges by offering native NCR functionality out of the box, seamlessly integrating it into standard manufacturing processes.
Cetec ERP's QMS module incorporates NCRs directly within the manufacturing company's processes, linking them to the source inspection. When a failed inspection occurs during production or receiving, an NCR is automatically generated, populated with relevant data from the source failure. The system allows for the upload of supporting data and documentation, enabling the generation of comprehensive NCR reports that include root causes, dispositions, and resolutions. NCRs are then able to easily be escalated into a Corrective or Preventive Action Report (CARs or CAPAs).
The integrated nature of Cetec ERP's QMS module provides real-time visibility into production progress, empowering managers to proactively address potential issues before they escalate. By identifying trends, analyzing root causes, and implementing corrective actions promptly, companies can improve customer satisfaction, boost confidence in audits, reduce costs associated with quality issues, and enhance employee efficiency in managing the NCR process.
Cetec ERP's intuitive interface and comprehensive features empower manufacturers to take control of their operations, regardless of regulatory requirements. By leveraging powerful tools like NCRs, companies can effectively and efficiently manage quality management processes, ensuring compliance and driving operational excellence.
---
Suggested Items
11/28/2023 | Dana Korf -- Column: Dana on Data
November's issue of Design007 Magazine had an excellent theme that evolved around design simplification. There were exceptionally good articles about how to reduce over-constrained or needlessly complex designs. One significant time-consuming category is the creation of many design files and drawings which lead to lengthy creation and interpretation time along with the considerable time to resolve conflicting or erroneous information.
11/27/2023 | IPC
IPC welcomes the actions outlined today by the U.S. Government "to strengthen supply chains critical to America's economic and national security."
11/28/2023 | Preeya Kuray -- Column: Material Insight
On May 11, 2023, Reps. Blake Moore (R-UT) and Anna Eshoo (D-CA) introduced the Protecting Circuit Boards and Substrates (PCB) Act to Congress. In October, I had the great pleasure of discussing the bipartisan Protecting Circuit Boards and Substrates Act with Congressman Moore, who represents Utah's First Congressional District. He shared his thoughts on how supporting and investing in the domestic PCB industry can help bolster American security.
11/27/2023 | Andrew Kelley, XACTPCB LTD
While previous industrial revolutions have introduced factories, mass production, and computer-controlled systems, the advent of Industry 4.0 and the concept of the Smart factory have ushered in a new era in PCB manufacturing. For the PCB industry it is a very ambitious and aspirational objective to evolve from disconnected processes to an integrated system with automated data capture, real-time data analysis, process visualization, autonomous control, and self-correcting processes. 
11/27/2023 | Jaltek
Jaltek Systems, a prominent UK contract electronics manufacturer with AS9100 and ISO 13485 accreditations and over 30 years of experience, joined hands with SG Automotive, a Slovenian Electronic Manufacturing Service (EMS) provider known for manufacturing printed circuit board assemblies (PCBA).