Books

Featured Books

design007 Magazine

Latest Issues

Current Issue

Rigid-flex: Designing in 3D

In this month's issue, our expert contributors share their best tips, tricks and techniques for designing rigid-flex circuits. If you're a rigid board designer considering moving into the 3D world of rigid-flex, this issue is just what the doctor ordered!

Simulation, Analysis, and AI

Getting today's designs "right the first time" is critical, especially with costly advanced PCBs. Simulation and analysis software tools can help you in the fight to eliminate respins. They're not magical, but they can predict the future of your design.

Advanced, Complex & Emerging Designs

This month, our contributors focus on designing PCBs with advanced, complex and emerging technologies. We investigate design strategies for boards that are on the cutting edge of technology, or crazily complex, or so new that designers are still writing the rules as they go.

Columns

Latest Columns

||| MENU
Book Excerpt: 'The Printed Circuit Designer's Guide to... Manufacturing Driven Design', Chapter 3
August 29, 2023 | I-Connect007 Editorial Team
Estimated reading time: 2 minutes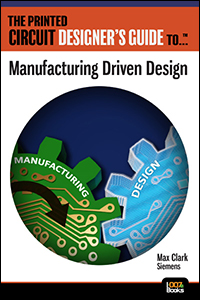 Excerpt from: The Printed Circuit Designer's Guide to... Manufacturing Driven Design, Chapter 3: Why a Change is Needed
What Is Manufacturing Driven Design?
Manufacturing Driven Design is the process of providing full manufacturing awareness within the design process in a manner that allows designers to optimize a design for manufacturing with the first release.
MDD begins at the incarnation of the design idea. In the context of manufacturing, the initial step involves defining the material requirements for the stackup based on the desired electrical requirements. Once the material stackup has been established, the design layout can then be carried out. This simultaneously considers a manufacturer's process capabilities as well as the traditional design rule check (DRC). A traditional DRC is mainly focused on copper or electrical spacing requirements and does not consider manufacturing needs.
Currently what we call DFM is not necessarily Design for Manufacturing; it's Manufacturing in spite of Design.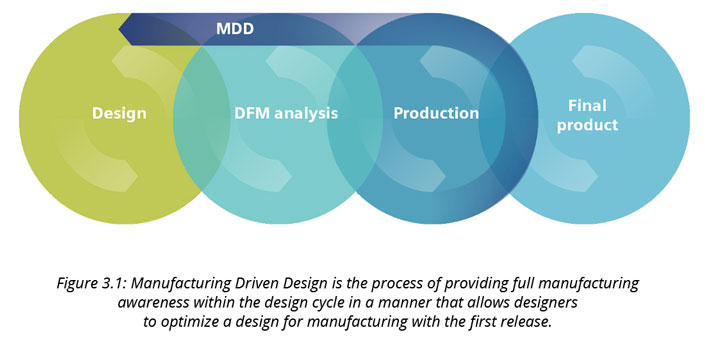 This improved approach of MDD is already implemented in silicon wafer production, where the foundry's production capabilities are taken into consideration right from the placement of the first pattern during design. This approach resulted from the skyrocketing cost of missing an assignment to a wafer production schedule and having to wait for the next opportunity. Imagine a PCB DFM release process that behaved in the same manner. Consider the financial and environmental savings if PCB manufacturers and design organizations took the same approach. The opportunity for overall PCB manufacturing and environmental improvement would be staggering. The environmental impact of excessive PCB production cannot be measured in the recovery of unneeded bare PCBs alone, but also in the extra board edge trim, wastewater—which contains copper, any number of stripping materials, tin, lead, and much, much more. Analyzing the environmental impact of PCB manufacturing is outside of this book's scope but should not be overlooked.
How Is MDD Different From DFM?
Design for Manufacturing today is seen as a step performed after the design is completed but before it is tooled for manufacturing. Often it is done with limited visibility of the applicable manufacturing partners' process capabilities for that design technology.
Manufacturing Driven Design facilitates a more advanced level of collaboration, automation, and intelligence to achieve complete manufacturing awareness, surpassing the capabilities of DFM. In its ideal form, MDD covers all manufacturing details that can impact the yield, cost, or reliability of the PCB. It should include the following at a minimum:
Fabrication process constraints 
Assembly process constraints 
Test process constraints 
Actual PCB material stackup to be used 
Assembly array and fabrication panel configurations
Very few manufacturers today provide their manufacturing process capabilities in a systematic, comprehensive manner to their design customers. Information is conveyed as requested, and only on the specific topic(s) at hand. Even then, it is communicated via email or a PDF of their manufacturing process capabilities specification—nothing that can be automatically acted upon within the design process. MDD provides the infrastructure to share all the necessary manufacturing process capabilities in an automated, synchronized method.
Carrying Capabilities Forward
Understanding the importance of MDD within electronics begins with the end. Ideally, manufacturing processes (fabrication, assembly, test) would be completed with the highest yield and reliability for the lowest cost possible. As the phrase "Manufacturing Driven Design" implies, the manufacturing process capabilities would be introduced at the beginning of the design process, which is carried forward throughout the process. Stated another way, a PCB design is constrained by not only the electrical requirements, but also by the manufacturing process capabilities.
---
Suggested Items
09/28/2023 | Anaya Vardya, American Standard Circuits
There has always been pressure to reduce line and space as we have seen the bleeding edge technology go from 8 mils to 5 mils and then to 3 mils. The difference between "then" and "now" is that the prior advancements, for the most part, used the same processes, chemistry and equipment going from 8 mils to 3 mils. But going from 3 mil to sub 1 mil trace and space is a quantum leap in printed circuit board (PCB) technology that requires a whole new set of processes and materials.
09/28/2023 | Michael Carano -- Column: Trouble in Your Tank
In a previous column, the critical process of desmear and its necessity to ensure a clean copper surface connection was presented. Now, my discussion will focus on obtaining a void-free and tightly adherent copper plating deposit on these surfaces. After the desmear process, the task is to insure a continuous, conductive, and void-free deposit on the via walls and capture pad. Today, there are several processes that can be utilized to render vias conductive.
09/20/2023 | I-Connect007 Editorial Team
Panasonic's Darren Hitchcock spoke with the I-Connect007 Editorial Team on the complexities of moving toward ultra HDI manufacturing. As we learn in this conversation, the number of shifting constraints relative to traditional PCB fabrication is quite large and can sometimes conflict with each other.
09/14/2023 | MKS' Atotech
MKS' Atotech, a leading surface finishing brand of MKS Instruments, will participate in the upcoming IPCA Expo at Bangalore International Exhibition Centre (BIEC) and showcase its latest PCB manufacturing solutions from September 13 – 15.
09/14/2023 | Vern Solberg -- Column: Designer's Notebook
Flexible circuit applications can be as basic as furnishing electrical interconnect between two conventional circuit board assemblies, or to prove a platform for placing and interconnecting electronic components. During the planning and pre-design phase of the flexible circuit, there will be several material and process related questions that need to be addressed. Most flexible circuit fabricators welcome the opportunity to discuss their customers' flexible circuit objectives prior to beginning the actual design process.