Lockheed Martin's Transport Layer Satellites Launch, Part of Tranche 0 Mission
September 4, 2023 | Lockheed Martin
Estimated reading time: 1 minute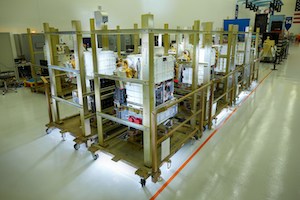 Ten Lockheed Martin-built satellites have successfully been deployed into low-Earth orbit (LEO) in support of the Space Development Agency's (SDA) Tranche 0 Transport Layer (T0TL) mission. SDA's T0TL is a proliferated LEO constellation that will demonstrate low-latency communication and provide a resilient network of integrated capabilities.
The small satellites launched aboard a SpaceX Falcon 9 rocket from Vandenberg Space Force Base in California at 7:26 a.m. PDT today. Soon after liftoff, SDA confirmed separation of all 10 of the Lockheed Martin-built satellites from the launch vehicle.
"Lockheed Martin is proud to be part of SDA's mission to rapidly bring a threat-driven, resilient set of integrated space capabilities to life," said Joe Rickers, Lockheed Martin's vice president for Protected Communications. "We look forward to contributing more of our expertise to this mission to strengthening deterrence and deliver advanced military capabilities in space."
Each satellite incorporates a Terran Orbital bus and payload processors and is equipped with SmartSat™, Lockheed Martin's software platform that makes it easier to dynamically add and quickly change missions in orbit through simple app uploads. The satellites also host Link 16 radios to introduce a terrestrial-proven network in space. Link-16 will enable sensor-to-shooter targeting by connecting systems that include fighter aircraft and Integrated Air and Missile Defense (IAMD) networks.
Lockheed Martin is currently building 42 satellites for SDA's Tranche 1 Transport Layer (T1TL) and was recently awarded an agreement to build 36 of SDA's 72 Beta variant satellites for its Tranche 2 Transport Layer (T2TL) constellation. The T1TL and T2TL Beta satellites will be assembled, integrated, and tested in Lockheed Martin's new small satellite (smallsat) processing facility that is designed for the high-volume delivery of complete satellites. 
Lockheed Martin is partnering with the best minds in the industry to support SDA's mission to provide resilient national security space capabilities through a revolutionary approach of proliferation and spiral development. A diverse supplier base and small business partnerships, in addition to streamlined smallsat processing methods, enable the company to accelerate technology innovation and delivery.
---
Suggested Items
11/20/2023 | PRNewswire
Raytheon, an RTX business, has been awarded a four-year, $15 million contract from DARPA to increase the electronic capability of radio frequency sensors with high-power-density Gallium Nitride transistors. Raytheon is the world's leading manufacturer of military-grade Gallium Nitride, a cutting-edge semiconductor technology that, when used in radar systems, improves range and radar resource management handling. This new prototyping work is being performed under DARPA's Technologies for Heat Removal in Electronics at the Device Scale program, known as THREADS.
11/17/2023 | Raytheon Company
Raytheon, an RTX business, has been awarded a four-year, $15 million contract from DARPA to increase the electronic capability of radio frequency sensors with high-power-density Gallium Nitride transistors which will have 16 times higher output than traditional GaN with no increase in operating temperature. Raytheon is partnering with the Naval Research Laboratory, Stanford University and Diamond Foundry to grow diamond, the world's best thermal conductor, for integration with military-grade GaN transistors and circuits. Cornell University, Michigan State University, the University of Maryland and Penn State University are also providing technology and performance analysis.
11/03/2023 | U.S. Circuit
U.S. Circuit, a premier supplier of commercial and mil/aero PCBs, has recently obtained their AS9100 certification. This certification will allow U.S. Circuit to further expand their military and aerospace offerings to further serve sectors requiring stricter regulation including the Department of Defense (DoD), National Aeronautics and Space Administration (NASA), and the Federal Aviation Administration (FAA).
10/17/2023 | BUSINESS WIRE
New research has found that 95% of military and defence industry decision-makers recognise that ongoing digitalisation has led to a more dynamic and complex 'information battlespace' and a further 93% agree defence will require increased integration across domains.
10/03/2023 | Amitron
Amitron, a leading U.S.-based manufacturer of printed circuit boards (PCB), brings an additional 80,000 square feet of manufacturing space into the overall MIL-SPEC ecosystem with high automation, and the latest equipment technology and processes for military and aerospace applications.