Q2 NAND Flash Revenue Up 7.4%, Anticipated to Exceed 3% Growth in Q3
September 13, 2023 | TrendForce
Estimated reading time: 2 minutes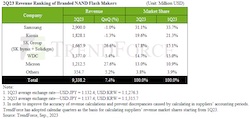 TrendForce's latest research paints a vivid picture: Q2 saw the NAND Flash market still grappling with lackluster demand and being significantly outpaced by supply. The ASP of NAND Flash also took a hit, tumbling 10–15%. Nevertheless, there was a silver lining as bit shipments grew by 19.9% QoQ from a low baseline in 1Q23. To sum up, the Q2 landscape of the NAND Flash sector witnessed a 7.4% QoQ growth in revenue, reaching US$9.338 billion.
From Q2, Samsung began reining in production with a further squeeze expected for the third quarter. With inventories set to thin out, price hikes loom on the horizon, possibly offering a remedy to the chronic supply-demand imbalance. Yet, a crowded supplier landscape in the NAND Flash sector means that many players, faced with hefty inventories, will likely continue aggressive sales into Q3. Forecasts suggests a deceleration in ASP decline for NAND Flash products in Q3 to 5–10%. Riding the stockpiling momentum for the high season, bit shipments are set to rise, propelling Q3 revenue growth past the 3% threshold.
Q2 was a banner quarter for Micron, outpacing its peers with a 27.6% spike and raking in US$1.21 billion. This resurgence in revenue performance came chiefly from shrinking inventories in PC and mobile markets, particularly as client SSDs benefited from expanding average storage capacities—setting a new record for bit shipments in a single quarter. While the industry at large is adopting a production cut strategy, Micron's gaze is set on a more balanced supply-demand scenario in 2H23. That said, an overarching view of the year hints that high inventory levels will continue to suppress the recovery of the NAND Flash industry. The market anticipates maintaining a low bit output supply until 2024.
SK Group (SK hynix & Solidigm) and Western Digital both benefited from a continuous slump in SSD inventories and an uptick in the storage capacities of consumer electronics devices. This combo fueled bit shipment growth, bolstering their second-quarter revenues. SK Group's performance was especially noteworthy, logging a quarterly jump of roughly 26.6%, while Western Digital enjoyed a 5.4 % bump.
On the flip side, Samsung and Kioxia found the going tough in Q2, being the sole players to register revenue shrinkage. The fall in ASP overshadowed their bit shipment growth. Samsung's revenue dipped by 1%, settling at around US$29 billion. While the tech world remains a buzz with AI servers, it's the general-purpose server segment that's most influential to NAND demand, leaving NAND Flash revenues untouched by the AI boom. Kioxia faced its own challenges, with Q2 revenues contracting by about 1.3% to US$18.3 billion.
---
Suggested Items
11/30/2023 | Indium Corporation
Indium Corporation is pleased to announce several key hires and promotions within its global Supply Chain Management team to ensure the efficient and timely delivery of materials for its customers. Markus Roas has joined the company as Business Unit Manage.
11/29/2023 | TT Electronics
TT Electronics, a global provider of custom power solutions and engineered technologies, has announced that its Power and Control business has officially opened its new state-of-the-art research, development and manufacturing facility.
11/27/2023 | IPC
IPC welcomes the actions outlined today by the U.S. Government "to strengthen supply chains critical to America's economic and national security."
11/21/2023 | SEMI
The event will be co-located with electronica India and productronica India, thereby creating Southeast Asia's single largest platform for showcasing the latest advancements in the electronics and semiconductor industries.
11/17/2023 | Flex
Flex announced it received Cisco's 2023 Electronic Manufacturing Services (EMS) Partner of the Year award. Cisco presented the distinguished award at its annual Supplier Appreciation Event (SAE), which celebrates the accomplishments and contributions of its supply chain partners.