TRI to Unveil New High-Throughput AOI and AXI at productronica 2023
September 15, 2023 | TRI
Estimated reading time: 1 minute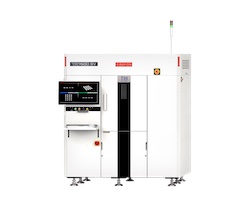 Test Research, Inc. (TRI), the leading test and inspection systems provider for the electronics manufacturing industry, will join productronica 2023, which will be held at Messe München Center from November 14 – 17, 2023. Visit booth No. A2-139 to experience TRI's newly released test and inspection solutions.
TRI will unveil the newly released Ultra-High-Speed 3D AOI, TR7700QH SII, capable of inspecting at speeds of up to 80 cm²/sec, maintaining uncompromised Gauge R&R. The TR7700QH SII is powered by TRI's Smart Programming, AI Algorithms, and Metrology measurement capabilities. Also exhibiting will be the newly released high throughput 3D AXI, TR7600 SV, which offers up to 20% performance improvement compared to the award-winning TR7600 series. Powered by AI Algorithms, the high-speed 3D AXI can precisely detect Void defects.
TRI will showcase the newly released high-speed multi-angle 3D AOI, TR7500QE Plus, equipped with four 20MP side cameras and 1 top high-resolution camera. TRI's lineup will include the enhanced 3D SPI TR7007DI Plus, the high-end 3D AXI TR7600F3D SII, and the Multi-core ICT with In-System LED Analysis function TR5001Q SII INLINE.
The AI solutions from TRI include the AI training tool, the AI Station, Verify Host, AI Smart Programming, and more. TRI Test and Inspection solutions comply with Industry 4.0 standards like the IPC-Hermes-9852, IPC-CFX, and IPC-DPMX.
TRI invites you to visit booth No. A2-139 at productronica 2023. Don't miss the opportunity to discuss with our experts how TRI solutions can enhance your production yield rate, reduce operational costs, and increase efficiency.
---
Suggested Items
12/05/2023 | Robert Erickson and Lorena Villanueva, IPC
About 200 kilometers (125 miles) north of Mexico City lies Queretaro, an area rich in history, with stone streets and public squares, and which twice has been the country's capital. But it's also quickly becoming a global capital of electronics manufacturing, especially aeronautics, and was the location for the first IPC Day Mexico this past June.
12/01/2023 | Nolan Johnson, I-Connect007
This week's news items taught me a few things I didn't know. For instance, there's news about the new equipment for THT work, governmental support for advanced packaging technologies, an upcoming webinar from iNEMI on counterfeits, an interview with U.S. Rep. Blake Moore, one of the sponsors of the bipartisan Protecting Circuit Boards and Substrates Act, and columnist Tim Haag, using Star Trek to illustrate why simplicity is, ahem, paramount.
11/30/2023 | PRNewswire
VPT, Inc., a HEICO company, VPT, Inc., a trusted provider of power conversion solutions for aerospace and defense, proudly announces its latest achievement of obtaining SAE AS9100 Revision D certification. SAE AS9100 Revision D enhances VPT's existing suite of certifications, including MIL-PRF-38534, MIL-STD-883, J-STD-001 (Space), IPC-A-610, and IPC-A-600, further cementing our commitment to excellence in quality and reliability.
11/29/2023 | TRI
Test Research, Inc. (TRI), the industry's leading provider of Test and Inspection systems for the electronics manufacturing industry, is pleased to announce the expansion of its Malaysian office, which opened in 2010.
11/29/2023 | Dana Korf -- Column: Dana on Data
November's issue of Design007 Magazine had an excellent theme that evolved around design simplification. There were exceptionally good articles about how to reduce over-constrained or needlessly complex designs. One significant time-consuming category is the creation of many design files and drawings which lead to lengthy creation and interpretation time along with the considerable time to resolve conflicting or erroneous information.