I-Connect007 Editor's Choice: Five Must-Reads for the Week
September 15, 2023 | Andy Shaughnessy, Design007 Magazine
Estimated reading time: 2 minutes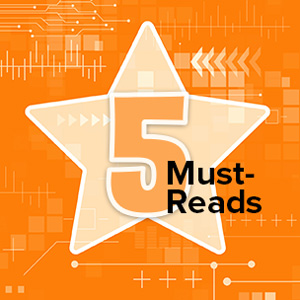 It's been a hot week in Atlanta. The Braves just clinched the division title with the best record in the league, 95-50, and Matt Olson tied the Braves' franchise record with 51 home runs in one season (more than Hank Aaron ever hit in one year, if you're a baseball history buff).
We've had a hot week in this industry too. In my picks for this week, we introduce a new SMT007 columnist, and we have a look at the CHIPS Act one year later. We have a great article about sourcing diversification, and a look at the latest electronics news coming out of India. And columnist Vern Solberg explains DFM best practices for flexible circuits.
Have a great weekend!
Meet Aidan Salvi of Amitron, SMT007 Columnist
Published September 14
This week, we welcomed Aidan Salvi to the I-Connect007 columnist roster. Aidan is the chief transformation officer for Amitron, and he'll be covering the move from robots to cobots in PCB manufacturing. Check out his columns in the SMT007 and Mil-Aero newsletters.
Sourcing Diversification – Empowering Your Supply Chain for Success
Published September 13
The supply chain situation has stabilized now, but smart companies are being proactive and shoring up their sourcing processes, just in case. Léa Maurel of ICAPE has a great article about sourcing diversification and the need to foster relationships with multiple vendors from around the globe.
CHIPS Act, One Year On
Published September 12
It's been one year since the CHIPS Act was introduced with a lot of hoopla and promises to fund the U.S. electronics industry. But where are we now? Has anything really changed? In this conversation, PCBAA Chair Travis Kelly lays it all out. He also discusses the Protecting Circuit Boards and Substrates Act that was recently reintroduced in Congress.
Designer's Notebook: DFM Principles for Flexible Circuits
Published September 14
DFM practices can be challenging in the best of times, and things only get crazier when we move into flexible circuits. In this column, Vern Solberg discusses flex DFM techniques that designers need to keep in mind when working in the 3D flex environment.
Material Insight: India's Rise in the Global Electronics Ecosystem
Published September 12
In this column, Preeya Kuray focuses on India's continued expansion in the global electronics market. She discusses some of the electronics news from the Land of Many Wonders, including Micron's plans to build a $2.75 billion advanced packaging factory in India. There's a lot going on in India right now.
---
Suggested Items
12/07/2023 | VDL Groep
VDL Groep has strengthened its position in the high-quality electronics market. The industrial family business with its head office in Eindhoven has acquired Rena Electronica from Zundert.
12/05/2023 | HANZA
HANZA AB has signed an agreement to acquire all shares in Orbit One AB, a Swedish company that offers contract manufacturing of electronics and electromechanics. Orbit One has annual sales of approximately SEK 1.1 billion with an operating profit (EBITA) of approximately SEK 70 million.
12/05/2023 | IPC
Electronics industry sentiment improved during November with demand sentiment also taking a solid step up over the last 30 days per IPC's November 2023 Global Sentiment of the Electronics Supply Chain Report.
12/05/2023 | Robert Erickson and Lorena Villanueva, IPC
About 200 kilometers (125 miles) north of Mexico City lies Queretaro, an area rich in history, with stone streets and public squares, and which twice has been the country's capital. But it's also quickly becoming a global capital of electronics manufacturing, especially aeronautics, and was the location for the first IPC Day Mexico this past June.
12/04/2023 | USPAE
Seven microelectronics firms received nearly $10 million in combined funding to commercialize technologies of interest to the U.S. military services as winners of the Defense Business Accelerator (DBX) Microelectronics Challenge. This groundbreaking initiative is funded by the Department of Defense (DoD) and led by the U.S. Partnership for Assured Electronics (USPAE).