Books

Featured Books

pcb007 Magazine

Latest Issues

Current Issue

Finding Ultra

New demands on PCB fabrication, namely advanced packaging, ultra high density interconnect (UHDI), and new specialty materials, are converging, changing the landscape of our business. Is it time to start paying close attention to this convergence?

Developing a Strategy

A solid strategy is a critical part of success. This month, we asked some of the top industry leaders and business strategy "gurus" to share their thoughts on developing strategies.

Winning With TQM

In this issue, we explore how TQM has entered the DNA of continuous improvement disciplines, and the role leadership transformation plays in this. If you've ever competed against a TQM company, you understand their winning advantage.

Columns

Latest Columns

||| MENU
The September 2023 Issue of PCB007 Magazine Available Now
September 18, 2023 | I-Connect007 Editorial Team
Estimated reading time: Less than a minute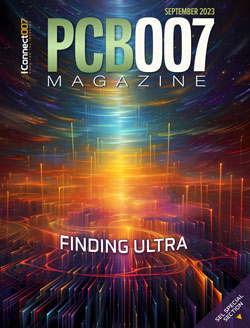 New demands on PCB fabrication, namely advanced packaging, ultra high density interconnect (UHDI), and new specialty materials, are converging, changing the landscape of our business. And then there's the impact of the CHIPS Act.
In this issue of PCB007 Magazine, we look at materials, advanced packaging and UHDI fundamentals from multiple directions with industry voices ranging from fabricators to equipment manufacturers, to industry advocates.
We also bring you special coverage with conversations from some of the suppliers to the ultra-modern fab and assembly facility in Moscow, Idaho, built by Schweitzer Engineering Laboratories.
Preview this month's issue or download a copy to your library for future reference.
---
Suggested Items
02/13/2023 | Don Ball -- Column: The Chemical Connection
The November issue of PCB007 included a fair amount of discussion on the growing need for ultra-high density interconnects (UHDI). UHDI is an area replete with manufacturing challenges due not only to the feature sizes this technology requires (< 50 micron or < 2 mils), but also the lack of familiarity U.S. manufacturers have with this technology. In an interview with Calumet's Todd Brassard and Meredith LaBeau, they stated that the U.S. is roughly 30 years behind the curve in manufacturing UHDI, which is likely the result of companies offshoring UHDI manufacturing for many years. How can we catch back up?
12/21/2022 | Nolan Johnson, I-Connect007
Candor Industries is a PCB fabricator investing in UHDI fabrication capabilities in Canada. To support advanced packaging, as well as the current pace of IC process shrinks, PCB fabrication capabilities must shrink to keep up. Sunny Patel, Candor's technical sales manager, brings us up to speed on what Candor has learned in their journey to add UHDI. What we gain from this interview is that, while certainly not insignificant, the stretch to add UHDI may be not as far as one might think.
12/02/2022 | Nolan Johnson, I-Connect007
Normally, the holiday season is a slow(ish) news time, but this year just feels different. My opinion is that the technology industry banked up a whole bunch of innovations and new products during the pandemic disruptions, which are coming to market as quickly as possible. The November/December news is full of technology discussion, as my selections this week clearly demonstrate.
11/30/2022 | I-Connect007 Editorial Team
Jan Pedersen of NCAB Group is deeply involved in IPC standards development surrounding ultra HDI and keeps his finger on the pulse of the industry surrounding this type of fabrication. With Asia still dominating this area, Jan sees the need for U.S. and European PCB fabricators to make the investment if they want to stay competitive.
11/28/2022 | I-Connect007 Editorial Team
The more we investigate UHDI in the current market, the more advanced packaging becomes a part of the conversation. Yet there are so many questions to be answered. The I-Connect007 Editorial Team met with Calumet's Todd Brassard and Meredith LaBeau recently to get answers to these questions and find out where the UHDI market is headed.