Wearables Bounce Back with 8.5% Growth in Q2 2023 and a Positive Forecast
September 21, 2023 | IDC
Estimated reading time: 1 minute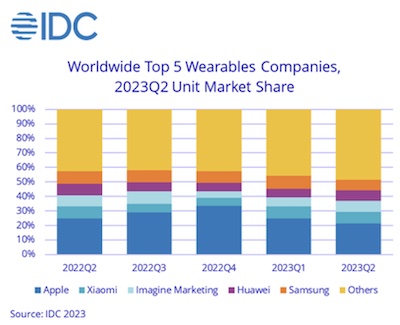 Global shipments for wearable devices returned to growth in the second quarter of 2023 (2Q23) reversing two quarters of decline, according to new data from the International Data Corporation (IDC) Worldwide Quarterly Wearable Device Tracker. The market grew 8.5% year over year with shipments totaling 116.3 million devices. This growth came at the expense of overall market value as average selling prices (ASPs) fell due to increased competition and discounting by retailers seeking to reduce excess inventory.
Competition from outside the top 5 companies has been on the rise allowing these smaller companies to gain share in the past year. It has also given way to lesser-known form factors such as connected rings. "While fitness tracking, such as steps taken and distances run, has been helpful in capturing the mainstream audience, many consumers are now clamoring for a more holistic approach to health tracking, paving the way for features such as sleep monitoring, recovery metrics, readiness scores, and stress level tracking," said Jitesh Ubrani, research manager, Mobility and Consumer Device Trackers at IDC. "This is where smaller brands, such as Oura, Whoop, and Withings, have been able to carve out a niche, though many big name brands and some local companies are closely eyeing this space and are expected to launch products in the coming months."
With growth returning this quarter, IDC forecasts 520 million wearables will be shipped in 2023, up 5.6% from 2022. Hearables will be the top category with nearly 62% of the wearables shipped this year, followed by smartwatches with nearly 32% of shipments. Looking ahead, the market is expected to grow to 625.4 million by the end of 2027, representing a 4.7% compound annual growth rate (CAGR).
"Most consumers think of popular brands like Apple, Samsung, and Fitbit when it comes to wearables, and they would be correct," said Ramon T. Llamas, research director with IDC's Wearables team. "But driving growth are numerous smaller companies that may not have the global aspirations as the market leaders, but instead focus on specific geographies such as China and India with fully featured devices that meet price expectations. Looking ahead, it isn't too hard to imagine some of these brands being mentioned in the same breath as the world's most popular ones, or to imagine moving into adjacent markets where pent-up demand has yet to be fully satisfied."
---
Suggested Items
12/07/2023 | VDL Groep
VDL Groep has strengthened its position in the high-quality electronics market. The industrial family business with its head office in Eindhoven has acquired Rena Electronica from Zundert.
12/06/2023 | SEMI
SEMI announced the SEMI Leadership Accelerator to foster industry growth by assisting organizations in cultivating the next generation of leaders.
12/04/2023 | Cicor
The Cicor Group is publishing its financial mid-term targets for the next three to four years today and hosts its Capital Markets Event 2023 this evening in Zurich.
12/04/2023 | TrendForce
TrendForce investigations reveal a significant leap in the DRAM industry for 3Q23, with total revenues soaring to US$13.48 billion—marking 18% QoQ growth.
12/01/2023 | IDC
Newly released data from IDC's Worldwide Quarterly Mobile Phone Tracker shows that shipments of smartphones to the Gulf Cooperation Council (GCC) region increased 13.2% year on year in Q3 2023, with growth of 3.7% on the previous quarter.