Collins Aerospace to Install Solar Farm at Rockford Facility
October 2, 2023 | Collins Aerospace
Estimated reading time: 1 minute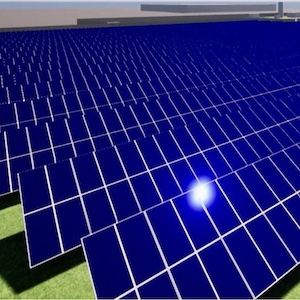 Collins Aerospace, an RTX business, has signed a 15-year power purchase agreement with ENGIE Distributed Solar and Storage for the construction and operation of a 6.5-acre solar farm at the company's Rockford, Illinois Plant 6 site on Harrison Avenue. Under the agreement, Collins will pay ENGIE for the electricity produced by the project. ENGIE will retain the renewable electricity certificates and Collins will purchase replacement certificates from other qualified renewable projects.
"As part of Collins' Sustainability roadmap, we are committed not only to creating greener products for our customers, but also to making our own manufacturing operations more environmentally friendly," said Steve Kotso, executive director, Electric Power Systems at Collins. "Rockford provides a perfect case in point. In The Grid, our new $50 million lab, we're developing hybrid-electric propulsion systems to help future aircraft reduce emissions. At the same time, we're installing a solar farm to help supply roughly 10 percent of our Plant 6 facility's electricity needs annually. Overall, the agreement will reduce the site's greenhouse gas emissions by more than 1,500 metric tons of carbon dioxide each year."
Construction of the solar farm is slated to begin next spring and estimated to be complete later in 2024. Collins currently has solar arrays installed at 15 sites worldwide, avoiding more than 3,500 metric tons of greenhouse gas emissions each year.
---
Suggested Items
12/04/2023 | RTX
Collins Aerospace, an RTX business, is working with easyJet to activate GlobalConnectSM connected aircraft services on more than 330 Airbus aircraft in its fleet. easyJet will become the largest A320 operator in the world to deploy GlobalConnect. This new capability enhances safety oversight, pilot training and operational efficiencies.
11/03/2023 | Collins Aerospace
Collins Aerospace recently expanded its services for airport operator AIRPLAN S.A.S. for a host of airport solutions that streamline passenger processing, enable self-service options and manage operations for six airports in Colombia's northern central region.
10/23/2023 | RTX
Collins Aerospace, an RTX business has signed a licensing agreement with South Korean company Hanwha Systems to manufacture airborne tactical radios in South Korea as part of a Second-generation Anti-jam Tactical UHF Radio for NATO waveform (SATURN) upgrade program.
08/10/2023 | Raytheon Technologies
Collins Aerospace, an RTX business, has been awarded a $36 million contract from the U.S. Air Force Research Laboratory to develop and demonstrate a platform-agnostic, Beyond-Line-Of-Sight, satellite communications pod.
08/02/2023 | Raytheon Company
RTX demonstrated advanced AI-enabled communications systems to rapidly distribute data to coalition partners during the second round of the U.S. Indo-Pacific Command's Northern Edge 2023 exercise series at Kadena Air Base in Okinawa, Japan.