Advanced Materials Update with John Andresakis
October 26, 2023 | Andy Shaughnessy, Design007
Estimated reading time: 6 minutes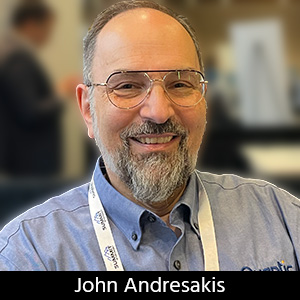 At PCB West, I sat down for an interview with John Andresakis, the director of business development for Quantic Ohmega. I asked John to update us on the company's newest materials, trends in advanced materials, and the integration of Ticer Technologies, which Quantic acquired in 2021. As John explains, much of the excitement in materials focuses on laminates with lower and lower dielectric constants.
Andy Shaughnessy: John, good to see you again. Tell us about the new company, which now has Ohmega and Ticer Technologies under one roof.
John Andresakis: The company name is Quantic Ohmega. It's a result of taking Ohmega and Ticer and putting them together under one umbrella. Quantic is our parent corporation, and it includes a group of about 15 businesses that were put together by a venture capital firm that deals in high-reliability, mission-critical electronics. By combining these companies, we leverage our collective knowledge and gain the stability of being a bigger organization while maintaining the flexibility and responsiveness of a small company.
Shaughnessy: As a materials guy, what are some of the trends you're seeing in materials now?
Andresakis: In our business, resistor foils, we're following the trends of what the copper foils producers are making, basically going to copper foils that have a lower profile. This is due to the need for better high-frequency response. We use them as our base surface for plating or sputtering. We have a low-profile option (Ticer EHF) but we are working on some even lower-profile coppers.
The trick here is to make sure we keep the uniformity of our coating while at the same time having good adhesion to these advanced substrates. We're finding the same problem that the copper suppliers have seen: The high-performance laminates are getting harder and harder to adhere to, so we're working on improving adhesion to bond the copper to those types of laminates.
We're doing some high-frequency testing with the TCR EHF, and so far, it looks very encouraging. The simulation and the actual results agree closely. We did this with a sister division called X Microwave, and along with an FR/MW design group we've built and tested attenuators to determine the high-frequency performance of our resistors. We know we have customers who are using our materials at high frequency, but a lot of times they won't share the data, so we must come up with our own. Now we're in the process of putting all of that together, and hopefully, we'll be able to present the data from this at an industry event soon.
We have another product now which we're calling EPS: it's a foil from Japan, and it is extremely low profile. We've been able to successfully bond it to PTFE-type materials and are working on improving the adhesion to other laminates. Initial loss measurements show the expected lower loss at high frequency due to the low profile.
Another trend is that people are moving towards even finer lines and spaces needed for organic chip packaging, so now we're working on foils and resistor layers that can be used for termination resistors on chip packages. We're looking more into the chip packaging market as an opportunity, especially with chiplets and other packaging schemes evolving. If they can get rid of passive components and put them inside the package versus being on the surface, that's a big benefit.
Shaughnessy: They're almost like mini circuit boards, basically.
Andresakis: Yes, basically. From a cost standpoint, if you think of an organic package versus a ceramic package, there's a big cost savings. This copper foil that we're working on is very good for buildup technology and can be used for making the sequential laminations they need for advanced packaging. We're also seeing, especially in medical applications, people are interested in our resistor materials because they can be used as a heater.
We have a number of heater circuit projects. Now people can use it to heat up a substrate to a certain temperature for optimizing a process, ensuring an electronic device can work in cold environments (like space) or simply as a reference temperature. If you want to do a burn-in board, they can bring the temperature up on the burn-in board. There's a lot you can do with just a single layer of our material underneath. And it's incorporated right into your circuit board as opposed to having just a separate heater circuit. We are seeing a lot of interest in the heater market, with most of it in the biomedical segment.
Shaughnessy: What other new materials are you seeing now that are really interesting or innovative?
Andresakis: There's a lot of environmental push now around fluorinated products, so a lot of work is going into finding substitutes. This is very tough because there really are few things that are as good as Teflon. It's an area that a lot of people are looking into. I haven't seen any real viable alternatives yet. We've done some collaborative work with a company called Blue Shift, and they make a polyimide aerogel. The thing about aerogel is that it's mostly air, with just a small amount of polyimide holding it together. It was developed as a great thermal insulator, but since it is mostly air, and air has a Dk of 1 it has a low dielectric constant (polyimide has a Dk of about 3.2 so you can get an effective Dk of 1.5 or less with these aerogels). The only restriction right now is that they can only make it five mils thick or thicker; it's hard to make it thinner. Processing it is also a challenge because you need to avoid collapsing the cells during processing. They have, however, been able to make some prototype boards.
The dielectric is an area where a lot of work is going on, but also in reinforcements. I think that people are looking at alternative reinforcements now. We can use fiberglass, spread glass, and some of the newer low-loss glasses, but technologists are now looking for an advantage in using organic reinforcement (lower Dk and chance of lower skew). There are going to be some changes, but the material world moves very slowly because designers and program managers are conservative. No one wants to be the first one to stick their neck out unless they have to.
We're also working on a couple of sensors in the automotive world, where our resistivity and the change of resistivity over time, in a controlled way, will actually allow them to check the status of certain components inside the car. I can't give any more detail at this time until it's announced. But right now, your car will give you a warning sign if a system is about to fail. But we don't want to wait until then and we want real time indication of life. With this sensor, we can tell you how much something is changing over time. It's predictive maintenance.
Shaughnessy: Is there anything else you'd like to mention?
Andresakis: We just launched a brand-new website, with an updated technical library. If you sign up for the technical library, we have a lot of tools on how to use the material, the processing, how to calculate the maximum power they can handle, as well as some application notes.
Shaughnessy: Great catching up with you, John. Thanks so much.
Andresakis: Thank you, Andy.
---
Suggested Items
12/06/2023 | Peters
As part of the Peters Coating Innovation Forum (PCIF), Peters presented the new MYC50 coating machine in the showroom.
12/06/2023 | Happy Holden -- Column: Happy's Tech Talk
Registration is one of the most important features for any PCB fabricator, but the capability for multilayers is a lot of work on the fabricator's part. CAM settings, multilayer lamination, X-ray analysis, AOI measurements, imaging capability, and drill accuracy all play an important part in this capability. Software and panel parametric coupons are important because they aid in registration performance.
12/05/2023 | American Standard Circuits
West Chicago, Illinois-based PCB fabricator American Standard Circuits will be exhibiting at this year's Annual Association of Old Crows International Symposium to be held from December 11 through the 13th in National Harbor, Maryland.
12/05/2023 | Nolan Johnson -- Column: Nolan's Notes
In the world of sailing, we talk about headwinds—that strong wind that opposes forward motion—to gain momentum (mostly). But isn't this counterintuitive? How can wind pushing into your sails help you move in the direction you actually want to go? Of course, it's much more easily understood when we apply the principles of aerodynamics—which I think most of us understand—and some sailing techniques that take advantage of the headwinds. So, I wasn't surprised when the term headwinds popped up frequently in our discussions for this issue about the current economic climate.
12/04/2023 | PRNewswire
At the annual IBM Quantum Summit in New York, IBM debuted 'IBM Quantum Heron,' the first in a new series of utility-scale quantum processors with an architecture engineered over the past four years to deliver IBM's highest performance metrics and lowest error rates of any IBM Quantum processor to date.