Stretchable Inks: Changing the Wearables Market and the Landscape of Manufacturing
May 13, 2015 | Barry Matties, I-Connect007
Estimated reading time: 8 minutes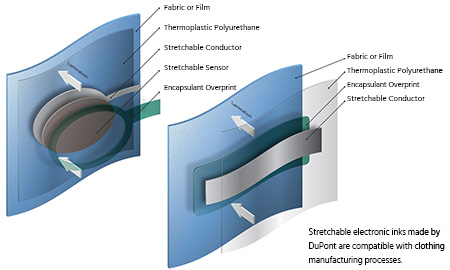 Willoughby: I would say we have very strong and broad interest in this offering at this point. It has been very exciting for a number of our customers.
Matties: In order to lay the circuits onto the film or the fabrics, is that done with a printer? How does the process work?
Willoughby: It is a pretty straight forward situation. This is actually a manufacturing-ready solution that uses common manufacturing processes from the garment industry. In the application as shown in the figure above, we are actually printing onto thermoplastic polyurethane (TPU) using screen printing, which is a standard technology. It has been around for a while. Clothing folks are very familiar with that.
Some of the other processes that are used for interconnects, which are a very popular snap solution, a lot of these also can be done using standard clothing processes and standard clothing equipment.
Matties: That's great. No equipment investments necessary?
Willoughby: That's right. At the very least, that equipment exists in various locations in the industry. I mean, any given facility may need to add something, but all of it is comfortable, familiar equipment that they are using in the industry.
Matties: If someone with the equipment in place wants to turn this part of the market segment on, they simply need to order your products and they can do that pretty easily?
Willoughby: Essentially, yes. There is some design know-how that goes into it, but from a manufacturing standpoint it is very straight forward.
Matties: You mentioned the design. Is this something that we are going to see come into mainstream circuit board designers, or is this going to be a whole new breed of designers who will be coming out with these? I ask because they are relatively simple circuits as far as I can tell.
Burrows: There are a lot of specialty skills involved because the interaction with the fabric adds a whole new dynamic to the design. It is kind of a new breed of designers that are getting involved.
Matties: That is interesting because there is a lot of talk today about what is going to inspire young people to enter into the circuit or electronics design community. And I think it is going to be products like this that certainly could be a path forward into our industry. Some will stick with the wearables and some may move on to more complex designs. It is nice to see a product that is perhaps appealing to a new segment of designers. Are there other competitors already out there in the marketplace with products?
Willoughby: There certainly are other technologies being used to create smart clothing. There is conductive fabric out there. There are various electronic yarns that are woven in. What we are finding is that these inks have significant advantages in terms of comfort, thin form-fitting circuits, user manufacturability and, in many cases, performance. So we do think these are compelling solutions for making these circuits, versus some of the competitive alternatives that are out there.
Matties: Congratulations. It looks like really interesting technology and the potential for a nice piece of market share. Thank you very much. I appreciate your time today.
Willoughby: Thanks, Barry. 
Page 2 of 2
---
Suggested Items
11/29/2023 | TT Electronics
TT Electronics, a global provider of custom power solutions and engineered technologies, has announced that its Power and Control business has officially opened its new state-of-the-art research, development and manufacturing facility.
11/27/2023 | IPC
IPC welcomes the actions outlined today by the U.S. Government "to strengthen supply chains critical to America's economic and national security."
11/27/2023 | GOEPEL Electronics
The US branch of GÖPEL electronic is proud to announce the addition of David Kalaidjian as the new National Sales Development Manager.
11/27/2023 | Wurth Elektronik
HyPerStripes project partners will create a technology platform including manufacturing techniques for roll-to-roll (R2R) processing as well as the integration of electronic components onto very long ("endless"), flexible and stretchable printed circuit boards.
11/24/2023 | Messe München
Messe München's electronics network with the world's leading trade fairs electronica and productronica is expanding its partnership with SEMI, the global semiconductor industry association, in India.