Aviation Industry to go Faster with Real-time Data Analytics
January 3, 2017 | Transparency Market Research
Estimated reading time: 2 minutes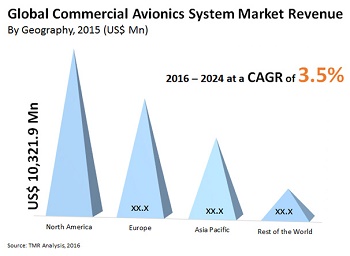 The intensity of competition within the global commercial avionics systems market is expected to increase strongly over the coming years. Improvements in economy and the growing appeal and ease of air travel have generated a high buzz for all players in the global commercial avionics systems market and they are expected to ramp up development rates to match the demand. The current state of the market's competitive landscape is extremely consolidates, with four players – Rockwell Collins, Honeywell Aerospace, Thales Group, and Garmin Ltd. – collective held a massive 77.08% of its overall value in 2015. 
According to a research report released by Transparency Market Research, the global commercial avionics systems market is expected to show a fast rate of increment in its competitive index between all the players that are already established in it. Additionally, the entry cost for players into carrier systems is low, making the global commercial avionics systems market a very attractive one for new entrants. The market is projected to reach US$31.07 bn by 2024, expanding at a CAGR of 3.5% from 2016 to 2024. At the end of 2016, the global commercial avionics systems market is expected to reach US$25.34 bn. 
High Demand for Real-time Data Processing Spurs Global Commercial Avionics Systems Market 
"Technological advancements in the aviation industry are playing a big role in the growth of the global commercial avionics systems market. Of the many improvements made in the recent past within this industry, concepts such as the glass cockpit and the massive room for improvements in in-flight entertainment are some of the key factors promoting the growth of the global commercial avionics systems market. The top driver for the market, however, is the intense demand for real-time data analytics from the aviation industry. This is especially prominent in the developed economies from North America and Europe, where the aviation industry is advanced enough to incorporate such technologies. Real-time data analytics can prove to be invaluable for the industry as it allows for a much quicker rate of data processing upon which necessary actions can be taken. The impact of this driver is expected to remain very high for the coming years," states a TMR analyst. 
Growing Cyber-attack Threats Deter Developments in Commercial Avionics Systems 
One of the leading problems faced by players from the global commercial avionics systems market is the reluctance shown by clients in terms of taking on the modern systems due to a higher threat of cyber-attacks. The high need for internet connectivity for commercial avionics systems allows for a greater window of opportunity for malicious activities. This scare has especially been restrictive for developed economies after aviation industry-based terrorist attacks that have occurred in the past two decades. At the same time, the global commercial avionics systems market also has to manage the sheer complexity of its value chain which includes end users that make low profits from adopting these expensive systems, the constantly increasing fuel prices, and a high maintenance cost of the systems. 
"The aviation industry is currently doing all it can to make sure modern implementations such as commercial avionics systems take full effect despite whatever issues they hold for now. The U.S. FAA, for instance, is in constant pursuit of improving the national aviation industry and does it through the implementation of programs such as NextGen Avionics. Similar scaled programs are being implemented in other parts of the developed economies, providing a concrete foundation for the global commercial avionics systems market to improve upon," adds the analyst.
---
Suggested Items
11/29/2023 | TT Electronics
TT Electronics, a global provider of custom power solutions and engineered technologies, has announced that its Power and Control business has officially opened its new state-of-the-art research, development and manufacturing facility.
11/27/2023 | HyRel
HyRel Technologies, a global provider of quick turn semiconductor modification solutions, announces the achievement of International Traffic in Arms Regulations (ITAR) registration.
11/20/2023 | MIT
MIT's Department of Aeronautics and Astronautics (AeroAstro) recently hosted the 2023 Future Leaders in Aerospace Symposium, inviting women and underrepresented minorities in aerospace fields to campus for a two-day program.
11/14/2023 | NEO Tech
NEOTech, a leading provider of electronic manufacturing services (EMS), design engineering, and supply chain solutions in the high-tech industrial, medical device, and aerospace/defense markets, is thrilled to welcome James Doyle to the team as Chief Executive Officer of NEOTech's Aerospace & Defense division, effective immediately.
11/06/2023 | PRNewswire
Vuzix Corporation, a leading supplier of smart glasses and Augmented Reality (AR) technology and products, announced it has completed delivery against a follow-on order from a Tier-1 aerospace and defense contractors with which it has been working with.