U.S. Companies Still Hold Largest Share of Fabless Company IC Sales
March 17, 2017 | IC Insights
Estimated reading time: 1 minute
Research information that will be posted in the March Update to the 20th anniversary 2017 edition of IC Insights' McClean Report shows that fabless IC suppliers represented 30% of the world's IC sales in 2016 (up from only 18% ten years earlier in 2006).  As the name implies, fabless IC companies do not have an IC fabrication facility of their own.
Figure 1 depicts the 2016 fabless company share of IC sales by company headquarters location.  As shown, at 53%, the U.S. companies held the dominant share of fabless IC sales last year, although this share was down from 69% in 2010 (due in part to the acquisition of U.S.-based Broadcom by Singapore-based Avago).  Although Avago, now called Broadcom Limited after its merger with fabless IC supplier Broadcom became official on February 1, 2016, has fabrication facilities that produce III-V discrete devices, it does not possess its own IC fabrication facilities and is considered by IC Insights to be a fabless IC supplier.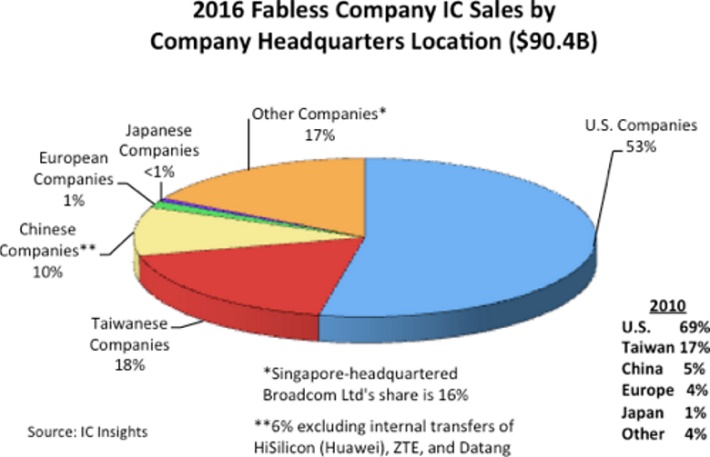 Figure 1
Figure 2 shows that in 2009, there was only one Chinese company in the top-50 fabless IC supplier ranking as compared to 11 in 2016.  Moreover, since 2010, the largest fabless IC marketshare increase has come from the Chinese suppliers, which held a 10% share last year as compared to only 5% in 2010.  However, when excluding the internal transfers of HiSilicon (over 90% of its sales go to its parent company Huawei), ZTE, and Datang, the Chinese share of the fabless market drops to about 6%.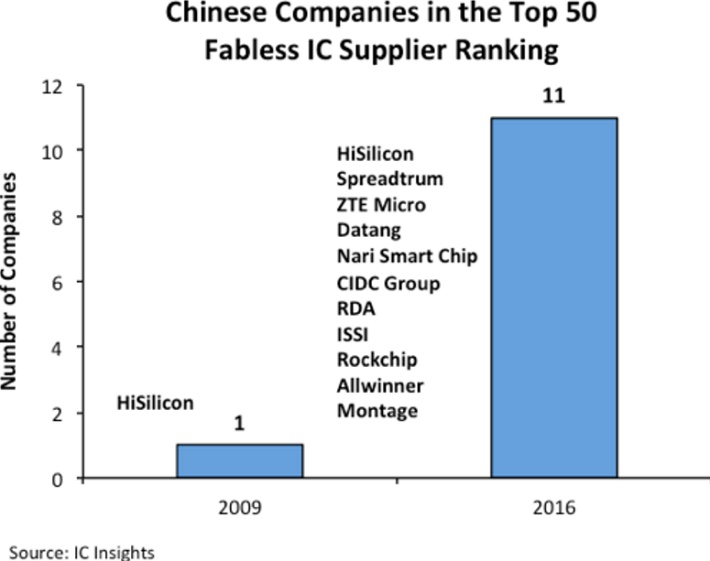 Figure 2
European companies held only 1% of the fabless IC company marketshare in 2016 as compared to 4% in 2010.  The reason for this loss of share was the acquisition of U.K.-based CSR, the second largest European fabless IC supplier, by U.S.-based Qualcomm in 1Q15 and the purchase of Germany-based Lantiq, the third largest European fabless IC supplier, by U.S.-based Intel in 2Q15.  These acquisitions left U.K.-based Dialog ($1.2 billion in sales in 2016) as the only Europe-headquartered fabless IC supplier in the fabless top 50-company ranking last year (Norway-based Nordic Semiconductor just missed making the top 50 ranking with 2016 sales of $198 million).
There is also only one major fabless Japanese firm—Megachips, which saw its sales increase by 20% in 2016 (8% using a constant 2015 exchange rate), one major South Korean fabless IC company (Silicon Works), and one major Singapore-based (Broadcom Ltd.) fabless supplier.
---
Suggested Items
09/22/2023 | Zhen Ding
Zhen Ding Technology Holding Ltd, a Taiwan-based company engaged in the design, development, and manufacturing of printed circuit board (PCBs) including rigid PCBs, flex PCBs, HDIs, substrate-like PCBs (SLP), and rigid-flex PCBs, has posted sales of NT$13.78 billion ($429.15 million at $1:NT$32.12) for August 2023, up by 33.7% from the previous month. Year-on-year, the company's August revenue was down by just 16.65%. 
09/21/2023 | Mirtec
MIRTEC, the 'Global Leader in 3D Inspection Technology' is pleased to announce that Robert Horowitz has been promoted to the position of National Sales Manager for MIRTEC's North American Sales and Service Division.
09/18/2023 | Nan Ya Printed Circuit Board Corp.
Nan Ya Printed Circuit Board Corp. (Nan Ya PCB), a manufacturer of single-sided PCBs, HDI PCBs, and rigid-flex PCBs based in Taiwan, has posted unaudited sales of NT$3.37 billion ($105.52 million at $1=NT$31.97) for August 2023, up by 1.2% from the previous month, but down by 41.4% year-on-year.
09/13/2023 | Lea Maurel, ICAPE Group
In today's interconnected and rapidly evolving business landscape, sourcing diversification has emerged as a crucial strategy for organizations aiming to stay competitive and thrive in a dynamic marketplace. The traditional approach of relying on a single source for procurement is being replaced by a more sophisticated and strategic mindset that emphasizes the advantages of exploring multiple procurement channels. This approach not only opens doors to a whole different network of suppliers, but also offers numerous benefits, such as navigating sales increases, ensuring smoother deliveries, and promoting innovation within the organization.
09/11/2023 | Compeq
Compeq Manufacturing Co. Ltd, a Taiwan-based manufacturer of rigid-flex printed circuit boards (PCBs) and flex PCBs, has sustained its revenue growth, posting unaudited net sales of NT$6.46 billion ($202.02 million at $1:NT$31.98) for August 2023, up by 7.13% from the previous month.