Reading time ( words)
A soft sensor microsystem with a three-dimensional design—bypassing constraints and limitations of traditional two-dimensional design—and a range of applications, including continuous health monitoring and disease treatment, enables greater flexibility and performance than existing, flat sensors. In this sense, there have been a growing interest in soft electronics which are designed to intimately interface with the soft tissues of the human body such as skin.
Recently, the microsystem was developed by a joint research team that includes DGIST Professor Kyung-In Jang and Professor John A. Rogers from the Northwestern University. It contains a variety of sensors connected by a unique network of tiny wire coils, all placed in a soft silicone pad about four centimeters (1.5 inches) in diameter.
The team used the system to build and test a biomonitor that can be easily attached to the skin. It contained about 50 components connected by 250 individual microcoils and wirelessly transmitted data on movement and respiration, as well as electrical activity in the heart, muscles, eyes and brain to a smartphone application.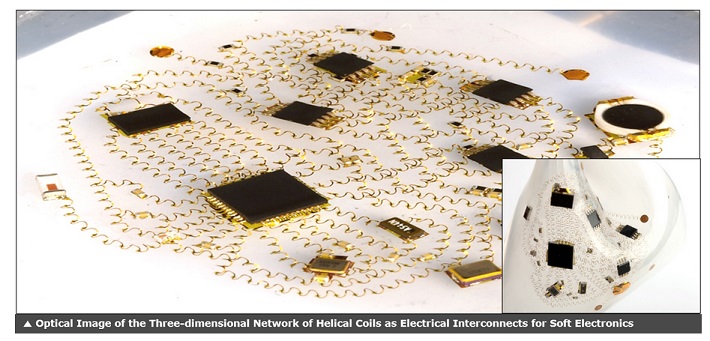 The key to creating this novel microsystem is stretching the elastic silicone base while tiny wire arcs, made of gold, chromium and phosphate, are laid onto it. The arcs are firmly connected to the base only at one end of each arc. When the base is allowed to contract, the arcs pop up, forming three-dimensional coils that connect the system's sensors, circuits and radios to each other. The entire system is encased in a soft silicone material to protect its components, and is powered wirelessly rather than being charged by a battery. The developed platform enables wireless collection, analysis, and storage of bio-signal data performing as a separate computer.

While conventional flat sensors are not applicable to the human skin—which surface are curvilinear and complex, the coils are much more flexible than wires laid flat into a sensor; flexibility is critical for application on soft tissue. The coils and components are also configured in an unusual spider web pattern that ensures "uniform and extreme levels of stretchability and bendability in any direction." It also minimizes the system's size. The researchers also considered key electrical and mechanical issues to optimize the system's physical layout, such as sensor placement or wire length, to minimize signal interference and noise.
In addition to bio-integrated electronics, the microsystem could also be used in other areas of emerging interest, such as soft robotics or autonomous navigation.
Share
Print
Suggested Items
09/12/2019 | SEMI
Worldwide semiconductor manufacturing equipment billings reached $13.3 billion in the second quarter of 2019, down 20% from the same quarter of 2018 and 3% from than the previous quarter.
12/01/2015 | NASA
After 20 years in space, ESA and NASA's Solar and Heliospheric Observatory, or SOHO, is still going strong. Originally launched in 1995 to study the sun and its influence out to the very edges of the solar system, SOHO revolutionized this field of science, known as heliophysics, providing the basis for nearly 5,000 scientific papers. SOHO also found an unexpected role as the greatest comet hunter of all time—reaching 3,000 comet discoveries in September 2015.