Strategies for Developing Copper Plating Systems
October 16, 2017 | Patty Goldman, I-Connect007
Estimated reading time: 4 minutes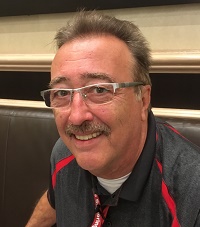 I met with Dr. Albert Angstenberger, global technology manager for metallization with MacDermid Enthone Electronics Solutions, while at SMTA International. He presented a most interesting paper on copper pillar plating systems that we hope to publish in The PCB Magazine sometime in the future.
Patty Goldman: Albert, I understand you presented a paper here on copper pillar plating systems. How was it received?
Albert Angstenberger: Yes, that's correct. It went well. To some extent I think I overshot the audience, maybe the firework was too big, because to me it seemed like these people would be to some extent stunned.
Goldman: Tell me about the paper. What was it about?
Angstenberger: It was about copper plating, particularly the strategies, how we develop new plating chemistry for electroplating, copper metallization of printed circuit boards and organic substrates or silicons. Getting away the heat and coping with the speed.
Right now, we have merged MacDermid and Enthone, so at the end of the day we have combined our capabilities and our strengths. As far as metallization and copper plating is concerned, we're covering almost every aspect of interconnect technology—starting from the die, rerouting the die down to the printed circuit board and with all the intermediate steps. My paper was dealing with the copper plating of whatever kind of substrate.
So, it's all about our company's strategies, technical strategies, what we do to develop suitable plating chemistry for successfully copper-plating very tiny through-holes, and a very tiny bump-up to microscopic through-holes.
Goldman: Tell me more about the thermal management part of it.
Angstenberger: One of the two most important aspects is to get the heat away from the die, through the various substrates, through the printed circuit board and out into the environment. That's one aspect. The other aspect is to provide very fast interconnections—frequency. So, the shortest interconnections from the die through the substrate to the exterior to the interfaces without any major concerns, as far as parasitics are concerned, like undistorted signal propagation.
When I grew up in that industry, we did a lot of wire bonding. To some extent, it was a painful exercise because once you wire bond, in particular with high-frequency applications, you had to consider the signal losses or parasitic effects, like capacitance or inductance issues. Right now, our whole industry is in a very good technological position to provide very fast, very short tracks for signal propagation, as well as to get away the heat. This doesn't just relate to the high-frequency applications but also to simple technological applications like LEDs, for instance.
Goldman: They make a lot of heat.
Angstenberger: Yes, they do. The hotter they get, the more they degrade over time. In my younger days, I would have called it the thermal suicide of an integrated circuit. Most of the interconnect applications are trying to get as much copper pillar or copper bump interconnects to cope with the heat, of course, and to cope with the high-frequency aspects.
Goldman: I find that very interesting. Tell me more about your background.
Angstenberger: I got started in the printed circuit industry in '83 with a small- to medium-sized enterprise in Germany called Leitron. There have been a couple of companies with that name. When we started, it was about 50−60% PCBs going into the computer business. In those days, there was an American company coming up to the market with the first, believe it or not, foldable laptop. It was a very easy catch, not very sophisticated. The company was named Conversion, and they were one of our first and biggest customers where we were providing two-layer, four-layer, even six-layer boards. Prior to that, more of our customers were military, defense, aerospace and space application.
Goldman: You were making the leading-edge boards at the time, right?
Angstenberger: Yes, in those days. I guess it was like '84, '85 when we were probably one of the first companies in the world doing blind  and buried vias, sequential lamination. Of course, just to complete the orchestra we did copper-clad, metal cores, heavy metal copper, 0.3 millimeter, 0.5 millimeter metal cores being incorporated into the board.
After Leitron, I went to Hewlett-Packard on the German side in Boeblingen. When I joined HP, it was like 13 different global printed circuit shops. When I left HP, there was only one left, which was the Boeblingen site. Then I was freelancing for six years or so, working for mostly European big printed circuit shops helping with engineering, helping with troubleshooting and all that. It was in '98 when I joined the company Diehl, which is in defense. I was responsible for development marketing and sales of miniaturized mil spec computers.
And after that I joined Taconic, the PTFE laminate manufacturer for some nine years . I took one year off because I had my spine screwed together due to some kind of misalignment. Then about four years ago some headhunters grabbed me by the hair for MacDermid. I'm global technology manager for metallization, so I act as an interface between the customer's new requirements and our applications, our R&D, etc. The easiest way to describe it is like I'm a spokesman.
Goldman: Well, that's quite a career. Anything more about your paper or thermal management that you'd like to add?
Angstenberger: Not necessarily. What I was trying to provide people with is a thread about the strategy and how to get the heat away from the die through the environment. Also, how to improve electrical or signal characteristics. On the other hand, it was also to tell the people something about our strategies and what we do to provide very effective, well-functioning electroplating and copper plating products.
Goldman: Albert, thank you.
Angstenberger: You're welcome.
---
Suggested Items
11/13/2023 | Global Newswire
The "Global Copper Clad Laminates Market (by Type, Application, Reinforcement Material, & Region): Insights and Forecast with Potential Impact of COVID-19 (2023-2028)" report has been added to ResearchAndMarkets.com's offering.
11/07/2023 | SCHMID Group
The SCHMID Group, a global solution provider for the high-tech electronics, photovoltaics, glass and energy systems industries, will be exhibiting at productronica in Munich from November 14 – 17, 2023.
11/01/2023 | Alex Stepinski, Stepinski Group
The topic of intrinsic copper structure has been largely neglected in discussions regarding the PCB fabrication quality control process. At face value, this seems especially strange considering that copper has been the primary conductor in all wiring boards and substrates since they were first invented. IPC and other standards almost exclusively address copper thickness with some mild attention being paid to surface structure for signal loss-mitigation/coarse properties. 
10/26/2023 | Andy Shaughnessy, Design007
At PCB West, I sat down for an interview with John Andresakis, the director of business development for Quantic Ohmega. I asked John to update us on the company's newest materials, trends in advanced materials, and the integration of Ticer Technologies, which Quantic acquired in 2021. As John explains, much of the excitement in materials focuses on laminates with lower and lower dielectric constants.
10/25/2023 | Preeya Kuray -- Column: Material Insight
Printed circuit board (PCB) reliability testing is generally performed by exposing the board to various mechanical, electrical, and/or thermal stimuli delineated by IPC standards, and then evaluating any resulting failure modes. Thermal shock testing is one type of reliability test that involves repeatedly exposing the PCB test board to a 288°C pot of molten solder for a specific time (typically 10 seconds) and measuring the number of cycles it takes for a board's copper layer to separate from the organic dielectric layer. If there is no delamination, fabricators can rest assured that the board will perform within expected temperature tolerances in the real world.