Top 10 Ranking of Global Semiconductor Foundries of 2017
November 29, 2017 | TrendForce
Estimated reading time: 1 minute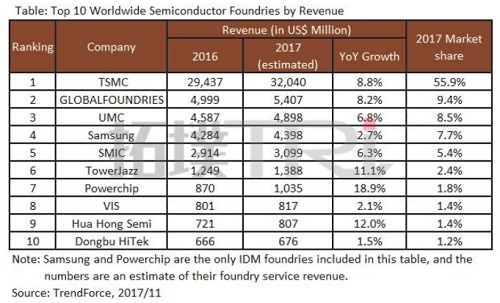 According to TrendForce's latest report, the global revenue for semiconductor foundry is expected to reach $57.3 billion in 2017, an increase of 7.1% compared with 2016, marking the fifth consecutive year with a growth rate over 5%.
The semiconductor industry sees increasing needs for high performance and efficiency from computing and mobile devices, which drive the development of advanced process technology. 10 nm nodes began the mass production in 2017, with the revenue expected to reach about $3.72 billion, accounting for more than 95% of the yearly foundry revenue growth.
The 2017 top ten ranking of foundries remains the same as last year, with Taiwan Semiconductor Manufacturing Company (TSMC), GLOBALFOUNDRIES, and United Microelectronics Corporation (UMC) ranking the first, second, and third respectively. Particularly, TSMC has a dominant market share of 55.9% due to its high production capacity and a fast yearly growth above the average level worldwide.
GLOBALFOUNDRIES records a relatively high revenue growth of 8.2% as a result of higher total production capacity and higher utility rate of it. UMC has begun mass production of 14 nm nodes this year, but the revenue of it only accounts for 1% of the entire annual revenue. However, driven by increased total production capacity and re-arrangement of product portfolio, the revenue growth turns out to be 6.8%.
In comparison, Samsung, a leading company in 10nm process technology as TSMC, has a limited growth due to only Qualcomm is its major 10nm client. Semiconductor Manufacturing International Corporation (SMIC) has constantly expanded its capital expense, but the growth rate is lower than the average because the actual added production capacity is limited in 2017 and the bottleneck of 28nm yield rate has not be overcome yet.
Tower Semiconductor Ltd. (TowerJazz) and Hua Hong Semiconductor Limited have raised their production capacity to gain more than 10% growth while the market shows constant demand for 200mm wafer. Powerchip has a high growth rate as it has increased the proportion of foundry services in its entire business.
As for next year, the advancement of process technology will still be a focus of industry, and 7nm nodes are expected to drive the revenue. On the other hand, driven by demand for electric vehicles and 5G, foundries are taking active part in development of the 3rd-generation semiconductor materials such as SiC and GaN, which will bring more changes in industry chain. For example, TSMC provides GaN foundry services and X-Fab announces that SiC foundry services will contribute to revenue in Q4 of 2017.
---
Suggested Items
09/27/2023 | HyRel
HyRel Technologies, a global provider of quick turn semiconductor modification solutions, is proud to announce that Brian Watson, the company's Founder and President, will be a featured presenter at SMTA International. The event is scheduled to take place on Tuesday, October 10.
09/27/2023 | IFR
The new World Robotics report recorded 553,052 industrial robot installations in factories around the world – a growth rate of 5% in 2022, year-on-year.
09/26/2023 | Miles Moreau, KIC
The U.S. Chips Act Propels Collaboration Between Semiconductor Manufacturers and Equipment Suppliers In today's rapidly evolving world, the semiconductor industry stands as a driving force across economies and industries, propelling progress through technological advancements. The U.S. Chips Act emerges as a game-changing legislation aimed at redefining America's semiconductor manufacturing prowess. The Act sets forth a clear mission: bolster domestic chip production, reinforce national security, and stimulate economic growth.
09/26/2023 | QinetiQ
KBR and QinetiQ signed a teaming agreement to work collaboratively to deliver test and evaluation services for the Australian Defence Force.
09/26/2023 | IPC
Join fellow EMS leaders in the region on Oct 5, 2023 at 4:30 - 8:00 p.m. EDT to share industry pain points and solutions.