In Terms of Experience, a 10,000-foot View of China
January 17, 2018 | Barry Matties, I-Connect007
Estimated reading time: 21 minutes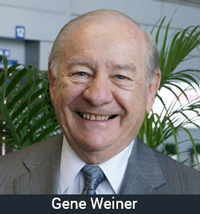 In the past 30+ years of PCB manufacturing in China, you would be hard-pressed to find someone more connected to the pulse of the Asian market than Gene Weiner. Barry Matties met with the industry veteran at HKPCA to get his take on the show, the current and future market conditions of China, and any effect the new U.S. administration might have on trade relations going forward.
Gene Weiner at the opening ceremony of HKPCA 2017 in Shenzhen
Barry Matties: Gene, what are your initial thoughts on HKPCA 2017?
Gene Weiner: It is a great exhibition! A little while ago, walking down the aisles, I thought I was in the subway at Tokyo during rush hour. I've never seen crowds like this at prior HKPCA events. It's the biggest PCB crowd since the old NEPCON days in the '60s at the Coliseum in New York. The attendees are asking good questions. Many are here to buy; some are even buying equipment they didn't originally intend to buy during the show. There were many kinds of new products for sale ranging from remote verification at Orbotech to affordable 3D printing at WKK; it's just astounding.
Matties: There are a lot of people here that I did not expect to see either, as well as a lot of first-timers.
Weiner: That's true. The first-timers include a vice president of Nan Ya, James Ho, which surprised me. He had never come to this show. He always supported the TPCA, Taiwan's printed circuit show, and then the show over in Suzhou. He appeared to be thoroughly amazed at what he saw here.
Matties: There are a lot of shows, but there are very few shows in the world that have as much equipment as this, where you can really come in, kick the tires and see some options.
Weiner: Well, all of the show's available space was totally sold out. As I understand it, there are more than 540 companies in three halls. I'm surprised at a number of things. Not only is the Chinese-built equipment more advanced, but the quality of manufacture of printed circuit equipment, ranging from cut sheet laminators down to drilling machines, is much improved over a few years ago. It is now on a global quality level. The other thing that shouldn't have surprised me is that, in the specialty chemicals, the copycats are now going after the direct metallization for the modified semi-additive processes including carbon or graphite as well as the organic metallization processes to make holes conductive and metallize other non-conductive surfaces. The number of companies offering these apparent "knock-offs"  surprised me as did the size of their booths.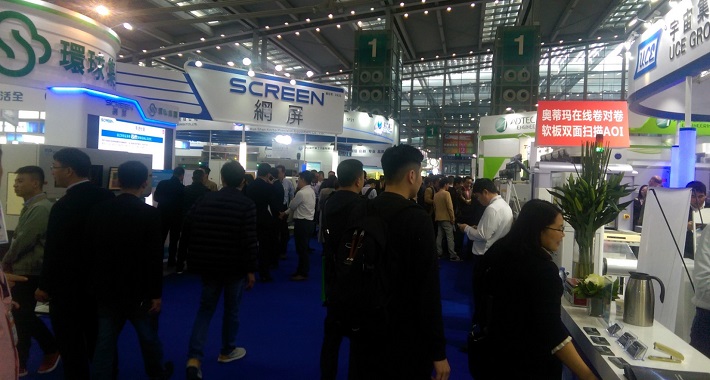 Aisles are filled at HKPCA
Matties: And the copycat is still an issue, and it's an issue that's just hard to reconcile, because they may shut down one brand and start the next day with another.
Weiner: Well, the answer is still to get somebody, a trusted partner, and arrange for local manufacture, assembly or subassembly whenever possible, which is difficult to do. You have to build relationships like anywhere else. It's a fast-moving industry. It's changing. We're going to see another change due to increases in wafer level packaging. This has already affected the BGA industry very negatively, and there are other new packages coming. But here, everything seems to be turning to automotive electronics. China plans to become the world's leader in the production and use of autonomous driving and electric vehicles. China has reserved about one third of the booth space at the upcoming CES show in Las Vegas. The city of Shenzhen, where we are, has already completed electrifying all of its public transit with more than 16,000 electric buses.
Matties: Interesting that you bring that up. I was interviewing Phil Carmichael, president of IPC China/Asia. He was mentioning electric vehicles. In China, he explained that license plates are very expensive. Sometimes it's half the cost of the car, I guess. Depending on the car it could be $10,000, $15,000 just to get a license. But the EV, there's no fee for the license, and it's creating a demand.
Weiner: Yes, it's creating a demand. The government here wants all the cars to be electric by 2025, to the point of which Ford Motors is going to introduce a bunch of hybrid and electric models. They announced it just this past week while we were here. The Chinese government is also clamping down on truck companies to focus on the qualified ones that will build quality vehicles that are efficient. Now, it is interesting to note, just before I boarded my plane in Boston, I saw a newsflash that Tesla is setting up a factory here, and what is even more interesting is that they're talking about autonomous driving trucks, tractor-trailers, like an 18-wheeler that can carry a full load for 600 miles and still be autonomous driving.
I envision pictures of a caravan of these without a driver making major deliveries across most of the country. I'd like to see it in the States instead of some of the Mexican trucks that don't meet our safety standards coming across our Southern border. The autonomous driving trucks could be a lot safer and better, but there's a huge, huge challenge for the printed circuitry. The specifications and standards are still being written as they're going forward, and at the same time, we're switching from 6 and 12 volts to 24 volts and 36 volts. Some are using old components that are not yet tested to the new performance demand levels. They have to check the reliability in extremely high humidity conditions. There will unbelievably high temperature rises on  cars that will challenge the circuit substrates sensors.
How do you test for that? Bosch told me that they will run a test cycle of 10 seconds between sub-zero and 175°C in the future. There is nobody equipped yet to test to that level or to even set up those tests. That's going to be an interesting during the next few years as these systems get on the road. If we look less than 10 years down the road, 50% of the value of a car is going to be in electronics. And we're going to see more open housings, and more plastic housings instead of metal. We're going to reduce weight. We have to dissipate heat. We have to get airflow. We're going to see more heat on the switching because these are always on, whether they're charging or running, it's an always-on condition, so there's always heat generation. We will see increases in highly automated driving in many vehicles before we see fully automated cars.
Everything is changing. I'm going to be visiting Ventec shortly, and they have developed, which I saw in Germany at productronica, a laminate that dissipates heat that's copper on one side for the circuitry, aluminum on the other. There were three circuits in a headlamp assembly with the aluminum side   bonded to a heat sink. The part was designed to be dropped into a  Mercedes C200.
Page 1 of 3
---
Suggested Items
11/13/2023 | Global Newswire
The "Global Copper Clad Laminates Market (by Type, Application, Reinforcement Material, & Region): Insights and Forecast with Potential Impact of COVID-19 (2023-2028)" report has been added to ResearchAndMarkets.com's offering.
11/07/2023 | SCHMID Group
The SCHMID Group, a global solution provider for the high-tech electronics, photovoltaics, glass and energy systems industries, will be exhibiting at productronica in Munich from November 14 – 17, 2023.
11/01/2023 | Alex Stepinski, Stepinski Group
The topic of intrinsic copper structure has been largely neglected in discussions regarding the PCB fabrication quality control process. At face value, this seems especially strange considering that copper has been the primary conductor in all wiring boards and substrates since they were first invented. IPC and other standards almost exclusively address copper thickness with some mild attention being paid to surface structure for signal loss-mitigation/coarse properties. 
10/26/2023 | Andy Shaughnessy, Design007
At PCB West, I sat down for an interview with John Andresakis, the director of business development for Quantic Ohmega. I asked John to update us on the company's newest materials, trends in advanced materials, and the integration of Ticer Technologies, which Quantic acquired in 2021. As John explains, much of the excitement in materials focuses on laminates with lower and lower dielectric constants.
10/25/2023 | Preeya Kuray -- Column: Material Insight
Printed circuit board (PCB) reliability testing is generally performed by exposing the board to various mechanical, electrical, and/or thermal stimuli delineated by IPC standards, and then evaluating any resulting failure modes. Thermal shock testing is one type of reliability test that involves repeatedly exposing the PCB test board to a 288°C pot of molten solder for a specific time (typically 10 seconds) and measuring the number of cycles it takes for a board's copper layer to separate from the organic dielectric layer. If there is no delamination, fabricators can rest assured that the board will perform within expected temperature tolerances in the real world.