Books

Featured Books

pcb007 Magazine

Latest Issues

Current Issue

The Registration Sweet Spot

Registration is underrated and underappreciated. The key is to ensure proper registration from layer to layer across the entire printed circuit board. It's a holistic process requiring anticipation, prediction, precise attention at each step, and detailed data tracking and monitoring.

High-reliability Fabrication

In this month's issue, our expert contributors discuss the latest in technologies, trends, complexities and resources regarding high-reliability fabrication.

Finding Ultra

New demands on PCB fabrication, namely advanced packaging, ultra high density interconnect (UHDI), and new specialty materials, are converging, changing the landscape of our business. Is it time to start paying close attention to this convergence?

Columns

Latest Columns

||| MENU
Unimicron Germany Rises from the Ashes with New Smart Factory
April 30, 2018 | Pete Starkey, I-Connect007 and Michael Weinhold, EIPC
Estimated reading time: 9 minutes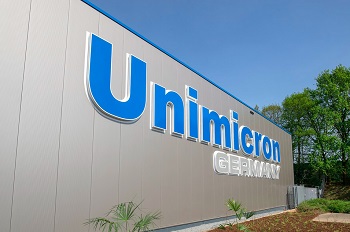 This is a review of the grand opening of Unimicron's new smart factory in Geldern, Germany.
A fire in a PCB shop is an experience we all dread, but still it happens, and the consequences can be devastating. In the early hours of December 28, 2016, the innerlayer production plant at RUWEL International in Geldern, Germany, caught fire and the whole factory and its contents were destroyed.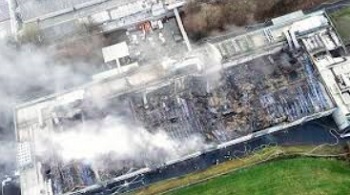 Figure 1: Aerial photo of the burned-out factory. (Source: EIPC)
Thankfully, there were no casualties and because the chemical stores survived, there were no serious environmental consequences. However, early estimates of the cost of the damage ran into higher-double-digit millions of Euros. And to quote the words of CTO Rico Schlüter "...we have unfortunately not the time to mourn—we must tackle today's challenges and come back as an even stronger company."
Recognised as the oldest operating PCB producer in Europe, RUWEL International GmbH was founded in Geldern in 1945. Unimicron Group made a strategic investment in RUWEL in 2009, and in 2011 fully integrated the company into the group, developing it as the leader of their High Reliability Business Unit (HRBU). More recently, the operation has been re-named Unimicron Germany. The parent organisation, headquartered in Taiwan, is the global leader in the PCB industry, with an annual turnover of $2 billion, 14 Asian production facilities, and a workforce of over 20,000.
Meanwhile, in Geldern, the pressure was on to move fast to maintain continuity of supply to RUWEL's customer base. Only a few hours after the fire, and in consultation with Unimicron, it was decided that a new innerlayer production facility should be built in Geldern, with the production needs supported with mass-lam from the Unimicron plant in Kunshan, China—already qualified and certified with the approvals required by RUWEL's automotive market.
I have always been encouraged by the community spirit which exists in our industry, especially when misfortune strikes. On several occasions over many years of personal experience I have seen how suppliers, friends and even competitors rally round to offer practical help, and this was very much the case for RUWEL who were able to benefit from local resources to support small batch and quick-turn requirements in the interim period, all with the approval and cooperation of their customers.
In the meantime, the company was re-named Unimicron Germany.
So, with continuity of production secured, planning of the replacement factory went ahead and in August 2017 the City of Geldern gave Unimicron formal permission for the rebuilding work to commence. Orders were placed for equipment that would represent the state of the art both in technology and in smart factory automation.
It all became a reality on Saturday 21st April 2018, when together with suppliers, customers, the Unimicron workforce and the officers of the EIPC, I was one of 800 guests privileged to attend the opening ceremony and to have a guided tour of the new facility—a spectacular experience!
Although most visitors were being escorted in large groups around the factory with German-speaking guides, my EIPC colleagues and I had the benefit of a more exclusive, small-group walk-around in the company of CTO Rico Schlüter who had been instrumental in designing, installing and commissioning the whole set-up.
After congregating outside in hot sunshine, it was refreshing to feel the air conditioning as we entered the plant. First impression was white—white floor, white walls, white ceiling, fully-enclosed white equipment, lots of space, all the services out of sight, no clutter of racks or trolleys to be seen.
And we were greeted by a robot—an autonomous guided vehicle (AGV) carrying a sign welcoming us to Unimicron's smart factory. It was yellow, as were its eight colleagues around the factory area, each robot AGV capable of performing any panel-transportation task in any area.  No fear of getting run-over—these laser- and GPS-guided robots could identify humans and stop, even if someone suddenly stepped into their path, although they did tend to bleep rather impatiently if they had work to do and you happened to be standing in their way!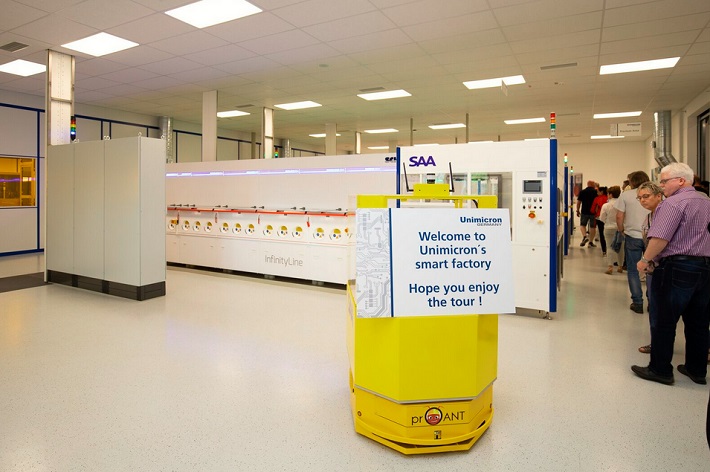 Figure 2: Welcoming robot AGV.
Automation was everywhere, with traceability to match; every panel in the factory had its own unique data-matrix ID. Whether the job was a quick-turn prototype or a series production batch, the required material was drawn from store by an automated picking system and transferred to an AGV, which transported it to the load station of one of three surface-preparation lines, from which it was fed by a six-axis robot onto the machine conveyor. The predominant panel size was 24" x 21" although 24" x 18" and 24" x 24" were alternative options.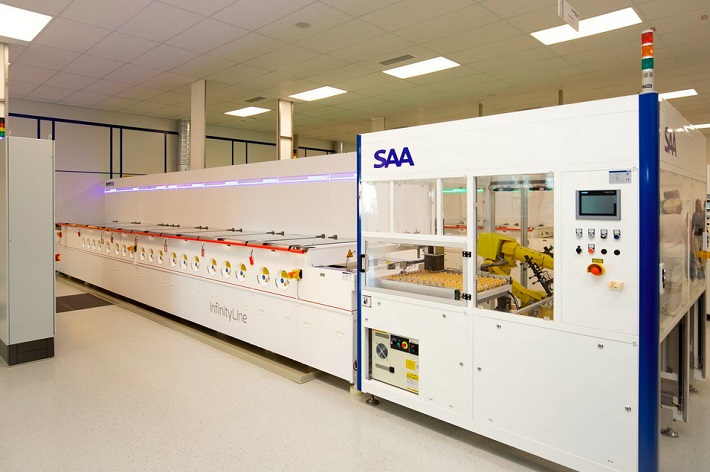 Figure 3: Surface preparation line.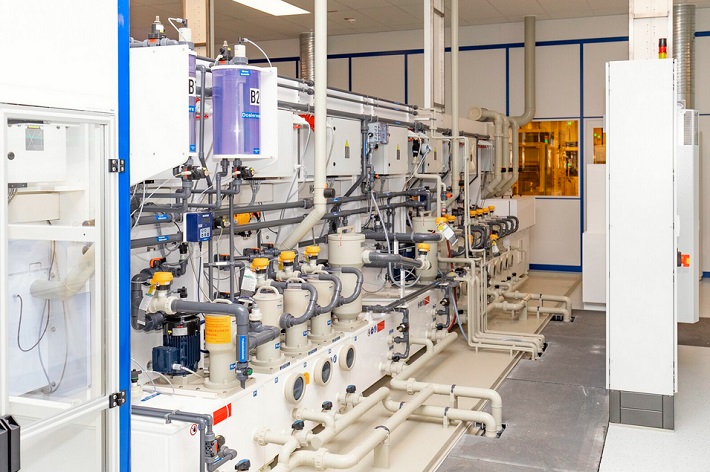 Figure 4: Rear of surface preparation line.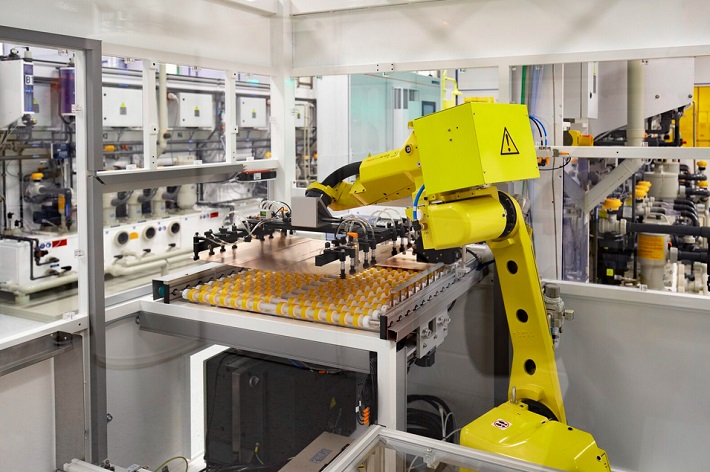 Figure 5: Six-axis robot loader.
Page 1 of 6
---
Suggested Items
11/13/2023 | Global Newswire
The "Global Copper Clad Laminates Market (by Type, Application, Reinforcement Material, & Region): Insights and Forecast with Potential Impact of COVID-19 (2023-2028)" report has been added to ResearchAndMarkets.com's offering.
11/07/2023 | SCHMID Group
The SCHMID Group, a global solution provider for the high-tech electronics, photovoltaics, glass and energy systems industries, will be exhibiting at productronica in Munich from November 14 – 17, 2023.
11/01/2023 | Alex Stepinski, Stepinski Group
The topic of intrinsic copper structure has been largely neglected in discussions regarding the PCB fabrication quality control process. At face value, this seems especially strange considering that copper has been the primary conductor in all wiring boards and substrates since they were first invented. IPC and other standards almost exclusively address copper thickness with some mild attention being paid to surface structure for signal loss-mitigation/coarse properties. 
10/26/2023 | Andy Shaughnessy, Design007
At PCB West, I sat down for an interview with John Andresakis, the director of business development for Quantic Ohmega. I asked John to update us on the company's newest materials, trends in advanced materials, and the integration of Ticer Technologies, which Quantic acquired in 2021. As John explains, much of the excitement in materials focuses on laminates with lower and lower dielectric constants.
10/25/2023 | Preeya Kuray -- Column: Material Insight
Printed circuit board (PCB) reliability testing is generally performed by exposing the board to various mechanical, electrical, and/or thermal stimuli delineated by IPC standards, and then evaluating any resulting failure modes. Thermal shock testing is one type of reliability test that involves repeatedly exposing the PCB test board to a 288°C pot of molten solder for a specific time (typically 10 seconds) and measuring the number of cycles it takes for a board's copper layer to separate from the organic dielectric layer. If there is no delamination, fabricators can rest assured that the board will perform within expected temperature tolerances in the real world.