Marsquake Sensor Lands Safely on Red Planet
November 28, 2018 | Imperial College London
Estimated reading time: 1 minute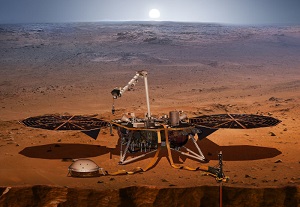 A Marsquake detector designed in part by Imperial engineers is set to help reveal Mars' inner structure.
Mars InSight, the NASA probe which contains the detector, was launched on 5 May 2018 from the Vandenberg Air Force Base in California, and touched down on the Red Planet at 19:53 GMT on 26 November.
The first mission to study the deep interior of Mars will generate unprecedented data about its inner structure. Evidence of a liquid core could hint at the likelihood of previous life on the Red Planet billions of years ago.
Mission to Mars! - Imperial's role
Professor Tom Pike, from Imperial's Department of Electrical and Electronic Engineering, is part of the Mars Insight team. The Imperial team designed and fabricated silicon sensors as part of the seismic experiment for interior structure (SEIS), which will detect tremors below the Martian surface.
From the tremors, the mission will build a picture of Mars' interior and help researchers detect a solid or liquid core. The remains of a liquid core could suggest that Mars once had a magnetic field. Like on Earth, the field would have protected it from harmful solar winds billions of years ago. Back then, Mars then was much warmer and wetter, and might have been capable of harbouring early life.
Professor Pike said: "Studying Mars lets us travel to the solar system's ancient past. While Earth and Venus' tectonic systems have destroyed most of the evidence of their early history, much of the Red Planet has remained static for more than three billion years."
---
Suggested Items
09/28/2023 | ZESTRON
ZESTRON is happy to announce that Senior Application Engineer, Ravi Parthasarathy, will be presenting "Revolutionizing PCB Assembly Cleaning:
09/29/2023 | Hannah Nelson & Paige Fiet -- Column: The New Chapter
Tribal knowledge is important and quite common in the electronics manufacturing industry—for good reason. Many engineers, technicians, and operators have formed their careers around building PCBs. Some even worked alongside the founding fathers of electronics. Newer, young minds stand on the shoulders of this knowledge base. As a process engineer, I work with operators who have been coating panels with solder mask longer than I've been alive. Some know the exact coating parameters required for the toughest of designs. To watch them hand-screen panels is like learning the nuances of a family recipe handed down through generations.
09/25/2023 | APCT
APCT, a leading name in the PCB and electronics industry, is delighted to announce the appointment of Peter Austin as its President and CEO, effective September 1. Peter takes the reins from former CEO, Steve Robinson, who has retired after years of dedicated service to the company.
09/20/2023 | I-Connect007 Editorial Team
In chapter 5 of 'The Printed Circuit Designer's Guide to... Manufacturing Driven Design', the author, Max Clark, looks at transparent collaboration and examines the adoption of cloud-based platforms. He writes, "If the electronics manufacturing industry focuses on formats alone, they are looking backwards, resolving the problems of yesterday and limiting industry advancement in this fundamental area."
09/14/2023 | Priyanka Dobriyal, Intel Corp.
The Women's Leadership Program is a popular, annually recurring event hosted during SMTA International. This year's event is scheduled for Monday, Oct. 9, at the Minneapolis Convention Center and is free for all participants at SMTA International. The theme for this year's program is "Personal Branding: Creating an Authentic and Sustainable Perception."