NASA 'Nose' Importance of Humans, Robots Exploring Together
April 19, 2019 | NASA
Estimated reading time: 3 minutes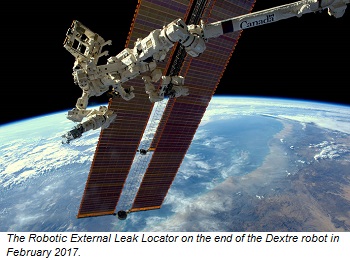 NASA is sending humans forward to the Moon, this time to stay. Upcoming expeditions to the Moon will require making every moment of astronaut time outside the safety of the Gateway in orbit and lunar lander system on the surface count. Robotics will enable lunar crews to do more while minimizing their risk. 
NASA's Satellite Servicing Projects Division is teaming up with the International Space Station to develop the technologies for this kind of astronaut-robotic collaboration, and tomorrow is launching a Robotic External Leak Locator (RELL) aboard Cygnus on Northrop Grumman's 11th Commercial Resupply Services mission. 
Spacecraft and habitats rely on extensive cooling systems. Just as coolant in a car is used to cool its engine, ammonia is circulated through a huge system of pumps, reservoirs and radiators on station to cool its complex life support systems, spacecraft equipment and science experiments. RELL is a "sniffer," or a robotic, remote-controlled tool that helps mission operators detect the location of external ammonia leaks on space station and rapidly confirm a successful repair.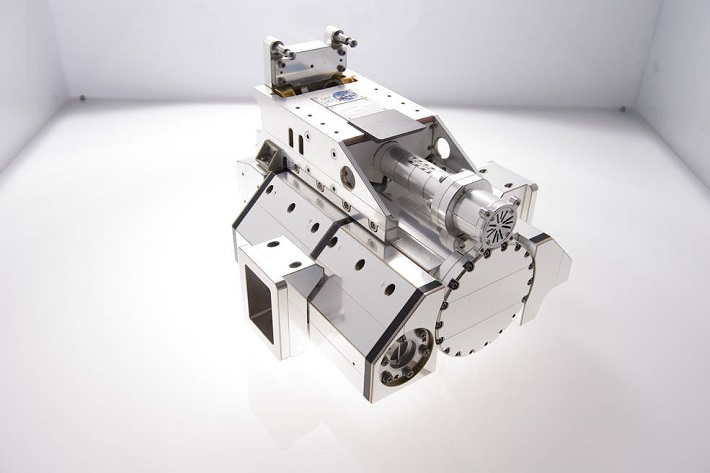 The Robotic External Leak Locator flight unit before launch. 
"RELL capabilities help mitigate the risk of the potentially severe impacts to the space station presented by an external ammonia leak," said Christopher Craw, ISS Senior Systems Integration Lead at NASA's Johnson Space Center in Houston. 
When it arrives at ISS, this will be the second RELL on board and will serve as a spare. The first flight RELL is already on board station where it successfully located a leak in one of these systems, significantly reducing astronaut time required outside of station to inspect and repair the leak. 
"The decision to build and fly another flight unit seemed like the obvious choice to ensure this capability was going to be available to the ISS Program through the rest of spacecraft's life," said Adam Naids, ISS Hardware Development Engineer at NASA's Johnson Space Center.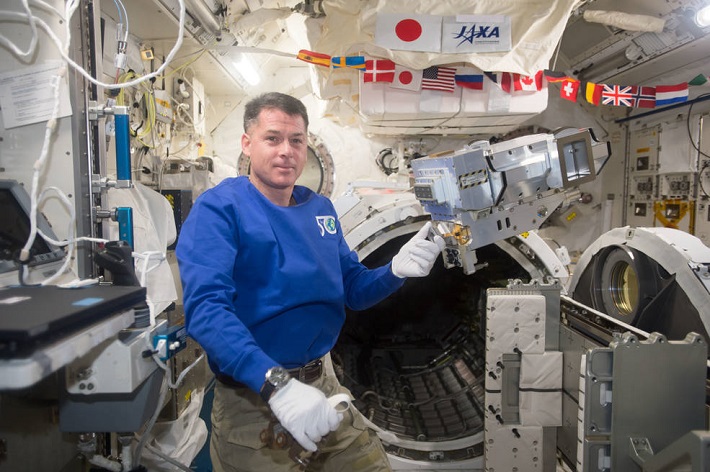 Astronaut Shane Kimbrough with RELL aboard the International Space Station. 
After Cygnus delivers the second RELL to station, the plan is to store the unit until an ammonia leak is detected. Then, a game of "hot and cold" would begin. Affixed to the Canadian Space Agency's Dextre robot arm, RELL would be moved around the outside of station using its mass spectrometer "sniffer" to locate ammonia leaks. When RELL is directed toward a leak, it returns a higher signal. The higher the signal, the closer the leak. This process allows RELL to pinpoint the source of any given ammonia leak, giving space station managers the information they need to understand and correct the problem. 
Before RELL, astronauts manually searched for leaks on spacewalks, which always carry an element of risk. The Leak Locator that is currently stationed in-orbit has proven its worth, paving the way for the second unit.
Both RELL units will eventually be stored in the Robotics Tool Stowage, or RiTS, which is still in development. Once installed to the outside of station, RiTS will store the instruments so they are available when needed to track down a leak. 
The RELL design includes two sensors: a mass spectrometer and a total pressure gauge. 
Page 1 of 2
---
Suggested Items
09/11/2023 | PRNewswire
Path Robotics, the market leader of truly autonomous welding robotic systems, announced their next chapter in delivering fully autonomous manufacturing systems with their new Autonomous Fit-up robotic system ("AF-1"), a ground-breaking robotic cell capable of performing both fit-up and welding of metal parts.
08/31/2023 | IFR
Labor shortage has become one of the most pressing challenges for small and midsized enterprises (SME) in OECD countries.
08/24/2023 | ACN Newswire
The powers of artificial intelligence (AI) and robotic experiment systems have come together in pioneering proof-of-concept work at the National Institute for Materials Science (NIMS) in Japan.
07/21/2023 | Business Wire
Reliable Robotics, a leader in safety-enhancing aircraft automation systems, announced its certification plan was formally accepted by the Federal Aviation Administration (FAA).
07/03/2023 | Barry Matties, I-Connect007
Meet Joseph LaRosa, a young application engineer at Omron who is passionate about robotics and automation. I recently interviewed Joseph (his first one) about his choice to work in the electronics industry and his advice for others looking for a career path. I really admire Joseph's ambitious nature and drive to be the best at what he does. If you're going to do it, you might as well be the best at it, he says.