Books

Featured Books

pcb007 Magazine

Latest Issues

Current Issue

The Registration Sweet Spot

Registration is underrated and underappreciated. The key is to ensure proper registration from layer to layer across the entire printed circuit board. It's a holistic process requiring anticipation, prediction, precise attention at each step, and detailed data tracking and monitoring.

High-reliability Fabrication

In this month's issue, our expert contributors discuss the latest in technologies, trends, complexities and resources regarding high-reliability fabrication.

Finding Ultra

New demands on PCB fabrication, namely advanced packaging, ultra high density interconnect (UHDI), and new specialty materials, are converging, changing the landscape of our business. Is it time to start paying close attention to this convergence?

Columns

Latest Columns

||| MENU
PNC Inc. Invests in Limata's X100 Laser Direct Imager
November 1, 2019 | PNC Inc.
Estimated reading time: 2 minutes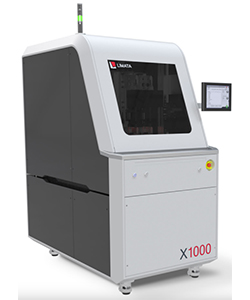 PNC Inc. recently purchased a LIMTA X1000 Laser Direct Imager from Limata, GmbH. With this purchase, all inner layers, outer layers, solder-mask and silkscreen are 100% digitally imaged, using two LDI systems.
In keeping with their commitment to continuous improvement, "This latest high precision technology is the first step of upgrading our LPI and screening departments in the coming weeks." Said President Sam Sangani, "PNC INC chooses a LIMATA X1000 system solution (powered by LUVIR®) for their solder mask/silk screen process at its US Nutley, NJ site."
Sangani continued, "LIMATA´s X1000 system solution powered by LUVIR technology® fully convinced our engineering team during the evaluation and production phase. We evaluated all available solutions for the solder mask and silk screen processes and we determined that LIMATA is by far, the most economical and the fastest machine with unmatched imaging quality in our industry. The capacity, flexibility and cost/performance ratio of the X1000 LUVIR DI system is outstanding in the market and offers PNC the ability to produce PCBs fully digital at significantly higher throughput levels by meeting all state-of-the art quality requirements for solder mask/Silk Screen imaging." He added, "We recognize there is no cap on quality so pursuing it is an ongoing endeavor."
The LIMATA X1000 series is a universal and cost-efficient Laser Direct Imaging (LDI) system platform designed for the flexible use in high-mix/ low-volume PCB manufacturing environments during the dry-film patterning or solder mask imaging process.
The new X1000 LDI system platform ensures maximum efficiency and throughput – i.e. from the use of LIMATA's proprietary and in-house developed LUVIR (UV/IR) technology for solder mask imaging – at lowest possible TCO's (Total Cost of Ownership) over the equipment life-cycle. Ideal for PCB manufacturers (or special PCB divisions of larger PCB makers) with high-mix/low-volume production mixes and imaging capacity/output requirements up to 500 panels per day (HDI, standard-rigid, flex) in a multi-shift operational mode.
About PNC Inc.
PNC Inc. is located in Nutley, NJ and is one of the country's leading providers of rigid, rigid-flex and flex PCB's and the largest of their kind in the region. After adopting the Total Concept philosophy, PNC is now able to provide customers with PCB design, fabrication and assembly solutions all under one roof. They are a one-stop shop for all things related to PC boards. They are continuously expanding their extensive list of state-of-the-art equipment while maintaining a focus on energy and cost efficiency in order to provide the best product at the best price possible.
---
Suggested Items
12/06/2023 | Indium Corporation
Indium Corporation is proud to announce the addition of Sales Engineer Meik Fratzel to its European team.
12/04/2023 | Transition Automation
Transition Automation, Inc. recently received a large order for Advanced Holder and Blade Assemblies compatible with DEK printers from Rotec BV in Belgium.
11/30/2023 | AIM
AIM Solder, a leading global manufacturer of solder assembly materials for the electronics industry, is pleased to announce its new NC259FPA Ultrafine No Clean Solder Paste, which it revealed recently during the Productronica Germany trade show.
11/27/2023 | Real Time with...productronica
Koh Young's Harald Eppinger talks about the company's technology for the semiconductor and advanced packaging market and how they address the challenges introduced by reflective components and micro solder deposits.
11/27/2023 | HyRel
HyRel Technologies, a global provider of quick turn semiconductor modification solutions, announces the achievement of International Traffic in Arms Regulations (ITAR) registration.