Books

Featured Books

pcb007 Magazine

Latest Issues

Current Issue

Finding Ultra

New demands on PCB fabrication, namely advanced packaging, ultra high density interconnect (UHDI), and new specialty materials, are converging, changing the landscape of our business. Is it time to start paying close attention to this convergence?

Developing a Strategy

A solid strategy is a critical part of success. This month, we asked some of the top industry leaders and business strategy "gurus" to share their thoughts on developing strategies.

Winning With TQM

In this issue, we explore how TQM has entered the DNA of continuous improvement disciplines, and the role leadership transformation plays in this. If you've ever competed against a TQM company, you understand their winning advantage.

Columns

Latest Columns

||| MENU
I-Connect007 In-Depth: Averatek and RBP Chemical Ink Distribution Agreement
May 7, 2020 | Nolan Johnson, I-Connect007
Estimated reading time: 6 minutes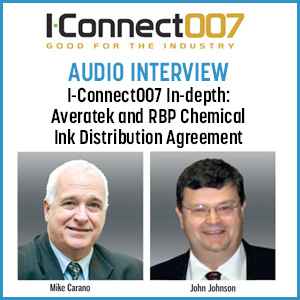 On April 30, 2020, Michael Carano, RBP Chemical Technology's VP of technology and business development, and John Johnson, VP of Averatek, talked with I-Connect007's Nolan Johnson about the new distribution agreement inked by the two companies. 
Carano and Johnson spoke in more detail about the Averatek A-SAP(TM) additive plating process developed by Averatek. The conversation included why Averatek and RBP have partnered to distribute chemistries related to Averatek's A-SAP(TM) process.  
For those not familiar, Carano described the capabilities and benefits of Averaek's  A-SAP(TM) technology. Averatek's Johnson outlined why the company chose RBP Chemical for this distribution partnership.
I-Connect007 continues to deliver original reporting and coverage of the electronics design, electronics manufacturing, and contract manufacturing industries, including up-to-date information from the companies, associations, and supply chains, which serve the industry around the globe. Find the latest news and information at www.iconnect007.com.
Related Links:
Nolan Johnson: Hi, Nolan Johnson here for I-Connect007. I'm speaking with Michael Carano and John Johnson. Michael Carano is VP of technology at RBP Chemical Technology, and John Johnson is VP of application engineering for Averatek. Gentlemen, thank you for joining me this morning.
Carano: Thank you.
John Johnson: Thanks.
Nolan Johnson: Averatek and RBP have partnered to distribute some chemistries that are related to Averatek's ASAP process. For those who aren't familiar, what is ASAP technology? And we're talking here in response to a press release that you just recently released on this subject. What is the ASAP technology?
John Johnson: Nolan, the Averatek semi-additive process is really a technology set that allows for printed wiring board manufacturers to break through this three-mil line and space barrier. And it allows them to get down to one-mil lines or even less. And all that can be done with pretty minimal capital investment. And really the process integrates very well into the existing processes. It's really a way to get down to those lower levels that have been very, very hard for our industry to get to using standard subtractive technologies.
Nolan Johnson: Mike, the Averatek ASAP process, according to the press release, provides an option to significantly change the technology of the application. How do you think this is going to benefit your customers in doing this?
Carano: Nolan, let's look at it from several aspects because that's an excellent question. Think about the industry in general and where it needs to go. First of all, what drives bare board designs? It's the semiconductor technology. It's putting more angels dancing on the head of a pin, which means the functionality of those chips, and those semiconductors must continually do more and more for today's and the next wave of new technology—whether it's the internet of things or 77 gigahertz and beyond. Smart factories, CFX, 4.0, and all of those things are going to require higher technology, higher speeds, and lower issues in general for the circuit board fabrication process.
Circuit board then needs to have higher lines and spaces because you have to be able to put more density on a circuit board, and you can't have a circuit board that's 40 inches long by 50 inches long; it must be smaller. Basically, it's about wiring density to support the functioning of the chips—the BGAs. Wiring density is achieved generally in two ways: you increase the number of layers, or you have finer lines and spaces.
Now, obviously, from a fabrication standpoint, if you could reduce the line widths and spaces somewhere below three mil, and getting down to two mil, then that opens up a whole new world of technology for the industry, including the chip packaging side. That's where I see this as being very exciting.
And the most important thing is yields. You're competing in this business today on yields and technology. Technology curves, we all know, and you keep jumping the technology curve. What typically happens is yields can't go down unless you have the right equipment, processes, and space. I see the ASAP process from Averatek meeting that need and going beyond in the future.
Instead of messing around with one-eighth ounce copper foils to get fine lines and spaces, and then worrying about adhesion—or trying to build up films and hoping you get metalization adhesion, which is a challenge—we can talk about that for three days, but we're not. The process from Averatek is going to allow you to bridge that gap. It will make you because I always liked the phrase "jump the technology curve," and jump it significantly.
Nolan Johnson: That certainly does open things up for the industry. John, RBP Chemicals has a nice, strong reputation. What drew Averatek to RBP's distribution?
John Johnson: Prior to joining Averatek, I had been a customer of RBP for many, many years. And over that time, I had experienced what they could do: very consistent quality, great service, and competitive pricing. And really, at Averatek, we're not about manufacturing; we're about developing technology and focusing on innovation for our customers.
When it came to actually commercially providing these chemistries to the marketplace, we were looking for someone to partner up with to be able to supply them. And RBP was a top choice, in my mind, because of that past experience. We couldn't pick a better partner, and they're located in the Midwest, so it makes it pretty centrally located for customers here. They also have coverage around the world, so it was a really good fit for us.
Carano: John is right on, and one of the things about RBP is we are a technology provider and also have world-class manufacturing, which is done in Milwaukee, Wisconsin. The company has been in business since 1954 and has had two owners. That's it. Mark Kannenberg is the current owner of RBP. He bought the company many years ago and has been guiding RBP for many, many years. We continue to serve the industry. As John said, we focus on quality. We focus on being our customers' trusted source.
As I said, we have world-class manufacturing operations, so we can blend products for other companies who might need something that we're not competing with, which we're not, in this case; we're just supporting Averatek. We continue to support Averatek in their ASAP process because it's an exciting technology, and we have that type of control in place. And that's going to give their Averatek's customers very consistent quality. At the end of the day, they're going to be consistent. They're going to have technical support as needed from a world-class group of scientists and chemists and manufacturing professionals at our facility in Milwaukee, Wisconsin.
Nolan Johnson: Gentlemen, thank you for taking the time to talk a little bit more deeply about this announcement. Your time is very much appreciated.
John Johnson: Thanks, Nolan.
Carano: You're welcome. We appreciate the opportunity, Nolan. Thank you again, and thank you, I-Connect007, for the continued coverage. It's very much appreciated.
Nolan Johnson: It's absolutely our pleasure. For I-Connect007, this is Nolan Johnson, and I've been talking with Michael Carano and John Johnson. Thanks for listening.
---
Suggested Items
09/25/2023 | Purdue University
Purdue University continues building momentum as America's leading university in semiconductors, with a broad range of updates this fall semester.
09/25/2023 | Alison James
"Electronics systems are at the heart of almost all modern technology. The performance and functionality of these systems have increased at breathtaking speed, chiefly as a result of advancements in semiconductor technology. Semiconductors do not function in isolation," writes Alison James, IPC senior director of government relations, in a 2023 report for the European Commission's Directorate General for Internal Market, Industry, Entrepreneurship. "These electronics systems feature prominently in key sectors like defence, aerospace, space, automotive, medical, and high-performance computing, but electronics are vital to every industry and are central to a variety of EU priorities, including the twin digital and green transitions and Europe's technological sovereignty."
09/25/2023 | APCT
APCT, a leading name in the PCB and electronics industry, is delighted to announce the appointment of Peter Austin as its President and CEO, effective September 1. Peter takes the reins from former CEO, Steve Robinson, who has retired after years of dedicated service to the company.
09/21/2023 | KIC
KIC, a renowned pioneer in thermal process and temperature measurement solutions for electronics manufacturing, is thrilled to announce its participation in the upcoming SMTA Guadalajara Expo & Tech Forum.
09/21/2023 | Dymax
Dymax, a leading manufacturer of light-curing materials and equipment, will exhibit in booth 1526 at SMTA International 2023 in Minneapolis, MN, from October 10-11.