Books

Featured Books

pcb007 Magazine

Latest Issues

Current Issue

The Registration Sweet Spot

Registration is underrated and underappreciated. The key is to ensure proper registration from layer to layer across the entire printed circuit board. It's a holistic process requiring anticipation, prediction, precise attention at each step, and detailed data tracking and monitoring.

High-reliability Fabrication

In this month's issue, our expert contributors discuss the latest in technologies, trends, complexities and resources regarding high-reliability fabrication.

Finding Ultra

New demands on PCB fabrication, namely advanced packaging, ultra high density interconnect (UHDI), and new specialty materials, are converging, changing the landscape of our business. Is it time to start paying close attention to this convergence?

Columns

Latest Columns

||| MENU
Aurora Circuits on Ultra-Heavy Copper PCBs
August 3, 2020 | Dan Beaulieu, D.B. Management Group
Estimated reading time: 3 minutes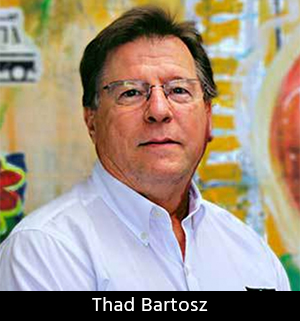 It's always fun to talk with a company that can do something different—in this case, ultra-heavy copper PCBs, meaning over 20-ounce copper. Wanting to know more about this, I talked to Aurora Circuits Director of Business Development Thad Bartosz, who is one of our industry experts when it comes to ultra-heavy copper technology.
Dan Beaulieu: Thad, it's good talking to you today. Let's start with the basics. What is heavy copper?
Thad Bartosz: Heavy copper used to be defined as 4–5 ounce, but we do that for a snack. Aurora is capable of fabricating SS, NPTH, PTH, and multilayer types with up to 20-oz copper layers.
Beaulieu: What defines ultra-heavy copper?
Bartosz: Ounces of copper have been defined in ounces per square foot of area on the process panel. The thickness of the copper foil is based on 0.0014" per oz. Copper weights of 4–5 ounces are made with electrodeposited copper (ED), and ultra-heavy copper sheets are made with rolled annealed (RA) copper that must be treated to laminate to dielectrics used in fabrication.
Beaulieu: How many ounces of copper can you do at Aurora?
Bartosz: We have delivered PCBs with etched copper up to 20 ounces and would work with customers that may require any copper thickness.
Beaulieu: Why doesn't every shop build this technology?
Bartosz: You need to have the proper equipment and process capabilities—some of these are customer or Aurora proprietary—so that you can fabricate a usable product that meets customer requirements.
Beaulieu: How did you get involved with this technology?
Bartosz: We have been building ultra-heavy copper products since 2003 when a customer asked if we could do this as they were having issues with their current source.
Beaulieu: What special equipment and processes do you have that allow you to build ultra-heavy copper boards?
Bartosz: As I mentioned earlier, these are processes that have been developed over years of sampling and production processing. We start with a sample run to establish a feasible process and then scale up for production. Etching is normally a big factor as well as machining, so you acquire equipment to properly process the PCB to make an acceptable finished product.
Beaulieu: What technology requires ultra-heavy copper?
Bartosz: Circuit boards that need high current or thermal dissipation like solar and wind power collection, aerospace/military, telecommunications, and automotive applications.
Beaulieu: What kind of end-products need it?
Bartosz: Some products include automotive junction boxes, battery management systems, and high-power circuits that have MOSFETs, IGBTs, and other high-current components, running hundreds of amps through the circuitry. For those who may not know, MOSFETs and IGBTs are a couple of power devices/components that can handle high-voltage and high-current needs. You will find them on inverters, converters, and power supplies.
Beaulieu: How do you think it will be used in the future?
Bartosz: Currently, designs have been made for power distribution, power collection, battery-powered transportation, and LED lighting. Future use will depend on new applications needed in the marketplace. You also need a supplier that changes with the market to meet these specialized needs. It will definitely be used more in the future.
Beaulieu: Is this kind of technology being designed right now?
Bartosz: Yes, it is still used in the automotive and power markets, such as new EV and autonomous vehicles where battery technology has higher current requirements and power-generation systems, solar, wind, or conventional types as their technology changes.
Beaulieu: How many ultra-heavy copper boards have you built?
Bartosz: Aurora has shipped over five million boards of single-sided, PTH, and multilayer designs over the last 10 years. Many of these were for junction boxes or battery systems in automobiles. For a few years, we shipped over 400,000 6/6 copper PCBs to China. We have processed over 800 tons (based on oz/sq ft) and over 1.7 million square feet without any EPA violations.
Beaulieu: Before we end, tell us a little bit about Aurora Circuits.
Bartosz: We have over 60 years of experience in printed circuit fabrication, providing advanced thermal management and interconnect technology solutions for PCB designs and specialty products. Product specialty areas include polymer thick-film (PTF) resistors, metal-clad materials for LED lighting and other markets, durable plating for contact areas, and, of course, ultra-heavy copper. We partner with companies to help them to maximize profitability and production sustainability.
Beaulieu: Thank you, Thad.
Bartosz: No problem, Dan.
Read more about Aurora Circuits and ultra-heavy copper PCBs here.
---
Suggested Items
11/13/2023 | Global Newswire
The "Global Copper Clad Laminates Market (by Type, Application, Reinforcement Material, & Region): Insights and Forecast with Potential Impact of COVID-19 (2023-2028)" report has been added to ResearchAndMarkets.com's offering.
11/07/2023 | SCHMID Group
The SCHMID Group, a global solution provider for the high-tech electronics, photovoltaics, glass and energy systems industries, will be exhibiting at productronica in Munich from November 14 – 17, 2023.
11/01/2023 | Alex Stepinski, Stepinski Group
The topic of intrinsic copper structure has been largely neglected in discussions regarding the PCB fabrication quality control process. At face value, this seems especially strange considering that copper has been the primary conductor in all wiring boards and substrates since they were first invented. IPC and other standards almost exclusively address copper thickness with some mild attention being paid to surface structure for signal loss-mitigation/coarse properties. 
10/26/2023 | Andy Shaughnessy, Design007
At PCB West, I sat down for an interview with John Andresakis, the director of business development for Quantic Ohmega. I asked John to update us on the company's newest materials, trends in advanced materials, and the integration of Ticer Technologies, which Quantic acquired in 2021. As John explains, much of the excitement in materials focuses on laminates with lower and lower dielectric constants.
10/25/2023 | Preeya Kuray -- Column: Material Insight
Printed circuit board (PCB) reliability testing is generally performed by exposing the board to various mechanical, electrical, and/or thermal stimuli delineated by IPC standards, and then evaluating any resulting failure modes. Thermal shock testing is one type of reliability test that involves repeatedly exposing the PCB test board to a 288°C pot of molten solder for a specific time (typically 10 seconds) and measuring the number of cycles it takes for a board's copper layer to separate from the organic dielectric layer. If there is no delamination, fabricators can rest assured that the board will perform within expected temperature tolerances in the real world.