Books

Featured Books

pcb007 Magazine

Latest Issues

Current Issue

The Registration Sweet Spot

Registration is underrated and underappreciated. The key is to ensure proper registration from layer to layer across the entire printed circuit board. It's a holistic process requiring anticipation, prediction, precise attention at each step, and detailed data tracking and monitoring.

High-reliability Fabrication

In this month's issue, our expert contributors discuss the latest in technologies, trends, complexities and resources regarding high-reliability fabrication.

Finding Ultra

New demands on PCB fabrication, namely advanced packaging, ultra high density interconnect (UHDI), and new specialty materials, are converging, changing the landscape of our business. Is it time to start paying close attention to this convergence?

Columns

Latest Columns

||| MENU
Limata's Innovative LUVIR Technology Speeds Up PCB Solder Mask Production
August 6, 2020 | Limata
Estimated reading time: 3 minutes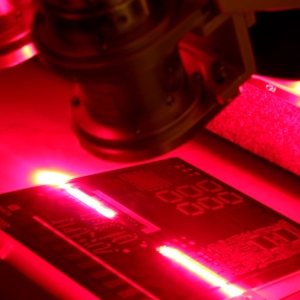 Limata, a provider of Laser Direct Imaging (LDI) systems for PCB manufacturing and adjacent markets, announces the availability of its proprietary and field-proven LUVIR Technology® on all X-series model types. This unique LDI technology significantly increases the speed of solder mask (SM) direct imaging at lower Total Cost of Ownership (TCO).
Innovation reduces required UV-power and increases imaging speed
Direct imaging (DI) of solder masks in PCB manufacturing, which is essential to comply with the latest PCB design requirements in the area of registration and accuracy, has always been a challenging task. Since solder mask inks require significantly higher doses of ultra-violet (UV) energy than dry-film, the imaging processing times of multi-wavelength DI solutions (solely relying on UV-light sources) are either too slow for high-volume requirements or fail to deliver the required SM imaging output capacity at a reasonable investment for the manufacturer.
To tackle this challenge, Limata has developed a completely new approach for solder mask exposure, that utilizes both, UV- and infrared (IR-) lasers. This combined laser approach shortens imaging cycle times and increases throughput (prints or panels per hour) further delivering best-in-class ionic contamination ('bleeding') values on all conventional ink types.
"With LUVIR, we are able to deliver the same imaging results at lower UV-laser energy levels of just 100 to 250mJ/cm2 compared with 400 to 1,000mJ/cm2 required on LED/DMD systems – with no compromises on surface quality, resolution or accuracy," said Matthias Nagel, CTO of Limata. "Using IR enables us to downsize the UV-laser capacity in our systems, which supports lower equipment costs, ultimately delivering the best price/performance value of any DI solder mask system currently available in the market."
Outstanding imaging results on all conventional ink types
Higher imaging efficiency and throughput levels with LUVIR are particularly achieved on all conventional solder mask ink types and colors (green, blue and black) as well as on legend inks (white), further eliminating the need for PCB manufacturers to transition from conventional standard ink material to more expensive DI inks, a change which normally requires lengthy and costly re-certifications of solder mask processes by end-customers or PCB designers. In addition, LUVIR fully supports the digital imaging of PCB structures at coating thicknesses in the 4 mil (100 µm) to 6 mil (150 µm) range without significant undercut. This is a direct imaging task that cannot be processed by multi-wavelength DMD/LED systems at reasonable speed levels or yields.
Lower Cost-per-Print and Total Costs of Ownership for PCB manufacturers
PCB production data from the field have proven a significant imaging and throughput advantage with LUVIR on all conventional solder mask inks at up to 40% lower costs per print compared to DI system peers. The use of long-lifetime components for its UV/IR imaging module complemented by an in-house developed sensor array for the automatic remote calibration of lasers significantly reduces maintenance requirements and after-sales costs by further eliminating the need for manufacturers to enter into expensive long-term service agreements over the equipment lifecycle.
LIMATA's X2000-series platform, powered by LUVIR in a four UV/IR imaging head configuration, supports high-volume PCB capacity requirements. The availability of LUVIR on a more compact system platform (X1000) lowers the entry barriers for quick-turn-around manufacturers considering transitioning from mask/film and investing in a digital system solution for solder mask direct imaging.
LIMATA was recently acknowledged for its LUVIR innovation with the Productronica Innovation Award 2019 in the PCB & EMS Cluster. The technology is available on all LIMATA X-series system models featuring a range of options addressing individual PCB customer needs in different markets and regions. All X-Series systems also support the direct-imaging of dry-film (photoresist) down to a resolution of 1 mil (25 µm) line and space.
---
Suggested Items
12/06/2023 | Indium Corporation
Indium Corporation is proud to announce the addition of Sales Engineer Meik Fratzel to its European team.
12/04/2023 | Transition Automation
Transition Automation, Inc. recently received a large order for Advanced Holder and Blade Assemblies compatible with DEK printers from Rotec BV in Belgium.
11/30/2023 | AIM
AIM Solder, a leading global manufacturer of solder assembly materials for the electronics industry, is pleased to announce its new NC259FPA Ultrafine No Clean Solder Paste, which it revealed recently during the Productronica Germany trade show.
11/27/2023 | Real Time with...productronica
Koh Young's Harald Eppinger talks about the company's technology for the semiconductor and advanced packaging market and how they address the challenges introduced by reflective components and micro solder deposits.
11/27/2023 | HyRel
HyRel Technologies, a global provider of quick turn semiconductor modification solutions, announces the achievement of International Traffic in Arms Regulations (ITAR) registration.