BAE Systems Acquires In-Space Missions
September 14, 2021 | BAE Systems
Estimated reading time: 2 minutes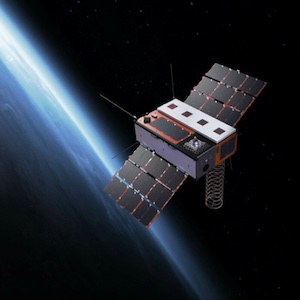 BAE Systems has acquired In-Space Missions, a UK company that designs, builds and operates satellites and satellite systems. The acquisition will combine BAE Systems' experience in highly secure satellite communications with In-Space Missions' full lifecycle satellite capability, to make a compelling sovereign UK space offer.
In-Space Missions was founded in 2015 and is based in Hampshire with more than 30 employees. It specializes in offering space services for activities covering earth observation, satellite communications, navigation, and space science and exploration.
The company also has an innovative approach to combining satellites into payload rideshare, allowing multiple payloads to be launched and operated together as one satellite in space. This 'Faraday Service' not only reduces cost and time to launch but also contributes to space sustainability by reducing the number of separate satellites. In-Space Missions launched its first combined satellite in June, carrying six payloads for customers including Airbus, Lacuna, SatixFy, and Aeternum, as well as In-Space Missions' own Babel payload, and continues to operate them in orbit. The Faraday Service also allows for digital payloads to be uploaded to In-Space Missions' proprietary, software-defined, ultra-wideband RF platform - reducing the time to orbit for customers from years to days.
BAE Systems already provides space products in waveforms, electronics, antenna, and digital signal processing and analytics, with 20 years' experience in ground-based signal processing for various space agencies. In-Space Missions adds the capability to create, launch and operate complete satellites, helping to enable sovereign, secure, and resilient data sharing between different platforms in sea, air, land and space.
Speech marksAmanda Solloway, Minister for Science, Research and Innovation, said:
"This acquisition is a great vote of confidence in our thriving space sector.
"By bringing on board the expertise of In-Space Missions, BAE Systems will help to expand the UK's capabilities in low earth orbit satellites, creating valuable export opportunities, while keeping this country at the forefront of a new commercial space age."
Speech marksBen Hudson, Chief Technology Officer at BAE Systems, said:
 "The UK has an opportunity to be a global player in the growing low earth orbit space market, as well as servicing its own sovereign defense and commercial needs. This acquisition will allow us to combine a range of space capabilities that help deliver information advantage, multi-domain operations, and networking for our customers. We look forward to welcoming the In-Space Missions team to BAE Systems."
Speech marksDoug Liddle, CEO of In-Space Missions, added:
"This agreement means In-Space Missions will maintain its small company culture while leveraging the tremendous scale and new opportunities offered by BAE Systems. We're already collaborating on new highly secure satellite applications and beyond that, we're really excited about how this agreement will underpin our growth as an ambitious, UK-owned, prime and service provider."
This acquisition is part of BAE Systems' strategy to develop breakthrough technologies, pursuing bolt-on acquisitions where they complement existing capabilities and provide an opportunity to accelerate technology development in key areas, as evidenced with recent acquisitions such as Prismatic, Techmodal and PPM Ltd.
---
Suggested Items
10/21/2022 | BAE Systems
BAE Systems, Inc. released Caring for our People, Culture, and Communities, the company's second annual report highlighting the significant progress made in advancing diversity, equity, and inclusion (DEI).
04/28/2022 | Business Wire
BAE Systems has been awarded a $2.8 million, three-year contract from the Air Force Research Laboratory to develop a new approach to defeat adversaries: by overwhelming them with complexity.
10/21/2021 | BAE Systems
BAE Systems, a leading defense and security company, has joined the Center for Threat-Informed Defense (Center), operated by MITRE Engenuity, as a research sponsor to help the organization with its work to develop resources that protect against cyber-attacks.
10/15/2021 | BAE Systems
BAE Systems, Inc. announced its backside illuminated (BSI) "Hawkeye" HWK1411 ultra low-light image sensor, enabling market-leading night vision capabilities with reduced size, weight, and power.
10/12/2021 | TT Electronics
TT Electronics, a global provider of engineered technologies for performance-critical applications, announced that they have been awarded a contract to support the UK MOD's Mechanised Infantry Vehicle (MIV) programme.