I-Connect007 Editor's Choice: Five Must-Reads for the Week
November 5, 2021 | Andy Shaughnessy, I-Connect007
Estimated reading time: 2 minutes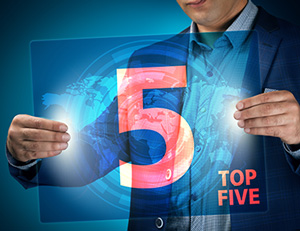 It's merger mania! Yes, there's been a lot of M&A activity lately in our industry over the past few months. This week was no different when it comes to merger activities. In this week's selections, we have news about DuPont's acquisition of Rogers, Nano Dimension's merger with Essemtec, and NCAB's acquisition of Elmatica. We also have news from SMTA International, and an interview with Joe Clark of DownStream Technologies about their new flex and rigid-flex technology.
We're heading toward winter now, but PCB design and manufacturing is hot! Stay tuned.
DuPont Announces Acquisition of Rogers Corporation
Published November 2
In some big M&A news, DuPont announced that it is acquiring Rogers Corporation in a cash transaction worth $5.2 billion. There's nothing quite like having cash on hand. This is a great move for DuPont; Rogers is a leader in high-speed laminates, and DuPont has vast resources and a global distribution network.
Nano Dimension Acquires Essemtec
Published November 3
Next, Nano Dimension, the Israel-based developer of 3D printed electronics and additive manufacturing technology, announced that it was acquiring the Swiss SMT equipment maker Essemtec AG. This should be a complementary fit, with Nano Dimension already a player in the Americas and Essemtec's network across Europe.
NCAB Discusses Recent Merger with Elmatica
Published November 4
The NCAB Group recently acquired the Norwegian PCB fabricator Elmatica PCB, a move that further expands NCAB's global reach. In this interview, Editor Nolan Johnson and NCAB CFO Anders Forsén discuss the synergies between the organizations and what this means to the companies' current and potential customers.
SMTA International Day 1: Standing Room Only
Published November 4
SMTA International just wrapped up its first live show since the pandemic began, and Nolan Johnson was there, covering the news and interviewing the industry's engineers, managers, and executives. As he explains, attendance was down, as you might expect, but many attendees and exhibitors were glad to be back at a trade show, rubbing elbows with friends and colleagues they hadn't seen in a long time. Virtual trade shows just don't offer that sort of interaction.
DownStream Adding More Flex, Rigid-Flex Functionality
Published November 4
In this recent interview, DownStream Technologies co-founder Joe Clark discusses the company's move to increase its tools' flex and rigid-flex capabilities. Clark also explains a variety of updates that DownStream has implemented, including scripting and recording, and why it's important to step back every so often and assess a tool's performance.