Test and Inspection: Far Beyond Opens and Shorts
December 7, 2021 | I-Connect007 Editorial Team
Estimated reading time: 3 minutes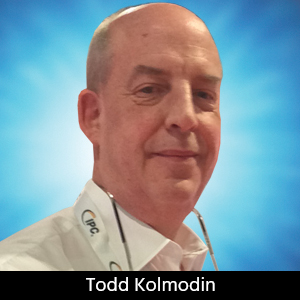 Gardien Vice President Todd Kolmodin talks about test and inspection market drivers from his perspective as a test service provider. Andy Shaughnessy and Happy Holden go down the "microvia rabbit hole" with Todd, as well as explore how OEM design requirements are driving test and inspection functionality and processes. When board layer counts and feature densities force longer test times, the tradeoffs to profitability for manufacturers become time and accuracy. Minimizing time while maximizing accuracy calls for new methods, which Kolmodin explains. 
Andy Shaughnessy: Todd, will you give us an overview of test and inspection?
Todd Kolmodin: We're seeing that the way to compete right now is bundling. In test and inspection, you have requirements from a customer now that are far beyond just what I need to test the board for opens and shorts.
When the requirements now come in, we want the open and shorts. That's the "throw it on the table" given. But then they say, "We have some buried passives, some impedance, then some buried inductives, and HiPot; we have all these things that are added on there. Maybe they've moved into high voltage design. They want 4-wire Kelvin high-resolution testing. They want buried resistive testing because the Ohmega™-ply layered technology has really matured, and a lot of people are doing it. We test both in sub part innerlayer or final and we can figure out internal matrices of buried series resistance, parallel resistance, and combinational resistance.
We have integrated multiple tests into the same equipment and it's a way we can stay competitive and provide a one-stop test service or quality assurance service without having to buy all kinds of equipment. There are people buying grid testers and flying probes and then you're buying TDR equipment and machines for doing inductions and such like that. That's how we're seeing it.
Shaughnessy: What do you see going on with test and inspection? The good, the bad, the challenging?
Kolmodin: We're seeing more requirements from some of the manufacturers and that has forced us to invent ways to do things differently. Some of our equipment now can provide the TDR, the standard test, the buried inductance testing, buried capacitance testing, and buried resistive testing all on one machine so you don't need a lot of other equipment. You have to go this way to stay competitive because you can only cut your margins so far; after a while you won't compete anymore and you still need to pay your employees.
We are seeing some onshoring again. We are seeing a lot more of the hotshot stuff under ITAR agreements, and some of the military applications. Overall, I think we're getting stronger again but the function for success is definitely automation. I'm speaking for test in general, not just us.
Happy Holden: Todd, are you testing bare boards or assembled boards?
Kolmodin: With very small exceptions, it's all bare board level.
Holden: So, the test is getting more complex because the printed circuit itself is getting more complex with newer technologies?
Kolmodin: Exactly. Your standard 8-, 10-, 12-, 16-, and 20-layer boards—we see them up to 30+ when you get into backplane. These engineers figured out some time ago how they can bury certain components in the board using different types of material.
The problem is when you have some of it buried in the board and some buried components behave like electrical faults. As a resistive network, it could be higher than the continuity threshold required. Similarly, if you have capacitance built in, you could get charge time and leakage which will screw up the results of a standard test. You must be able to provide both tests in one session. It gets tricky.
To read this entire conversation, which appeared in the November 2021 issue of PCB007 Magazine, click here.
---
Suggested Items
09/20/2023 | I-Connect007 Editorial Team
Panasonic's Darren Hitchcock spoke with the I-Connect007 Editorial Team on the complexities of moving toward ultra HDI manufacturing. As we learn in this conversation, the number of shifting constraints relative to traditional PCB fabrication is quite large and can sometimes conflict with each other.
09/19/2023 | Anaya Vardya -- Column: Standard of Excellence
In my last column, I discussed cutting-edge innovations in printed circuit board technology, focusing on innovative trends in ultra HDI, embedded passives and components, green PCBs, and advanced substrate materials. This month, I'm following up with the products these new PCB technologies are destined for. Why do we need all these new technologies?
09/18/2023 | ViTrox
ViTrox, which aims to be the world's most trusted technology company, is excited to announce that our trusted Sales Channel Partner (SCP) in Mexico, SMTo Engineering, S.A. de C.V., will be participating in SMTA Guadalajara Expo & Tech Forum. They will be exhibiting in Booth #911 from the 25th  to the 26th of October 2023,  at the Expo Guadalajara in Jalisco, Mexico.
09/18/2023 | Intel
Intel announced one of the industry's first glass substrates for next-generation advanced packaging, planned for the latter part of this decade.
09/18/2023 | Aidan Salvi -- Column: Facing the Future
I have been in and around circuit boards most of my life. I started 20 years ago in my family's PCB shop, leaving after a couple of years to start my own software company. About a year ago, I returned to the family business, and the first thing I noticed was that nothing had really changed. We were doing the same things in the same way as the day I left. After talking to several experts in the industry, I realized it was worse than that: The manufacturing of PCBs had not changed in 70 years.