Books

Featured Books

pcb007 Magazine

Latest Issues

Current Issue

Finding Ultra

New demands on PCB fabrication, namely advanced packaging, ultra high density interconnect (UHDI), and new specialty materials, are converging, changing the landscape of our business. Is it time to start paying close attention to this convergence?

Developing a Strategy

A solid strategy is a critical part of success. This month, we asked some of the top industry leaders and business strategy "gurus" to share their thoughts on developing strategies.

Winning With TQM

In this issue, we explore how TQM has entered the DNA of continuous improvement disciplines, and the role leadership transformation plays in this. If you've ever competed against a TQM company, you understand their winning advantage.

Columns

Latest Columns

||| MENU
Real Time with… IPC APEX EXPO: CalcuQuote—Making Sense of the Supply Chain
January 12, 2022 | Nolan Johnson, I-Connect007
Estimated reading time: 5 minutes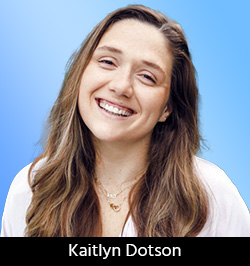 Nolan Johnson speaks with Kaitlyn Dotson, COO of CalcuQuote, about the upcoming IPC APEX EXPO show, what CalcuQuote will be exhibiting, and the current supply chain and market dynamics.
If you can't make it to IPC APEX EXPO, don't worry. We'll be bringing you interviews with the engineers, managers and technologists who are making a difference in our industry.  
To listen to this Real Time with… IPC APEX EXPO interview with Kaitlyn Dotson, click here.
Audio Transcript
Nolan Johnson: Hi. Nolan Johnson here for real time with IPC APEX EXPO, and I'm speaking today with Kaitlyn Dotson. She's the chief operating officer at CalcuQuote. Kaitlyn, thank you for joining us today.
Kaitlyn Dotson: Absolutely. Happy to be here. Thanks for having me.
Johnson: For those who are maybe not so familiar with CalcuQuote, why don't you start us off with a sense of what you do, what your services are, what your offerings are?
Dotson: Absolutely. Software as a service is at the core of what we do. We specifically have software for the electronic supply chain industry for the supply chain process. So, think of everything from the moment you receive an RFQ from your end customer to the moment you want to place your purchase order and make sure everything is really systematized and automated from that perspective. CalcuQuote's been around since 2014. I've been with the company since 2016 myself, so we've been able to help over 200 contract manufacturers within the industry really make sure that supply chain process has been revolutionized and reinventing the way that we approach everything.
Johnson: Why should people see you at APEX?
Dotson: That's a great question. Last year, crazy year for everybody, as we know, specifically for CalcuQuote as a company, we did have a strategic investment happen with a Finnish-based company, Elisa. With that, we really wanted to make sure we expanded what we did and be able to expand beyond just our flagship product, so not only will our entire team be there from the America side, but we'll also have other European team members who will be there as well, which is really great, for our customers and potential customers to see us be able to grow. With that, at our booth we'll not only be showing our core flagship product, QuoteCQ, we'll also have our other products, which as I kind of mentioned, really start from the beginning of the supply chain process of capturing requirements from your end customer, your OEM, through all the way to automatically placing a purchase order on somebody's website. It's really interesting to see how the entire supply chain process can be handled with all of these systems, that we realized as of last year, they're even more important than ever to make sure that you can still run your business when things like COVID or a pandemic hit.
Johnson: Let's talk about that just a little bit, and dive down into that. What are some of the pain points that your customers are facing, and how does CalcuQuote help with that?
Dotson: Yeah. I think that's really important, especially now, more important than ever really. We've all seen the volatility that's happening in the market. It's extreme. There is something that could happen today, tomorrow, that's going to look completely different. So, really the visibility into what is happening within the electronic supply chain is more important than ever. Not being able to have that visibility, not being able to go into the facility on every occasion that you want to, not being able to meet in person with your customers, with your suppliers, having that visibility from a software perspective and still being able to run your business is so important, because these things happen. We saw that last year. This potentially is not a fluke. It's going to continue to happen, so being able to have a software like CalcuQuote, that has these various processes that will allow you to see that visibility, is going to become even more important than ever. And we've that over the last year or two.
Johnson: What are your customers seeing for a return on investment? How valuable has this been for them?
Dotson: We've had a couple customers who have said, "Look, we can't see what is happening in the world right now. We don't know what's going on unless we spend hours upon hours making sure that we scrub every little thing, and by the time you scrub that it's going to have changed." And that's the fact right now. So, when you look into it, and you can say, "Okay, I have two people who are doing this full time for me, who are doing quoting, who are doing purchasing, and they have to spend hours upon hours analyzing data that will change in a matter of minutes, potentially." Being able to have a software that's going to tell you what's happening in a matter of seconds is going to be really crucial, because now those people's time cannot just be spent scrubbing data and going through it manually, they'll be able to gather the data and automatically place purchase orders and create just this more streamlined process for their supply chain. And that's just going to allow customers to win more business.
Johnson: It sounds to me like that staff is going to be able to spend more time problem solving instead of number tracking.
Dotson: Exactly. It takes your employees from doing the manual tedious work that really software is built for. We are moving into an age where software is perfect for that purpose, so now you can say, "Hey, guys, I'm not going to have you spend the time do that. You're going to now be put to the strategic thing." We consider it an 80/20 rule. Let software take 80% of that away, 80% of the manual, tedious, repetitive work, and have your team spend time on what is really important to your business. There's always going to be a purpose for people. We're not talking about taking software and having it replace people. We're talking about taking software, and actually having it put people in a better position to be strategic and help businesses in different ways.
Johnson: Yeah. I'm really looking forward to stopping by the booth myself to see how this works.
Dotson: Yeah. Well, we're really excited to have you guys, and really excited to be back to APEX. It's been a long time coming, so I can't wait to see people's faces in person and be able to interact.
Johnson: Well, thanks for joining us here today. I'm Nolan Johnson. I've been speaking with Kaitlyn Dotson, the chief operating officer at CalcuQuote. Thanks for joining us, Kaitlyn.
Dotson: Thanks so much.
---
Suggested Items
09/20/2023 | I-Connect007 Editorial Team
Panasonic's Darren Hitchcock spoke with the I-Connect007 Editorial Team on the complexities of moving toward ultra HDI manufacturing. As we learn in this conversation, the number of shifting constraints relative to traditional PCB fabrication is quite large and can sometimes conflict with each other.
09/19/2023 | Anaya Vardya -- Column: Standard of Excellence
In my last column, I discussed cutting-edge innovations in printed circuit board technology, focusing on innovative trends in ultra HDI, embedded passives and components, green PCBs, and advanced substrate materials. This month, I'm following up with the products these new PCB technologies are destined for. Why do we need all these new technologies?
09/18/2023 | ViTrox
ViTrox, which aims to be the world's most trusted technology company, is excited to announce that our trusted Sales Channel Partner (SCP) in Mexico, SMTo Engineering, S.A. de C.V., will be participating in SMTA Guadalajara Expo & Tech Forum. They will be exhibiting in Booth #911 from the 25th  to the 26th of October 2023,  at the Expo Guadalajara in Jalisco, Mexico.
09/18/2023 | Intel
Intel announced one of the industry's first glass substrates for next-generation advanced packaging, planned for the latter part of this decade.
09/18/2023 | Aidan Salvi -- Column: Facing the Future
I have been in and around circuit boards most of my life. I started 20 years ago in my family's PCB shop, leaving after a couple of years to start my own software company. About a year ago, I returned to the family business, and the first thing I noticed was that nothing had really changed. We were doing the same things in the same way as the day I left. After talking to several experts in the industry, I realized it was worse than that: The manufacturing of PCBs had not changed in 70 years.