Excerpt Chapter 5: 'The Printed Circuit Designer's Guide to... Thermal Management with Insulated Metal Substrates, Vol. 2'
August 9, 2022 | Didier Mauve and Robert Art, Ventec
Estimated reading time: 2 minutes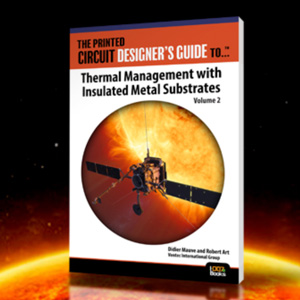 Chapter 5: Boosting Thermal Performance with Multilayer IMS
In The Printed Circuit Designer's Guide to... Thermal Management with Insulated Metal Substrates (Vol. 1), the authors briefly discussed the issues around combining multiple layers of copper foil, dielectric, and substrate materials and the design opportunities given by the latest generation of thermally conductive thin cores and prepregs.
The latest thermally conductive materials, prepregs, and cores allow designers to reconsider the thermal management approach. They can offer a simple and ready-to-use solution to address thermal issues on existing multilayer boards.
Through necessity, the industry has already come up with many solutions over the years, such as thermal vias, thermal coins, and inserts. All these existing solutions require either the use of thick copper foil and/or the use of heavy copper coins, thus leading to an inevitable inflation in cost and weight. We can now analyze alternative designs made possible by the arrival of multilayered IMS. The following application examples illustrate the concept and the main benefits of multilayered IMS.


Figure 5.1: Single-sided single layer.
The PCB design with insulated metal substrates is by no means limited to single-sided and single-layered circuits (Figure 5.1), although these are predominantly the types of circuits used in LED-lighting and power electronics applications.
There are several versatile ways to take advantage of IMS's enhanced thermal properties in situations that demand various other attributes such as physical formability or compliance, an intricate shape or small dimensions, or a complex circuit layout that would be fulfilled with a multilayered PCB if it weren't for the thermal issues.
If a formable grade of laminate (such as, for example, aluminum 5052 with a thin, non-reinforced dielectric) is specified, a single-sided circuit can be post-formed into three-dimensional shapes. This may help to design a circuit board that must fit inside a small or unusually shaped enclosure, or to cram more electronic circuitry within a limited space, or maybe ease assembly of a product if there is only minimal access to install electronic circuit boards. The aluminum layer is machined to reduce its thickness in the bend area.


Figure 5.2: Single-sided double layer.
Also, it is possible to build insulated metal substrates into multilayered IMS structures (Figure 5.2) with thermally conductive laminates and prepregs using plated-through holes for Z-axis interconnection.
In situations where the metal base is not an option, but the component temperature needs to be reduced, an alternative construction may be necessary; the thermal conductive cores and prepreg may be combined to create the entire board or may be used in a hybrid construction combining conventional FR-4 and thermal conductive cores or prepreg.
To continue reading this chapter, download your copy of this book from the I-007eBooks library today!
---
Suggested Items
09/28/2023 | Anaya Vardya, American Standard Circuits
There has always been pressure to reduce line and space as we have seen the bleeding edge technology go from 8 mils to 5 mils and then to 3 mils. The difference between "then" and "now" is that the prior advancements, for the most part, used the same processes, chemistry and equipment going from 8 mils to 3 mils. But going from 3 mil to sub 1 mil trace and space is a quantum leap in printed circuit board (PCB) technology that requires a whole new set of processes and materials.
09/28/2023 | Michael Carano -- Column: Trouble in Your Tank
In a previous column, the critical process of desmear and its necessity to ensure a clean copper surface connection was presented. Now, my discussion will focus on obtaining a void-free and tightly adherent copper plating deposit on these surfaces. After the desmear process, the task is to insure a continuous, conductive, and void-free deposit on the via walls and capture pad. Today, there are several processes that can be utilized to render vias conductive.
09/20/2023 | I-Connect007 Editorial Team
Panasonic's Darren Hitchcock spoke with the I-Connect007 Editorial Team on the complexities of moving toward ultra HDI manufacturing. As we learn in this conversation, the number of shifting constraints relative to traditional PCB fabrication is quite large and can sometimes conflict with each other.
09/14/2023 | MKS' Atotech
MKS' Atotech, a leading surface finishing brand of MKS Instruments, will participate in the upcoming IPCA Expo at Bangalore International Exhibition Centre (BIEC) and showcase its latest PCB manufacturing solutions from September 13 – 15.
09/14/2023 | Vern Solberg -- Column: Designer's Notebook
Flexible circuit applications can be as basic as furnishing electrical interconnect between two conventional circuit board assemblies, or to prove a platform for placing and interconnecting electronic components. During the planning and pre-design phase of the flexible circuit, there will be several material and process related questions that need to be addressed. Most flexible circuit fabricators welcome the opportunity to discuss their customers' flexible circuit objectives prior to beginning the actual design process.