Chery Fully Embarks on the New Energy Layout
August 15, 2022 | Business Wire
Estimated reading time: 1 minute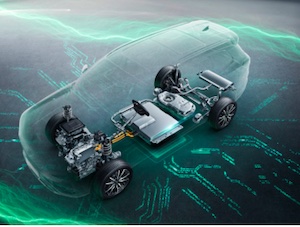 So far, Chery has established a research and development system covering six research and development centers in North America, Europe and Shanghai. It has applied more than 23000 patents and authorized more than 14000 patents (of which the invention patent accounts for 1/3).
In the future, the Group will focus its businesses in new energy and intelligent network. It will be committed to constructing three vehicle platforms, namely, intelligent pure electricity, high performance and hybrid power; it will perfect the layout of battery, motor and electronic control to realize the deep integration of battery technology, electric drive technology, power software, as well as the leading breakthrough of battery charging and changing technologies; it will focus on the intelligent network to make the development and layout of core technologies such as electrical architecture, over-the-air (OTA) technology, big data and interactive ecology come true, and realize the differentiated intelligent experience.
As China's first automobile enterprise that exports vehicles, CKD spare parts, engines and vehicle manufacturing technologies and equipment overseas, Chery has never ceased its pursuit for the global market. Up to now, it's products has been exported to more than 80 countries and regions; it has 10 overseas factories as well as more than 1500 overseas distributors and service outlets, cumulatively serving 10 million users.
Upholding the original intention of "Adhering to the Mastering of Core Technologies", Chery was praised as "Technology Chery" at the beginning of its establishment. Thanks to the six research and development centers and more than 5000 research and development of elites, it has formed the technical advantages in terms of traditional fuel technology, new energy and intelligent field. After more than 20 years of exploration, Chery has established a complete industrial layout including four vehicle platforms, five general subsystems and seven core technologies, which enables its EQ1 model to lead among the micro pure electric vehicles in China and even the world. In terms of intelligent field, Chery has gradually upgraded the intelligent industry in the whole life cycle of research and development, manufacturing, marketing and service, taking the lead in achieving the mass production and marketing of the model equipped with ADAS technology.
---
Suggested Items
09/20/2023 | I-Connect007 Editorial Team
Panasonic's Darren Hitchcock spoke with the I-Connect007 Editorial Team on the complexities of moving toward ultra HDI manufacturing. As we learn in this conversation, the number of shifting constraints relative to traditional PCB fabrication is quite large and can sometimes conflict with each other.
09/19/2023 | Anaya Vardya -- Column: Standard of Excellence
In my last column, I discussed cutting-edge innovations in printed circuit board technology, focusing on innovative trends in ultra HDI, embedded passives and components, green PCBs, and advanced substrate materials. This month, I'm following up with the products these new PCB technologies are destined for. Why do we need all these new technologies?
09/18/2023 | ViTrox
ViTrox, which aims to be the world's most trusted technology company, is excited to announce that our trusted Sales Channel Partner (SCP) in Mexico, SMTo Engineering, S.A. de C.V., will be participating in SMTA Guadalajara Expo & Tech Forum. They will be exhibiting in Booth #911 from the 25th  to the 26th of October 2023,  at the Expo Guadalajara in Jalisco, Mexico.
09/18/2023 | Intel
Intel announced one of the industry's first glass substrates for next-generation advanced packaging, planned for the latter part of this decade.
09/18/2023 | Aidan Salvi -- Column: Facing the Future
I have been in and around circuit boards most of my life. I started 20 years ago in my family's PCB shop, leaving after a couple of years to start my own software company. About a year ago, I returned to the family business, and the first thing I noticed was that nothing had really changed. We were doing the same things in the same way as the day I left. After talking to several experts in the industry, I realized it was worse than that: The manufacturing of PCBs had not changed in 70 years.