Applied EV Revolutionizes Autonomous Vehicle Systems Design With Siemens Xcelerator as a Service
October 21, 2022 | Siemens
Estimated reading time: 1 minute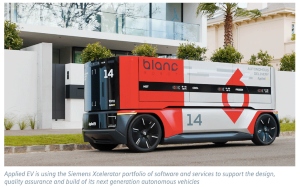 Siemens Digital Industries Software announced that Applied EV, an Australian specialist in safety-rated, autonomous-ready, digital control systems and modular vehicle platforms for commercial applications, is using the Siemens Xcelerator portfolio of software and services to support the design, quality assurance and build of its next generation autonomous vehicles.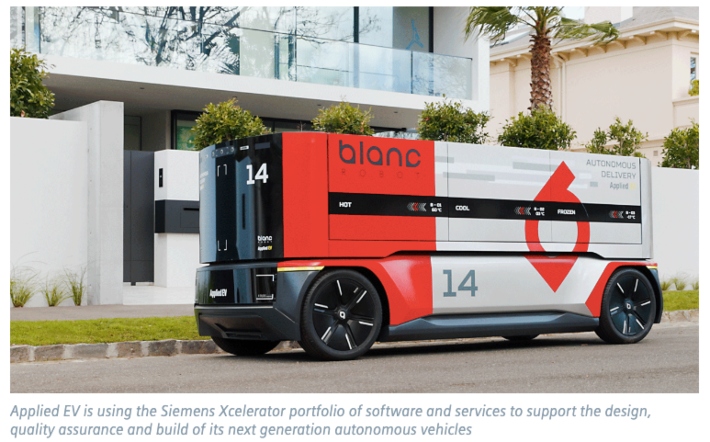 Applied EV is creating the future of transport with driverless, efficient transport solutions with Automotive Safety Integrity Level (ASIL) architected applications for the automotive and industrial sectors. Siemens' cloud-native Teamcenter® X software for product lifecycle management (PLM) from the Siemens Xcelerator portfolio is the trusted tool for Applied EV's design and product quality workflows to help decrease costs and reduce time-to-market.  This announcement follows Applied EV's recent success testing a self-driving cabinless commercial vehicle on European streets and announcement of their long-term alliance with global OEM, Suzuki Motors.
Applied EV's core product, the Digital Backbone (DBB) is a purpose-built software control system for electric and autonomous applications. The DBB advances the digital capabilities of electric vehicles, in turn, reducing hardware complexity and manufacturing costs to optimize the deployment of autonomous driving technology and support the next generation of vehicle architectures to be completely software defined. It is carefully crafted to comply with the highest safety ratings making it an ideal solution for Level 4/5 autonomous applications.
"Collaborating with global technology giant Siemens is strategic to progressing Applied EV's long-term vision. The demand for fully autonomous vehicles and technology is growing exponentially. Siemens' new cloud-based PLM platform will help us meet this demand, by providing us with better change management and quality," Julian Broadbent, co-founder and CEO of Applied EV. "This helps increase first-time right releases of hardware and software, streamlining the company's integrated approach to engineering."
"Siemens is committed to empowering innovative companies, like Applied EV, to drive sustainable growth and transform their industries," said Samantha Murray, Vice President and Managing Director of Siemens Digital Industries Software, Australia and New Zealand. "Applied EV is a true Australian success story of a company leading through innovative design, data and manufacturing. They are at the forefront of commercial autonomous technology that can be applied to any vehicle or system across multiple industries. We are proud to be working with Applied EV as we share a common goal of using software to innovate and challenge the status quo."
---
Suggested Items
09/25/2023 | StenTech
StenTech Inc., the leading multinational SMT Printing Solutions company, is pleased to announce plans to exhibit at the SMTA Guadalajara Expo, scheduled to take place Oct. 25-26, 2023 at the Expo Guadalajara in Guadalajara, Jalisco, Mexico.
09/22/2023 | ACN Newswire
Nanofiber Quantum Technologies Inc. raised $8.5m from leading venture capital investors. Phoenix Venture Partners (PvP) in the US, and Japan's JAFCO Group Co Ltd, SPARX Group Co Ltd, Keio Innovation Initiative, Inc. (KII), and Waseda University Ventures (WUV) financed the round through convertible notes.
09/21/2023 | ViTrox
ViTrox, which aims to be the world's most trusted technology company, is pleased to announce the addition of Hayden Dalton to our team as a Field Support Engineer who based in Milwaukee, WI, effective August 21, 2023.
09/20/2023 | Qualcomm Technologies, Inc.
Qualcomm Technologies, Inc. is ushering in a new era of home connectivity, and new opportunities for service providers, with the introduction of the Qualcomm® 10G Fiber Gateway Platform and its signature feature, Qualcomm® Service Defined Wi-Fi technology.
09/19/2023 | Mirtec
MIRTEC, 'The Global Leader in Inspection Technology', is pleased to announce its participation in the upcoming SMTA Guadalajara Expo on Wednesday, Oct. 25, 2023.