Continental Integrates Ambarella's Scalable System-on-Chip Family in Advanced Driver Assistance Systems
November 21, 2022 | Business Wire
Estimated reading time: 2 minutes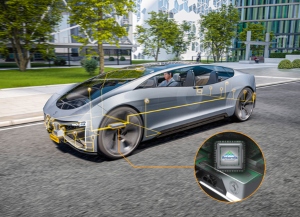 In the future, Continental will offer Advanced Driver Assistance Systems (ADAS) solutions based on the "CV3" artificial intelligence (AI) system-on-chip (SoC) family from semiconductor company Ambarella. The high-performance, power-efficient and scalable SoC portfolio, which is built for ADAS applications, complements Continental's solutions for assisted driving and further advances vehicle automation. The more sensors that are installed in a vehicle, the greater the amount of data collected to detect the environment. The joint solution with centralized single-chip processing based on 5-nanometer technology enables the next generation of vehicles to process the environmental perception of multiple sensors even faster, thanks to the increased performance level. Sensor solutions include high-resolution cameras, radars, lidars as well as ultrasonic sensors. The integrated SoC enables early data fusion, in which the information from different sensors is processed simultaneously for various applications such as emergency brake assist, parking or cruising.
"After exchanges on different use cases with Ambarella for two years, Continental is now integrating its high-performance, low latency, and low-power processing chipset into our assisted driving solutions. This brings our ADAS systems to the next level and helps to serve the growing amount of sensor data in the vehicle. With this, we achieve a more comprehensive and accurate environmental perception," said Frank Petznick, Head of the Autonomous Mobility Business Area at Continental. "We have now combined our expertise in this field to offer an enhanced level of systems performance as well as the scalable solutions required by the market."
Significant impact for industry and degree of vehicle automation
Continental's driver assistance systems enhanced with Ambarella's SoCs can process more collected data faster. In this way, they increase precision and enable a larger range of functions. The high scalability of the system-on-chip family allows vehicle manufacturers to choose the necessary performance level for their system requirements using the same vehicle architecture.
Despite the higher performance and accuracy, the solution consumes less power. This also leads to fewer cooling efforts, making sustainable energy savings possible, while also reducing system costs. As an added value to vehicle manufacturers, they can reduce their engineering investments across all vehicle types.
Unique system-on-chip performance with low power consumption
Ambarella's fully scalable, power-efficient family of system-on-chips provides significant AI performance per watt for neural network computation, with a performance increase of over 40 times compared to its former semiconductor chip family. Additionally, Ambarella integrates its image signal processor technology into all SoCs. This results in robust ADAS systems with higher levels of environmental perception in challenging lighting, weather and driving conditions for both machine and human vision. Humans see through the sensors of the assistance system.
Continental's ADAS systems with the integrated system-on-chip will be showcased for the first time at CES 2023 in Las Vegas.
---
Suggested Items
09/25/2023 | Alison James
"Electronics systems are at the heart of almost all modern technology. The performance and functionality of these systems have increased at breathtaking speed, chiefly as a result of advancements in semiconductor technology. Semiconductors do not function in isolation," writes Alison James, IPC senior director of government relations, in a 2023 report for the European Commission's Directorate General for Internal Market, Industry, Entrepreneurship. "These electronics systems feature prominently in key sectors like defence, aerospace, space, automotive, medical, and high-performance computing, but electronics are vital to every industry and are central to a variety of EU priorities, including the twin digital and green transitions and Europe's technological sovereignty."
09/25/2023 | StenTech
StenTech Inc., the leading multinational SMT Printing Solutions company, is pleased to announce plans to exhibit at the SMTA Guadalajara Expo, scheduled to take place Oct. 25-26, 2023 at the Expo Guadalajara in Guadalajara, Jalisco, Mexico.
09/22/2023 | Happy Holden, I-Connect007
Ever since high density interconnect (HDI) was created in 1982 by Hewlett-Packard to package its first 32-bit computer powered by a single chip, it has continued to evolve and provide the solutions for miniaturized products. The leading edge of HDI technology became the process used for organic flip-chip packaging for the semiconductor industry. The two distinct markets—IC substrates and product-system integration—are now colliding and utilizing the same ultra-HDI manufacturing processes.
09/21/2023 | Anda Technologies
Anda Technologies, a leading provider of fluid application and custom automated manufacturing equipment, is excited to announce its participation in SMTA Guadalajara, a premier event in the electronics manufacturing industry.
09/21/2023 | Scienscope International
Join Scienscope at the Guadalajara Expo and Tech Forum, where innovation knows no bounds.