Don't Blink: The IPC APEX EXPO Time-lapse
January 31, 2023 | Nolan Johnson, I-Connect007
Estimated reading time: Less than a minute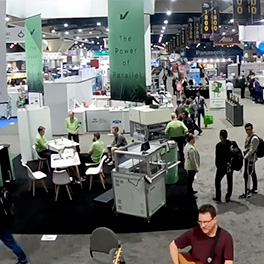 It's a tradition here at I-Connect007 to set up a time-lapse for IPC APEX EXPO. There's something satisfying, mesmerizing even, to watch the show floor build out and see the moment when the doors open and visitors fill the exhibit hall. Based on what others have said over the years, I know I'm not the only one whose favorite part is when the carpet gets rolled out and the whole character of the exhibition changes. This time lapse starts on the Saturday prior and continues through the Thursday tear-down phase.  
The time-lapse location has varied over the years. This year's time-lapse comes to you from the I-Connect007 booth, directly above the video studios, on the main aisle of the show. This vantage point illustrates just how vibrant the hall was over the course of the three-day exhibition. 
We hope you enjoy this two-minute peek into a week as an exhibitor at IPC APEX EXPO 2023. And we'll see you next April in Anaheim.
---
Suggested Items
09/28/2023 | IPC
IPC continues to collaborate with the electronics manufacturing industry to meet their current and future workforce training needs.
09/28/2023 | IPC
Though product demand weakened this month with Orders and Backlog Indexes slipping, overall electronics industry operations remain healthy per IPC's September 2023 Global Sentiment of the Electronics Supply Chain Report.
09/27/2023 | Cherie Litson, CID+, Litson1 Consulting
Rigid-flex circuits are unique structures; part rigid board and part flex, they're increasingly working their way into many of the electronic devices we use every day. There have been many advances in rigid-flex lately as more companies find themselves exploring this technology. So, before I started writing this article about rigid-flex design, I double-checked a few things. Fortunately, there is plenty of rigid-flex information available on a variety of great websites that we all know and trust.
09/18/2023 | IPC
IPC Day France: Aerospace Electronics is an aerospace-focused networking event featuring key industry experts from NASA and Airbus and will take place on October 2, 2023 . 
09/15/2023 | TRI
Test Research, Inc. (TRI), the leading test and inspection systems provider for the electronics manufacturing industry, will join productronica 2023, which will be held at Messe München Center from November 14 – 17, 2023.