Perrone Robotics Enters into Agreement with Sustainability Partners Bringing AVs to the State of Hawaii
March 3, 2023 | PRNewswire
Estimated reading time: 1 minute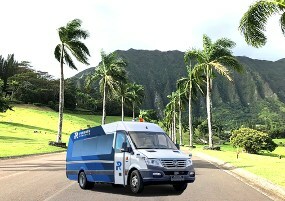 Perrone Robotics, Inc., the industry's leading autonomous vehicle (AV) kit and turnkey vehicle solutions provider, announces that they will be expanding their autonomous vehicle capabilities and global reach by providing the first all electric zero emissions, ADA-compliant, and FMVSS-compliant autonomous vehicles (AVs) to operate in the state of Hawaii.
Perrone will be fielding multiple AVs based on GreenPower Motor Company's EV-Star mini E-bus outfitted with Perrone's TONY (To Navigate You) AV product. Perrone has entered into an agreement with Sustainability Partners (SP), a revolutionary Infrastructure as a Service company, to supply the AVs for operation in Hawaii. SP facilitates the purchase of new technology across industries and supplies them to customers at a standardized and affordable rate. SP is under contract with the state of Hawaii to provide fleets of vehicles and related EV infrastructure.
Perrone's modular TONY AV kit and underlying autonomy software allows for flexible adaptation to passenger or goods delivery based EVs complementing SP's mission to convert essential infrastructure into sustainable utilities. This unique pairing allows for automated passenger and goods delivery across a wide range of zero emissions vehicles on a utility basis for deployment across the Hawaiian islands and other parts of the United States.
"We're thrilled to be working with Sustainability Partners to bring automated zero emissions mobility to the beautiful islands of Hawaii." said Paul Perrone, CEO of Perrone Robotics. "These automated all electric vehicles to be deployed with ADA-compliance and that meet federal motor vehicle safety standards, provides accessible mobility for all. Combining these automated EVs with Sustainability Partners' revolutionary Infrastructure as a Service model produces a first in industry for bringing affordable and sustainable transportation models for human-kind today."
---
Suggested Items
11/17/2023 | MVP
MVP, a pioneer in advanced AOI expertise, proudly commemorates three decades as a premier total solutions provider. Specializing in the Semiconductor, Microelectronics, Packaging, and Surface Mount industries, MVP remains dedicated to delivering cutting-edge solutions to a diverse clientele, including automotive, telecoms, commercial, medical devices, and military sectors.
10/20/2023 | ADCO Circuits
ADCO Circuits, a Michigan-based electronics assembler, has acquired a new thermal adhesive dispensing system to improve product quality and consistency while reducing manufacturing costs and shortening production cycles.
10/13/2023 | BUSINESS WIRE
Terran Orbital, a global leader in satellite-based solutions primarily serving the aerospace and defense industries, today announced the official opening of two new advanced Printed Circuit Board Assembly (PCBA) lines in Irvine, CA.
10/11/2023 | Altus Group
Altus Group, a leading distributor of capital equipment in the UK and Ireland, is pleased to announce the addition of the Quins Flex Series to their portfolio of optical inspection solutions for electronics manufacturing.
10/03/2023 | Nolan Johnson, PCB007 Magazine
Automation is everywhere, and nowhere is that more evident than the machines from Schmoll used in the new captive facility for Schweitzer Engineering Laboratories. Schmoll Maschinen GmbH Executive Director Stephan Kunz, and Evan Howard, service manager for Schmoll products, Burkle North America, discuss how their machines are perfectly suited for SEL's production lines.