Perrone Robotics Enters into Agreement with Sustainability Partners Bringing AVs to the State of Hawaii
March 3, 2023 | PRNewswire
Estimated reading time: 1 minute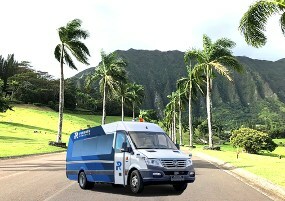 Perrone Robotics, Inc., the industry's leading autonomous vehicle (AV) kit and turnkey vehicle solutions provider, announces that they will be expanding their autonomous vehicle capabilities and global reach by providing the first all electric zero emissions, ADA-compliant, and FMVSS-compliant autonomous vehicles (AVs) to operate in the state of Hawaii.
Perrone will be fielding multiple AVs based on GreenPower Motor Company's EV-Star mini E-bus outfitted with Perrone's TONY (To Navigate You) AV product. Perrone has entered into an agreement with Sustainability Partners (SP), a revolutionary Infrastructure as a Service company, to supply the AVs for operation in Hawaii. SP facilitates the purchase of new technology across industries and supplies them to customers at a standardized and affordable rate. SP is under contract with the state of Hawaii to provide fleets of vehicles and related EV infrastructure.
Perrone's modular TONY AV kit and underlying autonomy software allows for flexible adaptation to passenger or goods delivery based EVs complementing SP's mission to convert essential infrastructure into sustainable utilities. This unique pairing allows for automated passenger and goods delivery across a wide range of zero emissions vehicles on a utility basis for deployment across the Hawaiian islands and other parts of the United States.
"We're thrilled to be working with Sustainability Partners to bring automated zero emissions mobility to the beautiful islands of Hawaii." said Paul Perrone, CEO of Perrone Robotics. "These automated all electric vehicles to be deployed with ADA-compliance and that meet federal motor vehicle safety standards, provides accessible mobility for all. Combining these automated EVs with Sustainability Partners' revolutionary Infrastructure as a Service model produces a first in industry for bringing affordable and sustainable transportation models for human-kind today."
---
Suggested Items
09/20/2023 | Hentec Industries/RPS Automation
Hentec Industries/RPS Automation, a leading manufacturer of selective soldering, component lead tinning and solderability test equipment, announces that it has added assembly and production staff members to its team to accommodate its recent increase in sales and order demand.
08/31/2023 | Koh Young
Koh Young, the industry leader in True 3D measurement-based inspection solutions, will be highlighting its revolutionary solutions at Productronica India 2023 with NMTronics India from 13-15 September 2023.
07/24/2023 | Michael Ford -- Column: Smart Factory Insights
Aspiring Smart factories seem to care, perhaps a little too much, about the differential effects of automation vs. people vs. AI. Rather than obsessing over the differences, let's focus on what they all share, since our Smart manufacturing operations require all three to work together in harmony, combining their strengths as they support our business goals.
06/29/2023 | Business Wire
CAES, a leading provider of mission-critical advanced RF technology, is investing in the future with a new automated tuning process that is bringing enhanced accuracy, consistency and competitiveness to its San Jose manufacturing facility.
06/14/2023 | NEOTech
NEOTech, a leading provider of electronic manufacturing services (EMS), design engineering, and supply chain solutions in the high-tech industrial, medical device, and aerospace/defense markets, announces the recent implementation of new automated production and inspection robots enabling higher level of performance and improving efficiency of their customers' product builds.