The AI-shortcut Requires Re-thinking of Examination
March 22, 2023 | Linköping University
Estimated reading time: 1 minute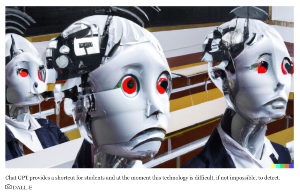 Changes are ahead when it comes to testing students' knowledge. The arrival of Chat GPT challenges both the university's teachers and its disciplinary board.
Artificial intelligence helping students write essays and assignments is already a reality. One problem is that university plagiarism checks cannot identify texts not written by the students themselves. Although new tools for detection of AI generated texts are being developed, AI will continue to challenge teachers to find new ways of giving examinations.
"AI is a technology that brings fantastic opportunities. We shouldn't focus only on the risk of cheating brought on by AI, but also on how to benefit from this technology in our teaching and examinations," says Karin Axelsson, deputy vice-chancellor at Linköping University and chair of its Disciplinary Board tasked with handling attempts at cheating, etc.
Testing knowledge
So far, the Disciplinary Board has not handled any cases relating to the use of Chat GPT. According to Karin Axelsson, this is because this technology is currently difficult, if not impossible, to detect.
"Like all other education providers, LiU realises that Chat GPT presents new opportunities for students wishing to take a shortcut in certain types of examinations. Course coordinators should try to find solutions to how examination of texts not written in an examination hall can be complemented with other ways of testing students' knowledge," says Karin Axelsson.
Another tool
Fredrik Heintz, professor in the Department of Computer and Information Science, also thinks along those lines. He believes that meaningful examinations are still possible, but that they require a different setup. Ultimately, it's all about testing the students' knowledge.
"You can liken this to the impact of the calculator on mathematics. Chat GPT is a tool that can write text. Hopefully, this will lead to more interesting tasks and new insights. This does challenge praxis but will ultimately be accepted, even though not everyone will like it," says Fredrik Heintz.
---
Suggested Items
09/21/2023 | ViTrox
ViTrox, which aims to be the world's most trusted technology company, is pleased to announce the addition of Hayden Dalton to our team as a Field Support Engineer who based in Milwaukee, WI, effective August 21, 2023.
09/20/2023 | Qualcomm Technologies, Inc.
Qualcomm Technologies, Inc. is ushering in a new era of home connectivity, and new opportunities for service providers, with the introduction of the Qualcomm® 10G Fiber Gateway Platform and its signature feature, Qualcomm® Service Defined Wi-Fi technology.
09/19/2023 | Mirtec
MIRTEC, 'The Global Leader in Inspection Technology', is pleased to announce its participation in the upcoming SMTA Guadalajara Expo on Wednesday, Oct. 25, 2023.
09/19/2023 | Anaya Vardya -- Column: Standard of Excellence
In my last column, I discussed cutting-edge innovations in printed circuit board technology, focusing on innovative trends in ultra HDI, embedded passives and components, green PCBs, and advanced substrate materials. This month, I'm following up with the products these new PCB technologies are destined for. Why do we need all these new technologies?
09/18/2023 | RTX
RTX business Collins Aerospace has been selected by BAE Systems as the provider for Large Area Display technology to be integrated into the cockpits of future Eurofighter Typhoon aircraft.