The AI-shortcut Requires Re-thinking of Examination
March 22, 2023 | Linköping University
Estimated reading time: 1 minute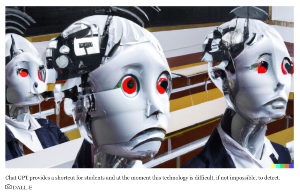 Changes are ahead when it comes to testing students' knowledge. The arrival of Chat GPT challenges both the university's teachers and its disciplinary board.
Artificial intelligence helping students write essays and assignments is already a reality. One problem is that university plagiarism checks cannot identify texts not written by the students themselves. Although new tools for detection of AI generated texts are being developed, AI will continue to challenge teachers to find new ways of giving examinations.
"AI is a technology that brings fantastic opportunities. We shouldn't focus only on the risk of cheating brought on by AI, but also on how to benefit from this technology in our teaching and examinations," says Karin Axelsson, deputy vice-chancellor at Linköping University and chair of its Disciplinary Board tasked with handling attempts at cheating, etc.
Testing knowledge
So far, the Disciplinary Board has not handled any cases relating to the use of Chat GPT. According to Karin Axelsson, this is because this technology is currently difficult, if not impossible, to detect.
"Like all other education providers, LiU realises that Chat GPT presents new opportunities for students wishing to take a shortcut in certain types of examinations. Course coordinators should try to find solutions to how examination of texts not written in an examination hall can be complemented with other ways of testing students' knowledge," says Karin Axelsson.
Another tool
Fredrik Heintz, professor in the Department of Computer and Information Science, also thinks along those lines. He believes that meaningful examinations are still possible, but that they require a different setup. Ultimately, it's all about testing the students' knowledge.
"You can liken this to the impact of the calculator on mathematics. Chat GPT is a tool that can write text. Hopefully, this will lead to more interesting tasks and new insights. This does challenge praxis but will ultimately be accepted, even though not everyone will like it," says Fredrik Heintz.
---
Suggested Items
12/05/2023 | PRNewswire
Samsung Foundry certified Ansys' RaptorX on-chip electromagnetic (EM) solution for analyzing high-speed products manufactured with Samsung's 8nm (nanometer) LN08LPP Low Power Plus silicon process.
12/04/2023 | USPAE
Seven microelectronics firms received nearly $10 million in combined funding to commercialize technologies of interest to the U.S. military services as winners of the Defense Business Accelerator (DBX) Microelectronics Challenge. This groundbreaking initiative is funded by the Department of Defense (DoD) and led by the U.S. Partnership for Assured Electronics (USPAE).
12/04/2023 | Horizon Sales
Horizon Sales is pleased to announce the newest addition to its team, Mr. Andre Kundert. Joining the company in November 2023, Andre brings with him two years of invaluable experience in surface mount technology (SMT) and a robust background in the electronics manufacturing industry.
11/30/2023 |
The goal of the collaboration is to promote the standardization of post-quantum cryptography.
11/30/2023 | PRNewswire
Hyundai Mobis is poised to secure new orders for premium vehicle displays, characterized by large screens, high definition, and slim design, using a fusion of innovative technologies targeting global automakers.