Trackwise's Flex Technologies Inspire Diverse New Applications
March 29, 2023 | Trackwise
Estimated reading time: 2 minutes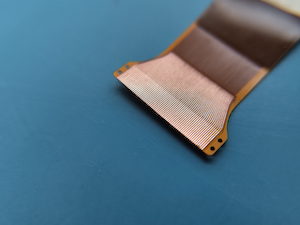 Trackwise Designs plc has revealed that its length-unlimited flexible printed circuits (FPCs) are driving product innovation in many sectors, as design engineers apply the Trackwise-patented Improved Harness Technology (IHT) FPC technology to solve their design challenges and enable smarter and more advanced products.
Trackwise's IHT process enables the manufacture of multi-layer, flexible printed circuits of unlimited length, delivering significant space and weight savings, increased reliability and repeatability, and reduced assembly time. IHT FPCs can withstand the harsh environments found in aerospace, automotive and industrial applications, but can also be made small enough to replace microwires in medical applications such as catheters. 
"The diversity of applications using our IHT FPCs to drive product innovation is huge," states Philip Johnston, CEO, Trackwise. "Design engineers have been quick to recognise the significant advantages of IHT FPCs. It is inspiring to see their visions for future products being realised as they take advantage of replacing conventional interconnections and wiring harnesses with our lightweight, smaller, cheaper, more reliable and repeatable alternatives."
Examples of customer innovations inspired by the company's IHT FPCs which are being evaluated or are in development include:
AgriTech: supply chain challenges and concerns about sustainability and food-miles are driving demand for agritech applications such as vertical farming in urban environments. Trackwise can manufacture FPCs of any length featuring sensors that enable the monitoring and control of lighting, climate and irrigation required to automate such indoor deployments round the clock.
Wearables: flexible and printed electronics, alongside ubiquitous connectivity, are enabling the use of smart technologies that can worn or embedded into clothing for a wide range of uses:
- MedTech: the improving sensing, connectivity and intelligence provided by IoT and wearable technologies offer new ways to effectively manage the health needs of an ageing population, helping maintain independence, while also increasing comfort and security. Sensors can be sewn into clothing or incorporated into wearable devices, allowing continuous remote monitoring of biomarkers such as temperature, blood sugars and heart rate, as well as location and event-based tracking of accidents such as falls. Alerts can be triggered with medical professionals or the emergency services.
- Smart textiles: whether for fashion or more functional uses, electroluminescent materials and fibre-based micro-LEDs can be woven together with clothing fabrics to create wearable smart textiles, helping improve safety and visibility while running, cycling or dog walking (or even when lost on a mountainside) – or perhaps even just flashing the name of the latest headline act at a concert.
- Sports & fitness: consumer wearables such as smartwatches feed into the 'quantified self' (QS) phenomenon of individuals tracking, gathering and recording a wide range of behavioural, physiological and environmental data in order to monitor and improve overall health. Also, professional sportspeople, from tennis players and footballers to marathon runners and F1 drivers, can use wearables to monitor vital signs, as well as for positional tracking using GPS and IMUs (inertial measurement units).
Industrial sensing: long FPCs featuring pressure sensor arrays, strain gauges or linear measurement sensors can be used to monitor the position and speed of an elevator car in its shaft – or investigate the inside of industrial pipelines.
Heating elements: FPCs can also power heating elements for applications such as de-icing aircraft wings, tails or air inlet scoops – or for innovative applications like electric infrared wallpaper.
Concludes Johnston: "Design engineers are resourceful problem-solvers that are applying these innovative flexible printed circuit technologies to solve their design challenges and enable smarter and more advanced products across a diverse range of industry sectors and applications."
---
Suggested Items
09/20/2023 | I-Connect007 Editorial Team
Panasonic's Darren Hitchcock spoke with the I-Connect007 Editorial Team on the complexities of moving toward ultra HDI manufacturing. As we learn in this conversation, the number of shifting constraints relative to traditional PCB fabrication is quite large and can sometimes conflict with each other.
09/19/2023 | Anaya Vardya -- Column: Standard of Excellence
In my last column, I discussed cutting-edge innovations in printed circuit board technology, focusing on innovative trends in ultra HDI, embedded passives and components, green PCBs, and advanced substrate materials. This month, I'm following up with the products these new PCB technologies are destined for. Why do we need all these new technologies?
09/18/2023 | ViTrox
ViTrox, which aims to be the world's most trusted technology company, is excited to announce that our trusted Sales Channel Partner (SCP) in Mexico, SMTo Engineering, S.A. de C.V., will be participating in SMTA Guadalajara Expo & Tech Forum. They will be exhibiting in Booth #911 from the 25th  to the 26th of October 2023,  at the Expo Guadalajara in Jalisco, Mexico.
09/18/2023 | Intel
Intel announced one of the industry's first glass substrates for next-generation advanced packaging, planned for the latter part of this decade.
09/18/2023 | Aidan Salvi -- Column: Facing the Future
I have been in and around circuit boards most of my life. I started 20 years ago in my family's PCB shop, leaving after a couple of years to start my own software company. About a year ago, I returned to the family business, and the first thing I noticed was that nothing had really changed. We were doing the same things in the same way as the day I left. After talking to several experts in the industry, I realized it was worse than that: The manufacturing of PCBs had not changed in 70 years.