A Quantic Leap into Foils and Embeddeds With John Andresakis
March 29, 2023 | Andy Shaughnessy, Design007 Magazine
Estimated reading time: 4 minutes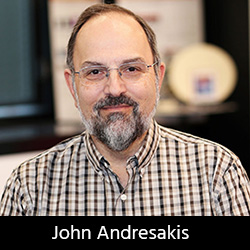 Andy Shaughnessy talks with John Andresakis about how the merger of resistive foil technologies from Ohmega and Ticer has evolved under the new ownership of Quantic. Andresakis also shares how these materials are finding new applications, especially in the embedded component application space, as the company reaches out to the new generation of PCB designers and design engineers.
Andy Shaughnessy: John, it's been a long time since we talked last. Now you're with a different company, Ohmega. Tell me about it.
Andresakis: Yes, that's right. I'm the director of business development for Quantic Ohmega Ticer. A lot of people know Ohmega and Ticer because of their resistive foil technology. A couple of years ago,  Arcline investment acquired Ohmega, and then soon after that they bought Ticer and put them under the Quantic group to bring both resistor technologies under one umbrella. The difference is that Ohmega is a plated nickel phosphorous technology and the Ticer approach is a nickel chrome that's sputtered onto the copper. We can use various copper foils based on what material we need to adhere to and electrical performance.
Shaughnessy: This is a little bit different from what you've been doing before.
Andresakis: Yes, I recently came from DuPont, working on laminate materials for the flex and rigid segments of the industry. We also sold embedded capacitor materials, and now I'm working with embedded resistor materials. I've kind of been in the embedded business for quite a while and when I worked at Oak-Mitsui we actually were­–and continue to be now that they're Denkai America–the copper supplier to the Ohmega and Ticer technology. So we have a good partnership. We can use a number of copper sources, but they're the main supplier of our copper foil to make our material.
Shaughnessy: Now you have a new set of customers. Are you seeing different challenges from these customers?
Andresakis: What we're seeing now is very similar to what copper foil suppliers have been seeing, in that the higher performance materials require lower profile coppers to adhere to their materials. Our material is the interface between the copper foil and the laminate material. We've been doing a lot of work in that area to make sure that we have good adhesion to the laminate substrate, and people are putting it into higher performance work. For example, we are on PTFE as well as PPO based materials. We can also be put on polyimide flex materials; it all depends on the application. 
And we're seeing new applications. When the technology first started out it was mainly for resistors in very high-end systems. It's been used in several space applications; we have material circling the earth and even have material on Mars. It's very robust and very reliable and it helps with miniaturization and electrical performance. For any place where space and weight are a problem, it's a great technology, but it's also seeing more use in commercial applications, like in high-end MEMS microphones. 
The technology has been around for decades; it's not new technology. Now that people are trying to improve electrical performance at higher frequencies, it's coming into its own. We're seeing it used in flat panel antennas, optimizing out the resistor elements to get much better electrical performance. It can also be an RF/MW absorber material.  Micro-heaters are another application. There are applications where you want spot heating (such as medical and space) where you can actually embed a heater. In space, for example, it's pretty cold up there. So, if you want to heat circuits–if a circuit or an IC needs a certain temperature to operate, you can locally warm from inside the circuit. Just a few examples where we're seeing the need for this type of material.
Shaughnessy: What is Ohmega demonstrating at DesignCon now?
Andresakis: We're showing our different materials and their applications. People know us for resistors, but we're trying to show the use of our resistive materials like RF microwave-type application. You can use it for a power divider circuit. The idea is we're trying to spur the creativity inside the designer's head, let them know the materials are there and some of its attributes so they can add it to their toolbox. Designers always need more tools to get their job done. As an example, we came out with a product that is a termination resistor. It's a 10-ohm material that you can put right at the end of the trace. So, if you need terminating resistors on the surface, now you can build that right into the circuit. If space is an issue, this allows you to take advantage of this design. While a lot of people know about the technology, our current challenge is to reach a whole new group of designers who haven't been exposed to it.
Shaughnessy: Sounds like you hit the ground running in this company.
Andresakis: Yes, it's great working with the combined Ticer and Ohmega teams.  We also now have the parent company in Quantic, with companies that make discrete capacitors, RF and microwave modules and other devices, so we have some cross business unit synergies which helps. We can try a new concept with them or do joint marketing in certain areas. Having that corporate group brings additional depth to our organization that we didn't have before. That helps quite a bit.
Shaughnessy: Great talking with you John. Thanks.
Andresakis: Thank you, Andy.                                  
---
Suggested Items
11/13/2023 | Global Newswire
The "Global Copper Clad Laminates Market (by Type, Application, Reinforcement Material, & Region): Insights and Forecast with Potential Impact of COVID-19 (2023-2028)" report has been added to ResearchAndMarkets.com's offering.
11/07/2023 | SCHMID Group
The SCHMID Group, a global solution provider for the high-tech electronics, photovoltaics, glass and energy systems industries, will be exhibiting at productronica in Munich from November 14 – 17, 2023.
11/01/2023 | Alex Stepinski, Stepinski Group
The topic of intrinsic copper structure has been largely neglected in discussions regarding the PCB fabrication quality control process. At face value, this seems especially strange considering that copper has been the primary conductor in all wiring boards and substrates since they were first invented. IPC and other standards almost exclusively address copper thickness with some mild attention being paid to surface structure for signal loss-mitigation/coarse properties. 
10/26/2023 | Andy Shaughnessy, Design007
At PCB West, I sat down for an interview with John Andresakis, the director of business development for Quantic Ohmega. I asked John to update us on the company's newest materials, trends in advanced materials, and the integration of Ticer Technologies, which Quantic acquired in 2021. As John explains, much of the excitement in materials focuses on laminates with lower and lower dielectric constants.
10/25/2023 | Preeya Kuray -- Column: Material Insight
Printed circuit board (PCB) reliability testing is generally performed by exposing the board to various mechanical, electrical, and/or thermal stimuli delineated by IPC standards, and then evaluating any resulting failure modes. Thermal shock testing is one type of reliability test that involves repeatedly exposing the PCB test board to a 288°C pot of molten solder for a specific time (typically 10 seconds) and measuring the number of cycles it takes for a board's copper layer to separate from the organic dielectric layer. If there is no delamination, fabricators can rest assured that the board will perform within expected temperature tolerances in the real world.