DENSO Develops Its First Inverter Using SiC Power Semiconductors
April 3, 2023 | JCN Newswire
Estimated reading time: 2 minutes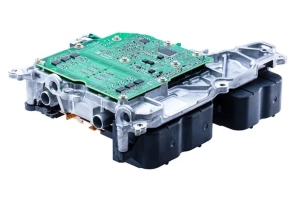 DENSO CORPORATION announced that it has developed its first-ever inverter with silicon carbide (SiC) semiconductors. This inverter, which is incorporated in the eAxle, an electric driving module developed by BluE Nexus Corporation, will be used in the new RZ, Lexus' first dedicated battery electric vehicle (BEV) model has been released on March 30, 2023.
SiC power semiconductors consist of silicon and carbon that significantly reduce power loss compared with silicon (Si) power semiconductors. The verification of cruising test in a certain condition, which test was performed by BEV consisted of SiC semiconductor inverters, demonstrated inverters with SiC power semiconductor reduce power loss less than half of ones with Si semiconductor. As a result, the energy efficiency of BEVs is improved and cruising range is extended.
Key elements of developing the new inverter:
- SiC power semiconductors with DENSO's unique trench-type metal-oxide-semiconductor (MOS) structure(1) improve the output per chip due to reducing the power loss caused by heat generated. The unique structure achieved high voltage and low on-resistance(2) operation.
Key elements of manufacturing the new inverter
- Based on the high-quality technology jointly developed by DENSO and Toyota Central R&D Labs., Inc., we utilize SiC epitaxial wafers(3) that incorporate the results of work commissioned by New Energy and Industrial Technology Development Organization (NEDO). As a result, we have halved the number of crystal defects that prevent the device from operating normally due to the disorder of the atomic arrangement of the crystal.
- By reducing crystal defects, the quality of SiC power semiconductor devices used in vehicles and their stable production are ensured.
DENSO calls its SiC technology "REVOSIC," and uses it to comprehensively develop technologies for products ranging from wafers to semiconductor devices and modules such as power cards.
DENSO will contribute to the realization of a carbon-neutral society through development aimed at more efficient energy management for vehicles, while also utilizing the grant from Green Innovation Fund (GI Fund)(4), which was adopted in 2022.
(1) DENSO's unique trench-type MOS structure: Semiconductor devices with a trench gate using DENSO's patented electric field relaxation technology.
(2) On-resistance: A measure of the ease of current flow; the lower the value, the lower the power loss.
(3) SiC epitaxial wafer: A layer of epitaxial SiC single crystal deposited onto a single crystal SiC wafer.
(4) Green Innovation Fund (GI Fund): GI Fund was created by Ministry of Economy, Trade and Industry (METI) and assigned to NEDO with the aim of achieving carbon neutrality by 2050. DENSO has been selected to received subsidies for a project to develop manufacturing technology for next-generation power semiconductor devices (for electric vehicles).
---
Suggested Items
09/29/2023 | Intel
Intel celebrated the arrival of its Intel 4 technology, which uses extreme ultraviolet (EUV) technology, and the first use of EUV in high-volume manufacturing (HVM) in Europe.
09/28/2023 | Anaya Vardya, American Standard Circuits
There has always been pressure to reduce line and space as we have seen the bleeding edge technology go from 8 mils to 5 mils and then to 3 mils. The difference between "then" and "now" is that the prior advancements, for the most part, used the same processes, chemistry and equipment going from 8 mils to 3 mils. But going from 3 mil to sub 1 mil trace and space is a quantum leap in printed circuit board (PCB) technology that requires a whole new set of processes and materials.
09/28/2023 | PNNL
Pacific Northwest National Laboratory is collaborating with leading technology companies Microsoft Corp. and Micron Technology to make computational chemistry—a challenging subject but one with far-reaching significance for our lives—broadly available to applied researchers and industrial users.
09/28/2023 | SIA
The Semiconductor Industry Association (SIA) announced Geoff Martha, chairman and CEO of healthcare technology leader Medtronic, will be the keynote presenter at the 2023 SIA Awards Dinner on Thursday, Nov. 16 in San Jose, Calif.
09/26/2023 | Kirk Thompson, Isola Group
Despite being a leader in R&D investment in semiconductors and packaging with greater than $50 billion per year, the U.S. has seen its market share decrease to less than 3% in areas like advanced packaging and advanced substrates. The cause for this market share erosion was a laser focus in Asian countries to attract semiconductors and advanced packaging investment through ecosystem development and incentives. If the U.S. is serious about changing the momentum to onshore advanced packaging and advanced substrates, an ecosystem approach to innovation and manufacturing incentives must be employed. It is not enough to have the most innovative technology if the supply chain and manufacturing economics do not deliver competitive commercial opportunities.