NextFlex Calls for 3D Imaging Technology Proposals
May 10, 2023 | Nolan Johnson, I-Connect007
Estimated reading time: 1 minute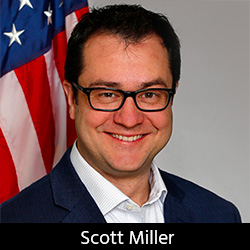 Nolan Johnson talks with Scott Miller about a special "Open Project" call for proposals which NextFlex currently is exploring for methods to dewarp 3D scans of physical boards to enable multi-image scans to be stitched together. There is the possibility of funding for viable proposals. Deadline is May 15, 2023.
About NextFlex Project Calls
Along with developing the workforce of the future and promoting a sustainable advanced manufacturing ecosystem, NextFlex is also focused on accelerating flexible electronics technology innovation and commercialization through pre-competitive partnerships.
Via a series of Project Calls that provide cash awards to proposal teams for development projects that are critical to Flexible Hybrid Electronics (FHE) manufacturing, NextFlex underwrites up to 50% of the development costs of selected projects. The Project Call process follows a structured selection process and rigorous oversight methodology to ensure diversity and breadth in the selection of projects funded.
About Open Project Calls
Opportunities exist to move the Flexible Hybrid Electronics (FHE) industry forward that are either outside the scope of traditional Project Call topics or are revolutionary ideas of which the NextFlex Technical Working Groups and community may not be aware. The Open Project Call has been established to respond to these advanced manufacturing and flexible electronics opportunities through an RFI (Request for Ideas), to which proposers may submit a white paper. Learn more.
---
Suggested Items
10/30/2023 | I-Connect007 Editorial Team
At PCB West, Andy Shaughnessy and Kelly Dack spoke with Marc L'Hoste, VP of West and South Americas for ICAPE Group, a company that supplies and manufactures high-tech PCBs at locations around the world. We asked Marc to share some advice regarding high-reliability fab. In this conversation, Marc is clear that planning, pre-work, and inspection are the key ingredients to high-reliability success.
10/26/2023 | Anaya Vardya, American Standard Circuits
Ultra high-density interconnect (UHDI) is a term used in the electronics industry to describe a cutting-edge technology that pushes the limits of fabrication capabilities for printed circuit boards (PCBs) and semiconductor devices. UHDI represents an advancement in miniaturization and integration, allowing for the creation of electronic components and systems with extremely high levels of functionality in a smaller footprint.
10/19/2023 | I-Connect007 Editorial Team
The I-Connect007 Editorial Team recently spoke with Gerry Partida, vice president of technology at Summit Interconnect, and co-chair of the IPC-6012 committee. Gerry has been involved with standards development for years, and he believes that adhering to IPC's standards and specifications has been a big part of Summit's success. In this interview, Gerry explains how Summit utilizes standards, manufacturing data, and information to reduce re-spins and scrap while increasing yield and profitability. He also discusses the repercussions that can occur when designers don't follow IPC standards. As Gerry points out, everything you need to know is in the standards, so why not follow them?
10/19/2023 | IPC
IPC has released IPC-6012F, Qualification and Performance Specification for Rigid Printed Boards. This document is the base standard for addendums covering military, space, medical, and automotive requirements.
10/24/2023 | Dana Korf -- Column: Dana on Data
An important element of design requirement determination and manufacturing requirements involves qualification, performance, and inspection standards. These are critical to ensure that the product's electrical, mechanical, and reliability requirements are met without expensive over/under specification.