Philippines Tablet Market Slows Down in 1Q23 Declining 26.6% Annually
June 6, 2023 | IDC
Estimated reading time: Less than a minute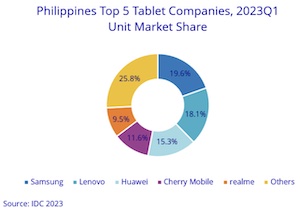 According to the International Data Corporation (IDC) Worldwide Quarterly Personal Computing Device Tracker, the Philippines tablet market both declined 26.6% year over year (YoY) and 46.7% quarter over quarter in 1Q23.
"It has been two years since quarterly tablet shipments have dropped below two hundred thousand units, a pattern concurrent to the Philippines smartphone market which hit a 3-year low in the same quarter," says Angela Medez, Client Devices Senior Market Analyst at IDC Philippines.
IDC expects annual tablet shipments to be back to pre-pandemic levels below 1 million units beginning in 2023 now that commercial segment have slowed down as procurements among DepEd Divisions and Local Government Units (LGU) have tapered off.
---
Suggested Items
12/01/2023 | SEMI
Global semiconductor equipment billings contracted 11% year-over-year to US$25.6 billion in the third quarter of 2023, while quarter-over-quarter billings slipped 1% during the same period, SEMI announced today in its Worldwide Semiconductor Equipment Market Statistics (WWSEMS) Report.
12/01/2023 | SEMI
Aiming to reduce global semiconductor ecosystem carbon emissions, SEMI and the Semiconductor Climate Consortium (SCC) have created the Energy Collaborative (EC) to understand and clear roadblocks to the installation of low-carbon energy sources in the Asia-Pacific region.
11/30/2023 | PRNewswire
Hyundai Mobis is poised to secure new orders for premium vehicle displays, characterized by large screens, high definition, and slim design, using a fusion of innovative technologies targeting global automakers.
11/30/2023 | PRNewswire
Hi Sharp, a leading maker of video surveillance systems, is globally announcing its expansion into AI and cloud-based technologies for video capture.
11/29/2023 | TrendForce
TrendForce's latest research indicates that despite a decrease in the CPI in Europe and the US this year, consumer budgets are still constrained due to the current high-interest-rate environment, and the real estate bubble in China has suppressed TV demand. Moreover, a significant increase in TV panel prices this year has led brands to scale down promotional events.