Apple Vision Pro Estimated to Ship 200,000 Units in 2024, Concerns around Price and Battery Life Linger
June 7, 2023 | TrendForce
Estimated reading time: 1 minute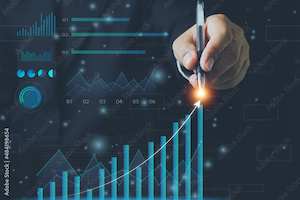 TrendForce reports that the recently unveiled Apple Vision Pro at this year's WWDC is poised to revolutionize the AR/VR market with its sleek design and high-performance capabilities. However, the complexity behind its production and its limited production capacity present significant challenges, leading to a projected initial release in the US during 1H24. Furthermore, considering factors such as pricing and the absence of certain essential features, TrendForce anticipates a modest shipment volume of approximately 200,000 units for Apple Vision Pro in 2024. The market's response will heavily depend on the subsequent introduction of consumer-oriented Apple Vision models and the ability of Apple to offer enticing everyday functionalities that will drive the rapid growth of the AR market as a whole.
TrendForce also notes that the Apple Vision Pro boasts cutting-edge hardware specifications and innovative design. However, a substantial price tag of US$3,499 and the requirement for an external power source to operate for a mere two hours pose challenges to consumer adoption. Currently, the Apple Vision Pro lacks sufficient applications for mainstream users, making it more attractive to developers and enterprise customers who can capitalize on its innovative features to create diverse applications. Consequently, the higher price point of the product is justified.
Looking ahead, Apple has the opportunity to fine-tune the product specifications based on the usage patterns of various features in Vision Pro. This will pave the way for the launch of a distinct offering, Apple Vision, which will cater to the budgetary constraints of general consumers while optimizing battery life. As such, WWDC 2023 primarily focuses on the concept of spatial computing, setting the stage for the anticipation of more practical AR applications to be showcased at WWDC 2024. These applications will be tailored towards usage in daily life, including seamless integration with other Apple products for information retrieval and effortless command execution.
---
Suggested Items
09/27/2023 | AT&S
AT&S is working on the EECONE (European ECOsystem for greeN Electronics) project to develop new technologies to make electronics production in Europe more sustainable.
09/26/2023 | CIMS
TPCA is the main annual PCB event in Taiwan. This year, it takes place in Taipei on 25-27 October.
09/22/2023 | Dicro Oy
Dicro Oy is pleased to announce the expansion of Dicro into Narva, the third largest city in Estonia, where last week we started production in our new factory.
09/22/2023 | Happy Holden, I-Connect007
Ever since high density interconnect (HDI) was created in 1982 by Hewlett-Packard to package its first 32-bit computer powered by a single chip, it has continued to evolve and provide the solutions for miniaturized products. The leading edge of HDI technology became the process used for organic flip-chip packaging for the semiconductor industry. The two distinct markets—IC substrates and product-system integration—are now colliding and utilizing the same ultra-HDI manufacturing processes.
09/25/2023 | Don Ball -- Column: The Chemical Connection
If your HDI or UHDI production process is quality challenged, don't assume your etcher is to blame. Many factors impact the quality of the final product, so assess broadly, and you may find that the "the devil is in the details." Generally, the first place most people can get good product specification measurement is at the end of the etching process, It's natural and easy to blame quality shortcomings on the etcher. By all means, look at your etcher and invest some time trying to improve its performance but don't stop there. Other factors may be affecting the etch uniformity.