Jameco Electronics, MEAN WELL Power Up African Youth with STEMpower Donation
June 9, 2023 | PRNewswire
Estimated reading time: 1 minute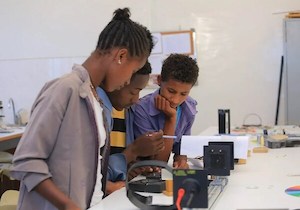 Jameco Electronics, a trusted source for electronic components around the world, is teaming up with power partner MEAN WELL to power up African youth with a $56,000 donation to STEMpower. STEMpower is a nonprofit organization dedicated to providing educational opportunities in science, technology, engineering, and mathematics (STEM) to disadvantaged youth in Africa.
We're thrilled to join forces with MEAN WELL to bring quality STEM education to students in Africa
Jameco, founded in 1973, is an authorized distributor for hundreds of leading electronic component brands and is well-known for its price-alternative house brand products. MEAN WELL, a leading provider of power supplies for industrial automation, medical and other industries, has supported Jameco's initiatives since 2018.
As leaders in the electronic components industry, both organizations share a deep commitment to giving back. By joining forces with STEMpower, they are helping young people in Africa gain the education and skills needed to pursue careers in STEM fields.
"Our team members are passionate about empowering youth to make the world a better place, and we're thrilled to join forces with MEAN WELL to bring quality STEM education to students in Africa," said Jameco CEO James Farrey. "We believe that increased access to resources and opportunities will enable the youth of Africa to develop their skills and pursue STEM-related fields."
The donation will fund the purchase of STEM-focused classroom equipment such as computers, tools, and learning materials, as well as the building of STEM-focused classrooms in parts of Africa.
---
Suggested Items
12/07/2023 | VDL Groep
VDL Groep has strengthened its position in the high-quality electronics market. The industrial family business with its head office in Eindhoven has acquired Rena Electronica from Zundert.
12/06/2023 | Keysight Technologies, Inc.
Keysight Technologies, Inc. has received an $18.5 million U.S. Air Force contract to integrate and deliver two Electronic Warfare Threat Simulator (EWTS) systems, with sustainment support consisting of software patch management, field engineer support, non-critical spare parts, critical spare parts, and storage.
12/05/2023 | PRNewswire
Siemens Digital Industries Software announced that the RS Group plc, a global provider of product and service solutions to more than 1.1 million industrial customers, has selected Siemens as its strategic electronic design automation (EDA) provider for its new, cloud native, DesignSpark Circuit Simulator tool – empowering users to streamline the design process.
12/05/2023 | HANZA
HANZA AB has signed an agreement to acquire all shares in Orbit One AB, a Swedish company that offers contract manufacturing of electronics and electromechanics. Orbit One has annual sales of approximately SEK 1.1 billion with an operating profit (EBITA) of approximately SEK 70 million.
12/05/2023 | IPC
Electronics industry sentiment improved during November with demand sentiment also taking a solid step up over the last 30 days per IPC's November 2023 Global Sentiment of the Electronics Supply Chain Report.