Jameco Electronics, MEAN WELL Power Up African Youth with STEMpower Donation
June 9, 2023 | PRNewswire
Estimated reading time: 1 minute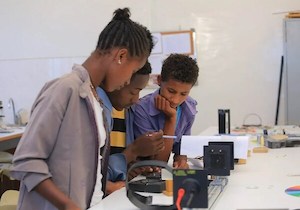 Jameco Electronics, a trusted source for electronic components around the world, is teaming up with power partner MEAN WELL to power up African youth with a $56,000 donation to STEMpower. STEMpower is a nonprofit organization dedicated to providing educational opportunities in science, technology, engineering, and mathematics (STEM) to disadvantaged youth in Africa.
We're thrilled to join forces with MEAN WELL to bring quality STEM education to students in Africa
Jameco, founded in 1973, is an authorized distributor for hundreds of leading electronic component brands and is well-known for its price-alternative house brand products. MEAN WELL, a leading provider of power supplies for industrial automation, medical and other industries, has supported Jameco's initiatives since 2018.
As leaders in the electronic components industry, both organizations share a deep commitment to giving back. By joining forces with STEMpower, they are helping young people in Africa gain the education and skills needed to pursue careers in STEM fields.
"Our team members are passionate about empowering youth to make the world a better place, and we're thrilled to join forces with MEAN WELL to bring quality STEM education to students in Africa," said Jameco CEO James Farrey. "We believe that increased access to resources and opportunities will enable the youth of Africa to develop their skills and pursue STEM-related fields."
The donation will fund the purchase of STEM-focused classroom equipment such as computers, tools, and learning materials, as well as the building of STEM-focused classrooms in parts of Africa.
---
Suggested Items
09/25/2023 | Alison James
"Electronics systems are at the heart of almost all modern technology. The performance and functionality of these systems have increased at breathtaking speed, chiefly as a result of advancements in semiconductor technology. Semiconductors do not function in isolation," writes Alison James, IPC senior director of government relations, in a 2023 report for the European Commission's Directorate General for Internal Market, Industry, Entrepreneurship. "These electronics systems feature prominently in key sectors like defence, aerospace, space, automotive, medical, and high-performance computing, but electronics are vital to every industry and are central to a variety of EU priorities, including the twin digital and green transitions and Europe's technological sovereignty."
09/25/2023 | APCT
APCT, a leading name in the PCB and electronics industry, is delighted to announce the appointment of Peter Austin as its President and CEO, effective September 1. Peter takes the reins from former CEO, Steve Robinson, who has retired after years of dedicated service to the company.
09/21/2023 | KIC
KIC, a renowned pioneer in thermal process and temperature measurement solutions for electronics manufacturing, is thrilled to announce its participation in the upcoming SMTA Guadalajara Expo & Tech Forum.
09/21/2023 | Dymax
Dymax, a leading manufacturer of light-curing materials and equipment, will exhibit in booth 1526 at SMTA International 2023 in Minneapolis, MN, from October 10-11.
09/21/2023 | Altus Group
Altus Group, a leading supplier of capital equipment and services to the electronics manufacturing industry, has signed an agreement with SMT Thermal Discoveries to distribute its advanced reflow soldering and thermal technology solutions in Ireland.