Books

Featured Books

pcb007 Magazine

Latest Issues

Current Issue

Finding Ultra

New demands on PCB fabrication, namely advanced packaging, ultra high density interconnect (UHDI), and new specialty materials, are converging, changing the landscape of our business. Is it time to start paying close attention to this convergence?

Developing a Strategy

A solid strategy is a critical part of success. This month, we asked some of the top industry leaders and business strategy "gurus" to share their thoughts on developing strategies.

Winning With TQM

In this issue, we explore how TQM has entered the DNA of continuous improvement disciplines, and the role leadership transformation plays in this. If you've ever competed against a TQM company, you understand their winning advantage.

Columns

Latest Columns

||| MENU
Multek CTO Excited About the Challenges of the Fast-Moving Wearables Market
March 26, 2015 | Barry Matties, I-Connect007
Estimated reading time: 9 minutes

At IPC APEX EXPO 2015, held in San Diego, Calif. I had the opportunity to sit with Dr. Joan Vrtis to discuss the rapidly evolving wearables market, especially for medical, and the myriad questions that must be addressed. We also touched on Multek's contribution to the wearables industry and what it sees as the main challenges to putting their circuits into various applications.
Barry Matties: Good morning, Joan. Why don't you start by telling me a little bit about what's that like being chief technology officer at Multek. I understand it is a recent position. Congratulations!
Dr. Joan Vrtis: Thank you very much. Multek is an industry leader in printed circuit technology, and the wholly owned subsidiary of Flextronics. As the chief technology officer, I'm looking at the wearable technology and how we can put our printed circuits into applications. So for Multek, it's really the solutions of what we can offer on the printed circuit side, whether it's a rigid circuit, a flex circuit, a rigid-flex and even things that can stretch and bend. We must be prepared for the broad markets we serve, specifically in the wearables. That's currently where I've been putting most of my effort.
Matties: Wearables is a fast-moving market, isn't it?
Vrtis: Yes, it is.
Matties: What is the state of the market as you see it, currently?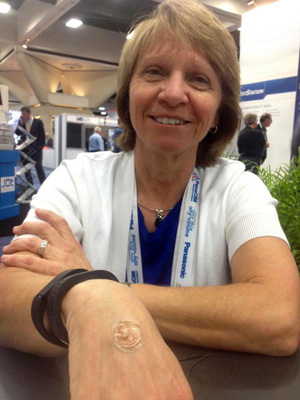 Vrtis: One of the things we've seen just recently is the expansion of the number of ideas as to what should be a wearable. How do we help translate these ideas to product and how do we market them? Some trends regarding wearables are in close proximity to the body, on the body and in the body. For example, the wristband type of technologies, such as activity band, watch, smart watch. Then there are the wearables on skin, which includes patch-like technologies used for authentication. Now, wearables ideas are growing, as inventors and companies look at putting electronics into a fabric. Can the button be used as the connection for the continuity of the circuit? Can the zipper be part of the solution to turn on and off the electronics if placed in a safety jacket? How do we integrate the components that go with that? We have to consider power, wireless, etc. And if you want something that's going to move—a gyroscope, or accelerometer—how do we put all of these components in and how do we select those components?
On the printed circuit side, historically we're used to circuit boards being like 2D structures, thus they would be flat, and then we would place the components on and go. But now we also have to take into account that they're going to bend and move. When it starts getting into the apparel side, do you make that cloth fabric your printed circuit substrate? Those are the things that people are coming to us with and saying, "Hey, can you guys do apparel?" But what does that mean? Are you going to wash it? There are a lot of questions to ask.
Matties: With the power technology in apparel and wearables, certainly washing must be a big issue.
Vrtis: Yes, it is a big issue, as is drying.
Matties: What's the craziest thing that someone has approached you with?
Vrtis: Let's see. I've had some very interesting requests for solutions with the printed circuit, but the craziest probably doesn't need to be recorded here.
Matties: That's okay; we can leave it to the imagination.
Vrtis: The important thing is that they needed all of the same components I have been talking about. They needed power and they needed some way to have this wireless to connect.
Matties: Let's talk about the market a little bit. What's the size of the market right now, the way you are seeing it?
Vrtis: Wow, it's in the billions! I've read eight billion is predicted in the next couple of years.
Matties: Where was that just a few years back?
Page 1 of 2
---
Suggested Items
09/28/2023 | Anaya Vardya, American Standard Circuits
There has always been pressure to reduce line and space as we have seen the bleeding edge technology go from 8 mils to 5 mils and then to 3 mils. The difference between "then" and "now" is that the prior advancements, for the most part, used the same processes, chemistry and equipment going from 8 mils to 3 mils. But going from 3 mil to sub 1 mil trace and space is a quantum leap in printed circuit board (PCB) technology that requires a whole new set of processes and materials.
09/28/2023 | Michael Carano -- Column: Trouble in Your Tank
In a previous column, the critical process of desmear and its necessity to ensure a clean copper surface connection was presented. Now, my discussion will focus on obtaining a void-free and tightly adherent copper plating deposit on these surfaces. After the desmear process, the task is to insure a continuous, conductive, and void-free deposit on the via walls and capture pad. Today, there are several processes that can be utilized to render vias conductive.
09/20/2023 | I-Connect007 Editorial Team
Panasonic's Darren Hitchcock spoke with the I-Connect007 Editorial Team on the complexities of moving toward ultra HDI manufacturing. As we learn in this conversation, the number of shifting constraints relative to traditional PCB fabrication is quite large and can sometimes conflict with each other.
09/14/2023 | MKS' Atotech
MKS' Atotech, a leading surface finishing brand of MKS Instruments, will participate in the upcoming IPCA Expo at Bangalore International Exhibition Centre (BIEC) and showcase its latest PCB manufacturing solutions from September 13 – 15.
09/14/2023 | Vern Solberg -- Column: Designer's Notebook
Flexible circuit applications can be as basic as furnishing electrical interconnect between two conventional circuit board assemblies, or to prove a platform for placing and interconnecting electronic components. During the planning and pre-design phase of the flexible circuit, there will be several material and process related questions that need to be addressed. Most flexible circuit fabricators welcome the opportunity to discuss their customers' flexible circuit objectives prior to beginning the actual design process.