Reading time ( words)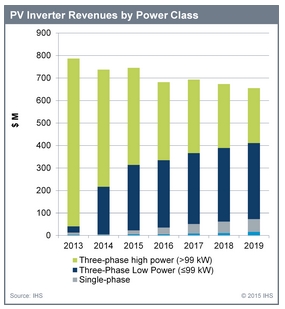 Even though photovoltaic (PV) inverter shipments to China increased in 2014, significant price declines have caused revenue to drop. Despite PV inverter shipments to the Chinese market increasing nearly 18 percent last year to reach 13.3 gigawatts (GW) of alternate current (AC), revenues dropped 6 percent, according to IHS Inc., the leading global source of critical information and insight.
Price wars among Chinese suppliers have become so fierce that many small suppliers have left the market entirely. Despite only formally launching its inverter portfolio in late 2013, Huawei was able to make significant gains and quickly become the second largest supplier in China. Sungrow narrowly maintained its position as the largest Chinese supplier. Due to the increased market consolidation, Sungrow and Huawei together comprised nearly half (48 percent) of all PV inverter revenue in China last year. These two suppliers also both appeared among the ten largest suppliers on a global level, which is the first time that two Chinese suppliers have done so.
"The PV inverter product mix has begun to shift as string inverters made huge gains in 2014, largely owing to Huawei's aggressive promotional and marketing campaigns," said Frank Xie, senior analyst for IHS Technology. "There is also a narrowing price gap between mainstream central inverters and string inverters that are increasingly used in large commercial- and utility-scale PV systems in China. Despite losing share, large central and turn-key inverters will continue to play an important role in the Chinese market from 2015 to 2019."
The progress of distributed PV fell short of Chinese government expectations last year. Only 2 GW out of the planned 8 GW of distributed photovoltaic (DPV) projects were installed, due to ineffective business models and high system costs. Even so, a higher percentage of DPV projects is forecast through 2019, as the market matures.
The 2015 edition of the IHS PV Inverter Market in China report reveals that from 2015 to 2019, there will be few business opportunities for international inverter suppliers in the Chinese PV inverter market. International suppliers have found it highly challenging to succeed in the Chinese market due to the strong preference for local brands, highly competitive pricing, complex business conditions and long credit terms. IHS does see chances for international suppliers to offer key components to Chinese inverter suppliers.
About IHS
IHS is the leading source of insight, analytics and expertise in critical areas that shape today's business landscape. Businesses and governments in more than 150 countries around the globe rely on the comprehensive content, expert independent analysis and flexible delivery methods of IHS to make high-impact decisions and develop strategies with speed and confidence. IHS has been in business since 1959 and became a publicly traded company on the New York Stock Exchange in 2005. Headquartered in Englewood, Colorado, USA, IHS is committed to sustainable, profitable growth and employs about 8,800 people in 32 countries around the world.
Share
Print
Suggested Items
09/12/2019 | SEMI
Worldwide semiconductor manufacturing equipment billings reached $13.3 billion in the second quarter of 2019, down 20% from the same quarter of 2018 and 3% from than the previous quarter.
06/20/2019 | TrendForce
According to the latest investigations by DRAMeXchange, a division of TrendForce, demand for smartphones and servers go below expected levels in 2019 as the US-China trade dispute heats up.
09/03/2018 | IDC
A new forecast from IDC sizes the market for compute and storage infrastructure for Telecoms at nearly $10.81 billion in 2017. However, as Telecoms aggressively build out their infrastructure, IDC projects this market to see a healthy five-year compound annual growth rate (CAGR) of 6.2% with purchases totaling $16.35 billion in 2022.