Tsunami of M&A Deals Underway in the Semiconductor Industry in 2015
July 31, 2015 | IC Insights
Estimated reading time: 2 minutes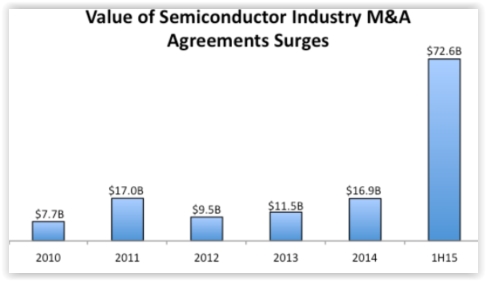 Marketshare expansion, Internet of Things opportunities, rising costs of R&D, and China's aggressive new focus on the semiconductor industry all driving the recent M&A surge.
IC Insights' new 185-page Mid-Year Update to The McClean Report, which will be released later this week, examines the recent surge of M&A activity, including China's aggressive new programs aimed at bolstering its presence in the semiconductor industry.
It would be hard to characterize the huge wave of semiconductor mergers and acquisitions occurring in 2015 as anything but M&A mania, or even madness.  In just the first half of 2015 alone, announced semiconductor acquisition agreements had a combined total value of $72.6 billion (Figure 1), which is nearly 6x the annual average for M&A deals struck during the five previous years (2010-2014).
Three enormous acquisition agreements in 1H15 have already catapulted 2015 into the M&A record books.  First, NXP announced an agreement in March to buy Freescale for $11.8 billion in cash and stock.  In late May, Avago announced a deal to acquire Broadcom for about $37 billion in cash and stock, and then four days later (on June 1), Intel reported it had struck an agreement to buy Altera for $16.7 billion in cash.  Avago's astonishing deal to buy Broadcom is by far the largest acquisition agreement ever reached in the IC industry.
In many ways, 2015 has become a perfect storm for acquisitions, mergers, and consolidation among major suppliers, which are seeing sales slow in their existing market segments and need to broaden their businesses to stay in favor with investors.  Rising costs of product development and advanced technologies are also driving the need to become bigger and grow sales at higher rates in the second half of this decade.  The emergence of the huge market potential for the Internet of Things (IoT) is causing major IC suppliers to reset their strategies and quickly fill in missing pieces in their product portfolios.  China's ambitious goal to become self-sufficient in semiconductors and reduce imports of ICs from foreign suppliers has also launched a number of acquisitions by Chinese companies and investment groups.
IC Insights believes that the increasing number of mergers and acquisitions, leading to fewer major IC manufacturers and suppliers, is one of major changes in the supply base that illustrate the maturing of the industry. In addition to the monstrous M&A wave currently taking place, trends such as the lack of any new entry points for startup IC manufacturers, the strong movement to the fab-lite business model, and the declining capex as a percent of sales ratio, all promise to dramatically reshape the semiconductor industry landscape over the next five years.
Report Details:  The 2015 McClean Report
Further details on the latest semiconductor industry trends are included in the 185-page Mid-Year Update to The McClean Report—A Complete Analysis and Forecast of the Integrated Circuit Industry.  A subscription to The McClean Report includes free monthly updates from March through November (including the Mid-Year Report), and free access to subscriber-only webinars throughout the year.  An individual-user license to the 2015 edition of The McClean Report is priced at $3,590 and includes an Internet access password.  A multi-user worldwide corporate license is available for $6,590.
---
Suggested Items
09/29/2023 | USPAE
In a major initiative to innovate how the Department of Defense (DoD) spurs commercial technology development, the U.S. Partnership for Assured Electronics (USPAE) and DoD launched a Defense Business Accelerator (DBX) to open doors for industrial base growth and stimulate private investment.
09/28/2023 | KYZEN'
KYZEN, the global leader in innovative environmentally friendly cleaning chemistries, is proud to announce that it is sponsoring the Women's Leadership Program Connection Reception to be held at SMTA International.
09/28/2023 | TSMC
TSMC announced the new 3Dblox 2.0 open standard and major achievements of its Open Innovation Platform (OIP) 3DFabric Alliance at the TSMC 2023 OIP Ecosystem Forum.
09/28/2023 | SIA
The Semiconductor Industry Association (SIA) announced Geoff Martha, chairman and CEO of healthcare technology leader Medtronic, will be the keynote presenter at the 2023 SIA Awards Dinner on Thursday, Nov. 16 in San Jose, Calif.
09/28/2023 | GlobalFoundries
GlobalFoundries (GF) announced the official opening of a new hub facility in Penang, Malaysia.