New Color Technology Displays to Comprise 25% of Total Display Shipment Area in 2020
September 21, 2015 | IHS
Estimated reading time: 2 minutes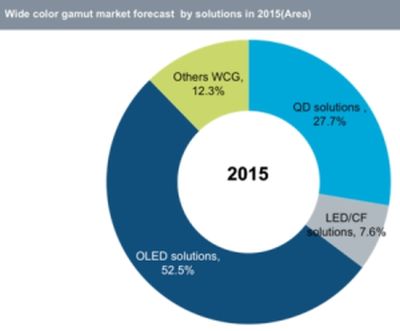 Wide color gamut flat panel displays are expected to grow from 3 percent in 2015 to 25 percent of the display market in terms of area by 2020, according to IHS Inc., the leading global source of critical information and insight. Color gamut refers to the ability of a digital display to reproduce colors as they are seen by the naked eye.
With a rise in the use of organic light-emitting diode (OLED) displays, smartphone displays constitute the majority of wide color gamut unit shipments; however, in terms of area, television displays will make up 52 percent of the wide color gamut display market in 2015 and 86 percent in 2020. 
"Resolution and screen size are key factors in display technology evolution, but technical hurdles and technical gaps among panel makers have recently narrowed," said Richard Son, senior analyst at IHS Technology. "Display manufacturers are, therefore, looking for emerging technologies to widen the color gamut of their displays and increase the high dynamic range of their products, in order to gain a competitive advantage in the market."
According to the latest IHS Quantum Dot Display Technology and Market Report, the following three technologies are currently used to generate wide color gamut displays:
OLED displays boast a color gamut reaching 100 percent of the National Television System Committee (NTSC) video standards, which is much higher than conventional LCD displays that only reach about 70 percent.
Light-emitting diode (LED) display technology focuses on improving LED chips and color filters in liquid-crystal displays (LCDs) to provide a color gamut between 80 percent and 90 percent of NTSC video standards.
Quantum dot technology, including on-chip, on-edge, and on-surface types, offers a high color range, similar to OLED displays.
"Due to increasingly strong global competition, display makers are seeking to differentiate their products from those of their competitors," Son said. "For some time now, display manufacturers have attempted to attain wider color gamut in their display products, but they were unable to find reliable, mainstream solutions to do so; however, with the advent of quantum dot technology and OLED, wide color gamut technologies have become much more common in the industry."
About IHS
IHS (NYSE: IHS) is the leading source of insight, analytics and expertise in critical areas that shape today's business landscape. Businesses and governments in more than 150 countries around the globe rely on the comprehensive content, expert independent analysis and flexible delivery methods of IHS to make high-impact decisions and develop strategies with speed and confidence. IHS has been in business since 1959 and became a publicly traded company on the New York Stock Exchange in 2005. Headquartered in Englewood, Colorado, USA, IHS is committed to sustainable, profitable growth and employs about 8,800 people in 32 countries around the world.
---
Suggested Items
11/28/2023 | Lockheed Martin
Lockheed Martin will soon launch a unique wideband Electronically Steerable Antenna (ESA) payload demonstrator to show the company's investment in advanced technology to perform missions faster once on orbit. The payload demonstrator, which will launch aboard Firefly Aerospace's Alpha rocket, extends Lockheed Martin's significant investment in scalable wideband ESA technology development to showcasing an actual on-orbit capability. This technology is critical to future remote sensing architectures.
11/27/2023 | Cambridge University
The Cambridge Open Zettascale Lab is hosting Dawn, the UK's fastest artificial intelligence (AI) supercomputer, which has been built by the University of Cambridge Research Computing Services, Intel and Dell Technologies.
11/27/2023 | HyRel
HyRel Technologies, a global provider of quick turn semiconductor modification solutions, announces the achievement of International Traffic in Arms Regulations (ITAR) registration.
11/24/2023 | PRNewswire
Every decade, a new telecom generation emerges, with 5G currently being commercialized, offering faster data rates, low latency, and enhanced reliability. 6G is characterized by Tbps data rates, microsecond latency, and extensive network dependability.
11/23/2023 | PRNewswire
MDA Ltd., a leading provider of advanced technology and services to the rapidly expanding global space industry, has revealed plans to more than double its UK workforce and operational footprint over the next 12 months.