Program Aims to Facilitate Robotic Servicing of Geosynchronous Satellites
March 28, 2016 | DARPA
Estimated reading time: 3 minutes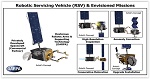 Hundreds of military, government and commercial satellites reside today in geosynchronous Earth orbit (GEO) some 22,000 miles (36,000 kilometers) above the Earth—a perch ideal for providing communications, meteorology and national security services, but one so remote as to preclude inspection and diagnosis of malfunctioning components, much less upgrades or repairs. Even fully functional satellites sometimes find their working lives cut short simply because they carry obsolete payloads—a frustrating situation for owners of assets worth hundreds of millions of dollars. With no prospects for assistance once in orbit, satellites destined for GEO today are loaded with backup systems and as much fuel as can be accommodated, adding to their complexity, weight and cost. But what if help was just a service call away?
DARPA's new Robotic Servicing of Geosynchronous Satellites (RSGS) program intends to answer that question by developing technologies that would enable cooperative inspection and servicing in GEO and demonstrating those technologies on orbit within the next five years. Under the RSGS vision, a DARPA-developed modular toolkit, including hardware and software, would be joined to a privately developed spacecraft to create a commercially owned and operated robotic servicing vehicle (RSV) that could make house calls in space. DARPA would contribute the robotics technology, expertise, and a Government-provided launch. The commercial partner would contribute the satellite to carry the robotic payload, integration of the payload onto it, and the mission operations center and staff. If successful, the joint effort could radically lower the risk and cost of operating in GEO.
"The ability to safely and cooperatively service satellites in GEO would vastly expand public and private opportunities in space. It could enable entirely new spacecraft designs and operations, including on-orbit assembly and maintenance, which could dramatically lower construction and deployment costs while extending satellite utility, resilience and reliability," said RSGS program manager Gordon Roesler. "Commercial and government space operators have sought this capability for decades. By investing together, we can achieve a capability that would be extremely challenging to do individually."
To formalize that collaboration, DARPA aims to establish a public-private partnership through which the Agency would develop and provide technical capabilities for transition to a commercial space robotics enterprise that would make cooperative robotic servicing available to both military and commercial GEO satellite owners on a fee-for-service basis. DARPA seeks to engage a commercial partner with a strategic interest in this capability, and an interest in providing services to the Defense Department (DoD).
Page 1 of 2
---
Suggested Items
12/04/2023 | USPAE
Seven microelectronics firms received nearly $10 million in combined funding to commercialize technologies of interest to the U.S. military services as winners of the Defense Business Accelerator (DBX) Microelectronics Challenge. This groundbreaking initiative is funded by the Department of Defense (DoD) and led by the U.S. Partnership for Assured Electronics (USPAE).
11/20/2023 | PRNewswire
Raytheon, an RTX business, has been awarded a four-year, $15 million contract from DARPA to increase the electronic capability of radio frequency sensors with high-power-density Gallium Nitride transistors. Raytheon is the world's leading manufacturer of military-grade Gallium Nitride, a cutting-edge semiconductor technology that, when used in radar systems, improves range and radar resource management handling. This new prototyping work is being performed under DARPA's Technologies for Heat Removal in Electronics at the Device Scale program, known as THREADS.
11/17/2023 | Raytheon Company
Raytheon, an RTX business, has been awarded a four-year, $15 million contract from DARPA to increase the electronic capability of radio frequency sensors with high-power-density Gallium Nitride transistors which will have 16 times higher output than traditional GaN with no increase in operating temperature. Raytheon is partnering with the Naval Research Laboratory, Stanford University and Diamond Foundry to grow diamond, the world's best thermal conductor, for integration with military-grade GaN transistors and circuits. Cornell University, Michigan State University, the University of Maryland and Penn State University are also providing technology and performance analysis.
11/03/2023 | U.S. Circuit
U.S. Circuit, a premier supplier of commercial and mil/aero PCBs, has recently obtained their AS9100 certification. This certification will allow U.S. Circuit to further expand their military and aerospace offerings to further serve sectors requiring stricter regulation including the Department of Defense (DoD), National Aeronautics and Space Administration (NASA), and the Federal Aviation Administration (FAA).
10/17/2023 | BUSINESS WIRE
New research has found that 95% of military and defence industry decision-makers recognise that ongoing digitalisation has led to a more dynamic and complex 'information battlespace' and a further 93% agree defence will require increased integration across domains.