Books

Featured Books

pcb007 Magazine

Latest Issues

Current Issue

The Registration Sweet Spot

Registration is underrated and underappreciated. The key is to ensure proper registration from layer to layer across the entire printed circuit board. It's a holistic process requiring anticipation, prediction, precise attention at each step, and detailed data tracking and monitoring.

High-reliability Fabrication

In this month's issue, our expert contributors discuss the latest in technologies, trends, complexities and resources regarding high-reliability fabrication.

Finding Ultra

New demands on PCB fabrication, namely advanced packaging, ultra high density interconnect (UHDI), and new specialty materials, are converging, changing the landscape of our business. Is it time to start paying close attention to this convergence?

Columns

Latest Columns

||| MENU
Orbotech's Latest Technology at IPC APEX EXPO
May 2, 2016 | Barry Matties, I-Connect007
Estimated reading time: 8 minutes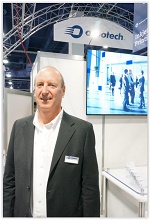 Orbotech presented their latest new technologies at IPC APEX EXPO 2016. The Nuvogo 1000 is a higher power version of their multi wavelength direct imaging machine, as well as their new automated optical shaping technology which can add copper deposition to an otherwise defective PCB. I met with Orbotech's Micha Perlman in their booth on the show floor, to learn more.

Barry Matties: Micha, you are the senior marketing manager for the PCB division. I think that most people in our industry know Orbotech, but just for some context, tell us a little about the company.
Micha Perlman: Orbotech is a worldwide company focused on providing manufacturing equipment to the electronic industry. We have a wide variety of products, usually high-tech optical and digital products. We have been involved in the business of PCBs for many years as well as in the flat-panel display business, and lately we also entered into the advanced packaging market.
Matties: Your well-known AOI was kind of the starting point for Orbotech, right?
Perlman: Yes, but this was a long time ago. We are still the market leaders in AOI for PCBs and for flat-panel displays, but today that's only a small part of our business. Many years ago, we moved to production machines and brought unique laser direct imaging to the PCB market, which we lead today as well.
We are also involved in other areas like the production of advanced packaging. We are proud to say that any electronic product that you hold in your hands today has more than one component which was manufactured using Orbotech solutions. It could range from the LCD or the touchscreen of your mobile phone to the PCBs or the components inside.
Matties: I've heard the revenue numbers for Orbotech and they're just incredibly large numbers. You guys really have a lot of resources to apply into R&D. It looks like you invest a lot back into R&D.
Perlman: That's right. We invest a high percentage of our revenue—typically about 13%—into R&D. This is a very high number for a capital solution business like ours that offers equipment for production.
Matties: What is the North American market like for Orbotech?
Perlman: It's a market that we have been leading for many years. It used to be our largest market, but then there was a shift to the Pacific and China. It is still a very important market for us where expensive, complicated and 'one-off' products are manufactured. We see a lot of military and aerospace applications that rely on Orbotech's manufacturing expertise. I hear a lot of appreciation from the North American PCB manufacturers for what Orbotech's solutions provide, how we enable them to meet the advanced technical requirements of PCB production here in America.
Matties: Well, direct imaging certainly makes a lot sense, especially here in America. There's a lot more competition that has come into that arena. How has that impacted your strategies?
Perlman: At Orbotech, we never stand still. We are always looking at new ways to improve and stay ahead of the competition in terms of the quality, the speed and the performance of our products. Direct imaging is, as you say, very important for North America, and very important for the manufacturing of advanced smartphones in the Pacific. There is no way to manufacture a smartphone without having the direct imaging equipment, and it's better to have Orbotech equipment because of its superior quality and lower total cost of ownership.
Matties: What sort of demands do your customers put on you, as far as the types of technology, the terms, or the requirements?
Perlman: We have very close relationships with our customers. We talk to them a lot, share our plans with them and they share their needs with us. When they are asked to develop tougher, more advanced PCBs they come to us to see how and if we can meet those needs. As our roadmap is defined well in advance, we are often ready with the solutions they need and we help them to ramp up their production of their increasingly complex products.
Matties: Here at the show, are you showing some new technology?
Perlman: Yes, definitely. There is one new product and one new technology that we are showing here. The Nuvogo™ 1000 is a new direct imaging machine that significantly enhances the power and the printing speed of the Nuvogo family that was introduced 18 months ago,
At the end of 2014, we introduced  direct imaging technology with multi wavelengths that gives a much better imaging quality. For that, we moved from solid-state laser technology to laser diodes which enables the multi wavelength and the higher energy that give the DI better quality, better adhesion, better sidewalls and higher throughput.
Matties: How do the demands from a North American shop differ from the demands from a Chinese facility? Are there different requirements in terms of the relationship between you and your customers?
Perlman: There are fundamental differences in the business models between North America and China. In China, the focus is largely on high volume and low cost, both for simple and for very advanced products. Their business model is focused on pushing the production cost down—high speed, high efficiency and low cost of ownership.
Here in North America, the emphasis is more on advanced engineering to support low volume production of unique products. In the Pacific, it is not unusual to see an entire fab dedicated to one production line for a period of three or four months. In America, different and unique products are manufactured every day requiring a lot of engineering resources, experience, knowledge and advanced tools in order to deliver the required results.
Matties: Does that create a challenge for Orbotech, in terms of the technology itself?
Perlman: It does, but as a result of our vast experience and unique global view, we have comprehensive solutions. We have a wide range of products and solutions, and we have the flexibility to support different applications and different requirements. We also have very experienced engineers and field experts that enable our customers to get the most from our solutions, whether we're talking about our high-capacity, high-quality, high-yield, advanced fab customers in the Pacific or the specific technological challenges of the American market.
Page 1 of 2
---
Suggested Items
11/13/2023 | Global Newswire
The "Global Copper Clad Laminates Market (by Type, Application, Reinforcement Material, & Region): Insights and Forecast with Potential Impact of COVID-19 (2023-2028)" report has been added to ResearchAndMarkets.com's offering.
11/07/2023 | SCHMID Group
The SCHMID Group, a global solution provider for the high-tech electronics, photovoltaics, glass and energy systems industries, will be exhibiting at productronica in Munich from November 14 – 17, 2023.
11/01/2023 | Alex Stepinski, Stepinski Group
The topic of intrinsic copper structure has been largely neglected in discussions regarding the PCB fabrication quality control process. At face value, this seems especially strange considering that copper has been the primary conductor in all wiring boards and substrates since they were first invented. IPC and other standards almost exclusively address copper thickness with some mild attention being paid to surface structure for signal loss-mitigation/coarse properties. 
10/26/2023 | Andy Shaughnessy, Design007
At PCB West, I sat down for an interview with John Andresakis, the director of business development for Quantic Ohmega. I asked John to update us on the company's newest materials, trends in advanced materials, and the integration of Ticer Technologies, which Quantic acquired in 2021. As John explains, much of the excitement in materials focuses on laminates with lower and lower dielectric constants.
10/25/2023 | Preeya Kuray -- Column: Material Insight
Printed circuit board (PCB) reliability testing is generally performed by exposing the board to various mechanical, electrical, and/or thermal stimuli delineated by IPC standards, and then evaluating any resulting failure modes. Thermal shock testing is one type of reliability test that involves repeatedly exposing the PCB test board to a 288°C pot of molten solder for a specific time (typically 10 seconds) and measuring the number of cycles it takes for a board's copper layer to separate from the organic dielectric layer. If there is no delamination, fabricators can rest assured that the board will perform within expected temperature tolerances in the real world.